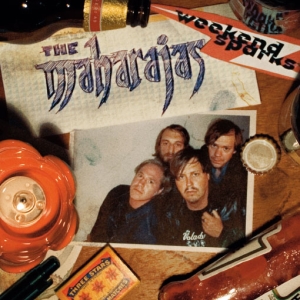 Not being in the mood to back up last year's "Best Album in 2005 according to POPISM" title, The Maharajas still managed to at least sneak into this year's list as well, with this short set of usually "sparkling" garage beatsters that are sure to make anyone's "weekend"!
With three quarters of the EP leaning towards the heavier side of things, Sometime I Miss Me is kinda like a "no brains, no worries at all" (as suggested by the lyrics themselves), powered up, Americanized garage punk take on The Zombies' It's Alright With Me.
Pinned Down is a moody kind of a We the People-through-The Fuzztones piece of fuzzfest, while it's the riff-laden freakbeat of the title tune, with a kind of an appropriately good time-ish 'Stoned chorus, that gets my vote for the "grandchild of Nuggets" tag.
The only one that throws in a more downbeat-and-folked-up vibe is the jangly (Take A) Look At Yourself, recalling the band's early daze moodier side.
Right in time to start throwing around "weekend sparks" for the New Year's weekend!
[Released by Crusher 2006]