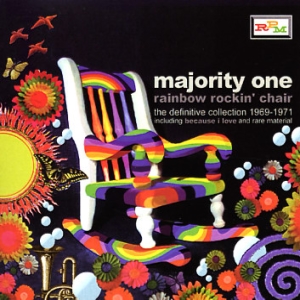 – The Definitive Collection 1969-1971 –
After releasing eight Decca singles between 1965 and 1968 as The Majority, they decided that moving from England to France might garner some more interest into the band, which eventually did happen, securing them a place on Oldies radio stations in South America of all places, as well as Top10 and Top20 positions in Italy and Holland respectively.
Because I Love, the single that caused all the chart action, in spite of it's dreamy phasing vocals making it psychedelic enough, still isn't much more than just a heartbreaking ballad that doesn't happen to be the band's most representative of recordings, while on the contrary, it's b-side, Get Back Home, happens to be exactly that, being quite reminiscent of Nazz's upbeat, harmony laden fuzzed-out crunch.
However, another benefit, not so much of their own as it is of us sixties-and-related geeks, is that the "hit single" made it possible for them to release a long-playing album as well, featuring most of the recordings made during their short stay in France at the beginning of the '70s, which is what makes Majority One an in-demand group among the fans of late'60s/early'70s Brit sounds.
Mostly sounding as if they were trapped within the 1968 time gap, the "majority" of the songs ranges from genuine examples of Britsike, such as the Grapefruit's George Alexander written Charlotte Rose, an orchestrated Beatlism, with a dash Dylan as well, or Friday Man, both being pre-France recordings from 1969, along with the cover of Hard Day's Night, which has been given something that might almost be considered for a more harmony heavy Vanilla Fudge treatment.
Through an almost progressive feel of the fuzz-laden Glass Image, complete with a kind of a spooky string arrangement, to slightlydelic balladery such as the Macca-through-Bee Gees-chamber-pop of I See Her Everywhere, or another not so baroque-ing but just as Bee Gees-sounding, called Depths Of My Mind, and yet another McCartney-ish one, Looks Like Rain, which wouldn't sound out of place on Jan & Dean's "rainy" concept of Save For A Rainy Day.
Two more less usually upbeat numbers are the bubblegum-ish pair of Love Came Today and Feedback and there's also a Kinky vaudevillian ditty A Cigarette, A Cup Of Tea, while the title tune is another, most appropriately titled, piece of genre defining popsike.
In spite of a couple of omissions due to the missing master tapes, if not THE definitive one, this is still the most definitive Majority One collection available, now leaving only The Majority single sides to be compiled, which would make the overall picture even more definitive.
[Released by RPM 2005]