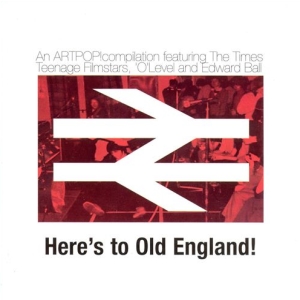 – An ArtPop Compilation –
With The Times' I Helped Patrick McGoohan Escape and This Is London already reviewed elsewhere on these pages, this is actually the first of the "reproductions" from the ArtPop "picture gallery", featuring a kind of a short retrospective of the ever-changing mod-ernist hipster persona of Ed Ball, as shown through a Time-capsule, covering a period from as far as 1978 up until 1999.
Using a kaleidoscopic variety of "colours", the soundscape that Ed manages to cover, ranges from the usual mod-ish mid'60s influenced Carnabeat of The Times' This Is London, My Andy Warhol Poster, Picture Gallery and I Helped Patrick McGoohan Escape, classic Merseybeat from their Up Against It soundtrack, as heard in Boys About Town, the Ray Davies-like social observation Cloud Over Liverpool, a less usual foray into a bit heavier Britsike with Just A Song.
Or more universal psychedelic pop of Ballad Of Georgie Best (being kind of reminiscent of Porpoise Song), to Liam Gallagher Our Leader, with it's title, as well as the sound itself, being sure to mislead you to believe that it's just another attempt at The Beatles-through-Oasis-tribute, hiding it's actual ticket for a magical Honeybus-ride.
Contributing to an even wider range of sounds, there's also The Times' electro Europop styling of Lundi Bleu (a French cover of Blue Monday) or Blue Fire, as well as Creation's first ever Top100 (#98) Manchester, finding them between the similar synthetic and an already previously mentioned Kinky concept.
While the featured Teenage Filmstars' recordings (Kiss Me, Pressure, Physical Graffiti) mostly fit under the shoegazing-pop-art-ish-cacophony tag, and there's also an O Level tune, We Love Malcolm, which, in spite of it's quite suggestive title, happens to be just another snappy little power-pop tune, becoming Malcolm McLaren's Mayor For London campaign theme 20 years later.
Here's too old, and hopefully from now on, new England as well!
[Released by ArtPop 2006]