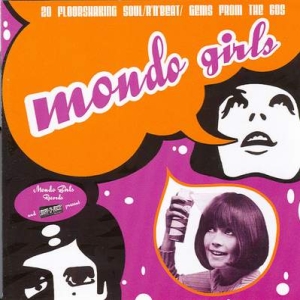 – 20 Floorshaking Soul / R 'n' Beat Gems From The '60s –
Being a usual mish mash of styles when it comes to girly '60s comps, Mondo Girls still manages to squeeze them all under the "floorshaking" common denominator, gathering 20 tracks from all over the "mondo", into a lovely pop-artish package.
However, the ones being most representative of the mentioned "floorshaking" tag, are the stompin' blue-eyed soul pair of NITA ROSSI's Something To Give and LITTLE GIGI's Take The Bitter With The Sweet, as well as the more funky ones such as VALERIA MONGARDINI's Se sapessi mio caro and SHELLY NUEVA GENERATION's Vestido azul.
If there ever was something that you'd call female freakbeat, LULU's Love Loves To Love Love must be an exemplary piece, outfreaking most of her male colleagues, while MARIA DALLAS' Ambush doesn't fall too much farther, with her voice being quite reminiscent of Lulu's as well.
One of BRENDA LEE's Mickie Most produced British recordings Is It True, is a piece of genuine mid'60s r'n'beat, and there's even some prime fuzzed-out garage punk, as heard in CARMELA ALTOBELLI's Psychedelic Movement, while SHARON TANDY maintains her usual cool with Hurry Hurry Choo Choo.
Of the several covers included, ex-drummer-turned-soloist PUSSY CAT's Francophonic take on You're No Good and FRANCE GALL's German version of Music To Watch Girls By sound most worthy of mention.
[Released by Boss-A-Tone 2006]