Once again a sense of tension and mild unease has been created around guitarist / vocalist Mike Murphy's dramatic, slightly askew pop concoctions, and (collectively) the group's oddly-alluring, decidedly left-of-centre melodies.
This is perhaps not as overtly sixties-oriented as they've sounded on previous offerings, the soaring New England-style Amanda Lavender being one of their most potent examples, yet, similarly to last year's excellent Dandelion Eyes single, much here hinges on Steven Penn's especially prominent organ lines, evocative and softly hypnotic, and which reverberates with a purity of sound that was a feature of so many of the great mid-to-late sixties combos.
The moody dynamics, slightly downbeat tone and mildly foreboding air heard in such as Voodoo Moon and its flip Nightbird are among this Liverpool group's strongest characteristics; aspects which the group build around and, indeed, thrive upon which places them in a fairly unique position within today's often patchwork musical tapestry.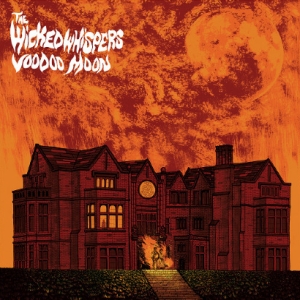 Their songs are also almost always wide-eyed with wonder, attractively open minded; part vintage psychedelic pop, part modern art-rock presentation. Everywhere, and nowhere, amid the incessant clamour of today's third-hand ideas, The Wicked Whispers are trying to reach out to find their own voice.
[Released by Electone Records 2013]
The Wicked Whispers website