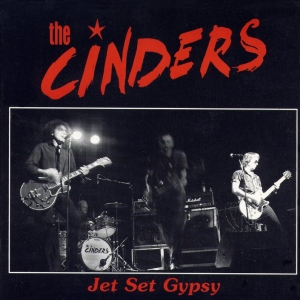 It's nice to have Pop The Balloon back again with this newly-pressed 7" single. After the "return" in 2004 with a great pop 7" (Dwight Twilley Band) the label now draws their attention to rawk and roll. (See label background in Articles).
The core of The Cinders is American Jeff Crane and Frenchman Laurent Ciron (ex-The Dogs). They became good friends during a tour in the States with the Dogs and Jeff's band at that time the Ballbusters. That tour (2002) sadly ended because of the death of The Dogs front man Dominique Laboubée.
The songs on this EP have been recorded in just five days in Laurent's Paris kitchen, with help of Christian Rosset on bass (also ex-The Dogs) and Sebastian Buffet on drums. On the A-side they rock with their aim to save the virtues of rock 'n' roll (Jet Set Gipsy & Girl Crazy). Songs in the spirit of early 70's Stones/Replacements/Dictators. Energetic – but there is still a sense of hooks.
On the B-side they temporarily slows things down a little with, in my opinion, the best track My Favourite Audience, before letting lose again with their version of the Animals I'm Crying.
Hopefully we don't have to wait another two years for the next Pop The Balloon release, as they already are in the works with a CD compilation on the The Teen Appeal together with Japanese label Wizzard In Vinyl.
[Released by Pop The Balloon 2006]