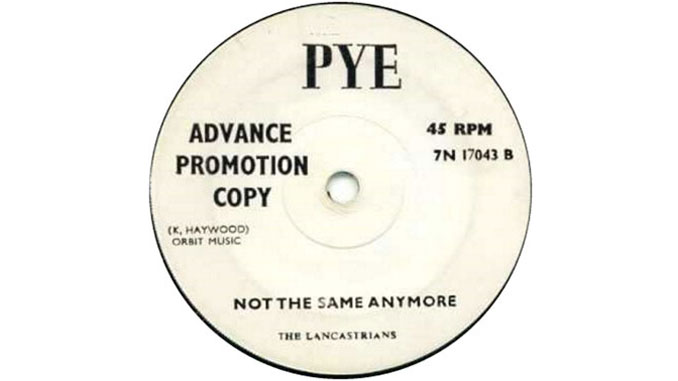 En av de mest kända myterna om Robert Johnson är att han ska ha sålt sin själ till djävulen för att kunna bli en skicklig gitarrist. När jag hör låten Not The Same Anymore med den engelska gruppen The Lancastrians, undrar jag om kompositören Kevin Heywood gjorde samma deal, med tanke på att gruppens övriga material lämnar en del övrigt att önska.
Not The Same Anymore, som bör ha spelats in i slutet av 1965, bjuder på ett delikat smorgasbord, där hin håle ger valuta för pengarna i form av den sävliga men ändå slagkraftiga melodin. Fast sanningen är nog att Kevin Heywood (inte "Haywood", trots att det står så på skivetiketten) måste ha fått en lidnersk knäpp som kompositör.
Olofssons Lost Treasures
The Lancastrians1966
Not The Same Anymore
(K. Heywood)
The Lancastrians historia går ända tillbaka till mitten av femtiotalet, då Kevin Heywood och Barry Langtree bildade The Heartbeats hemma i Altrincham (en stad som ligger i nordvästra England). Någon kommer kanske att tänka på Honey Lantree – den kvinnliga trumslagaren och sångerskan i The Honeycombs – när jag nämner Barry Langtree, men som ni märker skiljer sig stavningen något.
Efter att ha engagerat sångaren Tommy Hart bytte gruppen namn till Tommy Hart & The Heartbeats. Då Hart lämnade gruppen ändrade de namn till Barry Langtree & The Lancastrians, som senare kortades ner till The Lancastrians.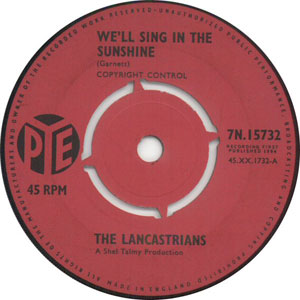 Efter att ha blivit introducerade för producenten Shel Talmy (mest känd för sitt samarbete med The Kinks och The Who), fick The Lancastrians skivkontrakt med Pye. Debutsingeln, en version av Gale Garnetts stora amerikanska hit We'll Sing In The Sunshine, blev en mindre hit på Englandslistan.
Jag har i ärlighetens namn alltid haft svårt för We'll Sing In The Sunshine, som i bästa fall låter snäppet bättre än en tysk ölsång på en Oktoberfestival. The Lancanstrians gör heller inget för att förbättra låten.
(Om någon anser att jag är orättvis mot Gale Garnett, kan jag rekommendera uppföljaren Lovin' Place, som inte alls är dum.)
De som är intresserade av Jimmy Pages karriär som studiomusiker lägger säkert märke till att han skulle spela gitarr på låten, men enligt sajten James Patrick Page – Session Man spelar han bara på två av The Lancastrians låtar, uppkäftiga Was She Tall (B-sida till We'll Sing In The Sunshine), och på gruppens version av The Kinks The World Keeps Going Round (A-sida till Not The Same Anymore).
Men nu går jag händelserna i förväg. Efter att ha fått en mindre hit med debutsingeln fick The Lancastrians göra turnéer med bland andra Tom Jones, Cilla Black och The Moody Blues samt uppträda i TV ett par gånger.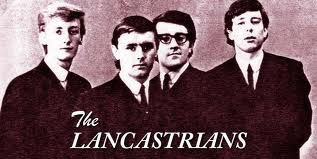 De spelade in ytterligare fem singlar, dock utan att få någon mer hit. Det säger en del om klimatet under denna tid att skivbolaget ändå gav gruppen flera chanser. Å andra sidan blev artisterna lurade på royalties och låträttigheterna alldeles för ofta.
De tolv låtar som The Lancastrians fick spela in bjuder på en smått schizofren blandning. Uppföljaren till We'll Sing In The Sunshine, en version av Jay & The Americans Let's Lock The Door (And Throw Away The Key), var ytterligare ett försök att hänga på covertrenden, men denna gång var inte skivköparna lika intresserade.
The Lancastrians tuffare version höjer ändå kvaliteten ett snäpp. B-sidan, If You're Goin' To Leave Me, är betydligt mer intressant. En på ytan enahanda och oengagerad men ändå fängslande låt, som förhoppningsvis attraherar vänner av popsike-genren.
Tredje singeln, Dave Clark Five-inspirerade There'll Be No More Goodbyes, har sina ljusa stunder, men konkurrensen var minst sagt hård om skivköparna under pophistoriens bästa tid.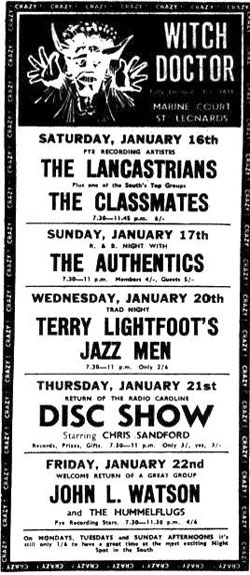 På fjärde singeln, Lonely Man, har Shel Talmy kanske börjat bli smått desperat, eftersom låten påminner mycket om The Ivy Leagues sound – en annan av Talmys skyddslingar. B-sidan, I Can't Stand The Pain, är en rivig låt, men det känns ändå som om gruppen inte vågar trampa gaspedalen i botten.
Då är vi framme vid femte singeln, tidigare nämnda The World Keeps Going Round med Not The Same Anymore som B-sida. Jag måste ge The Lancastrians lite kredit, eftersom de i mitt tycke överträffar The Kinks original, men det känns ändå inte som hitmaterial. Desto mer synd att man inte försökte sälja in den eminenta B-sidan.
I ärlighetens namn är jag inte helt säker på att singeln kom längre än till promostadiet, men enligt en person som kommenterat på sajten 45cat ska åtminstone den amerikanska utgåvan på Jerden ha getts ut officiellt.
Efter fyra uteblivna hitlisteplaceringar nådde desperationen sin kulmen, när The Lancastrians gav sig på Ssgt Barry Sadlers textmässiga och musikaliska förolämpning The Ballad Of The Green Berets. Det hörs hur likgiltig sångaren är när han sjunger den patriotiska texten.
Efter en turné i Västtyskland 1967 beslöt sig The Lancanstrians för att gå skilda vägar. De gjorde dock en kort comeback i början av 2000-talet.