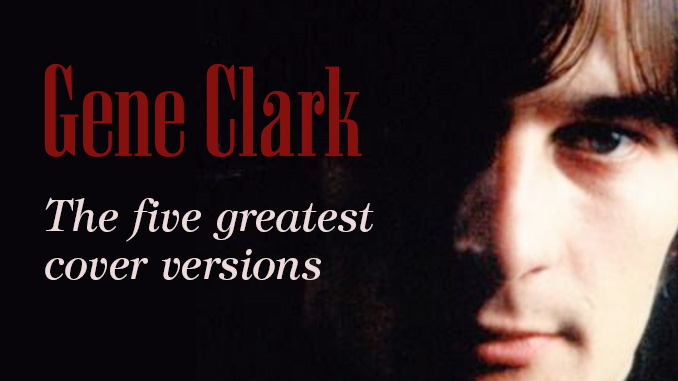 The list includes both released and unreleased cover versions.

Jokers Are Wild [1985?]
The foundation of Jokers Are Wild (written by Pat Robinson and Dick Holler) is a spectacular pop song in every sense, with an elevating and stunning chorus nicely packaged in harmonies. The craftsmanship and intimate atmosphere of Jokers Are Wild make it far better than the usual pop fare. It's a shame that it was omitted from the duet album So Rebellious a Lover.
There's also a demo version, which is even better?

Fair And Tender Ladies [1987]
From the opening acoustic guitar to Gene's whistles, and particularly with the help of Carla Olson's exquisite voice, this cover surpasses all other versions of the traditional Fair and Tender Ladies. Despite Gene's voice having taken a beating after twenty years of abuse, the soft and melancholy voice feels more human and intimate than ever.

Don't That Road Look Rough And Rocky [1972]
Don't That Road Look Rough and Rocky (excerpt)
One of Gene's best cover songs – as well as a song where my superlatives are inadequate – is an even more serene and stripped down version of
Don't That Road Look Rough and Rocky
than the version on the
Roadmaster
album. In essence, there's piano and strings, before the song is brought to an end when Gene grabs the harmonica. Supernatural.
Mr. Tambourine Man [1984]
Gene's daring move – to record a version of Mr. Tambourine Man with three verses – turned out to be a success. (The Byrds had only used the second verse on their version.) Even Bob Dylan has said that Clark made the best version. I had some difficulty with the non-dynamic, early eighties sound in the beginning, but Gene's affectionate and revered voice during the first seconds removes all reservations.

Give My Love To Marie [1977]
The song was written and recorded by James Talley the year before Clark's release.
I may be biased but Gene, and above all Tommy Kaye's exemplary production with David Campbell's string arrangement, make Give My Love to Marie something difficult to describe in words.
The instrumentation, with the strings in the driver's seat, escalates until its gets into a euphoric state following the musical seduction, before Gene lets us catch our breath for a brief moment some five minutes into the song.