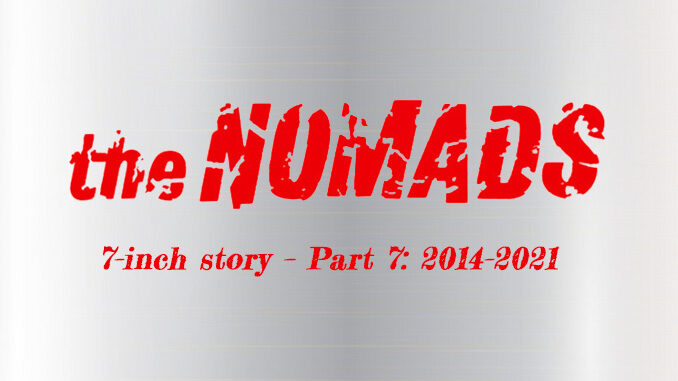 This last part in the series covers the years 2014 to 2021, during which The Nomads put out seven 7" on six different labels. A shortage of recording sessions for major projects after the album Solna (2012) and the Loaded Deluxe EP (2013) meant that newly recorded original material is rare in recent years. Despite this, The Nomads has released a steady stream of 7-inches since 2013. Consequently, the absence of new recordings implies that the content of the 7-inches from 2014 onwards – at least so far – consists mainly of previously recorded material. On the other hand, most of the material from this time period is attractive and interesting because it is only available on the 7-inches presented in this part.
In the present part of PopDiggers' series of careful inspections of The Nomads 7-inches, we continue to explore and document in the same way as before with regard to what The Nomads has to tell about each of these 7-inches, plus to provide such additional facts that may be of interest.
Consequently, part six builds on these earlier reports:
In the present part, we will cover the last seven 7-inches by opening with No Cops, Haul Ass (2014) and closing the whole shebang with Ain't Yet Dead (2021) after no less than a total of 46 separate 7". All 7-inches are as usual lined up in the most probable chronological order according to their releases.
In the same manner as before in this series, we steadfastly continue to explore each 7" according to this winning three-piece formula:
Discographic facts (title(s), composer(s), record company, year of release, and other facts of interest – according to a cross-check between discogs.com, 45cat.com and the discography on The Nomads' website;
Content description (details relevant to the songs on the 7" in question);
Testimony (selected memories that The Nomads want to share with PopDiggers).
The testimony section is the largest and most essential of these, as it is in this section that the members of The Nomads provide information on what actually happened behind the scenes by offering reports on the conditions that prevailed when the 7" in question was made.
PopDiggers have as usual the pleasure to investigate the present batch with the help of testimonies from the members Björne Fröberg, Hans Östlund, Nix Vahlberg, and Joakim E. Werning (formerly Ericson). In addition, frontman of Donovan's Brain, Ron Sanchez, generously contributes with a report.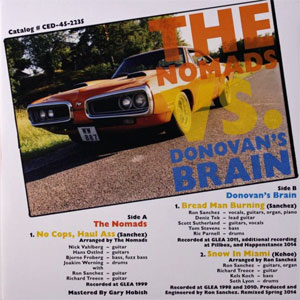 Discographic facts
A. No Cops, Haul Ass (R. Sanchez)
The Nomads vs. Donovan's Brain
[Career Records I CED-45-2235 / 2014]
Red vinyl.
Content description
No Cops, Haul Ass is a hot rod instrumental written by Ron Sanchez. It is presently not available with The Nomads anywhere else but here. Ron Sanchez is the frontman of Donovan's Brain, owner of Career Records and GLEA studio in Bozeman, Montana. Donovan's Brain contributes with two songs on the B-side of this split EP.
A few years after this EP was released, Donovan's Brain's own version of No Cops, Haul Ass became available on their Convolutions Of The Brain – a 3CD with previously unreleased recordings and other rarities (2018).
Testimony
This is one of the songs we recorded during our visit to Ron Sanchez's home studio in 1999. Ron Sanchez and The Nomads have a common history that goes back a long way. For example, our relationship led to that Ron released the Solna album on his Career label in 2013 for the US market.
No Cops, Haul Ass was recorded on the same day as Top Alcohol (see Part 5) in 1999. We developed No Cops, Haul Ass in the studio guided by Ron Sanchez, who wrote the song originally for Donovan's Brain, but it was unreleased at the time. The title was inspired by a message on a road sign Ron passed in the desert that invited free speed by hinting the absence of patrolling by the traffic police.
Richard Treece visited the studio at the same time to do a recording with Donovan's Brain and he joined us on guitar on No Cops, Haul Ass. Richard was an old friend to Ron and included in the flexible line-up of Donovan's Brain. He was a former member of Help Yourself, an eponymous London band formed in the early 1970s.
A couple of students of the university in Bozeman made a ski film, 99 Sense, which needed some background music. They had all the reasons in the world to make such a film, because there are some really nice skiing resorts around Bozeman. They asked Ron for advice on suitable music and he suggested No Cops, Haul Ass to be included in the sound track. We have 99 Sense on a VHS tape lying around somewhere. It is great if there is someone going off-piste somewhere listening to The Nomads in the headphones…
Joakim owned the 1970 Dodge Coronet Super Bee on the picture sleeve for a couple of years. The Dodge was lent for a fashion photography session and Joakim asked the photographer for some extras only on the car – a pedal to the metal model which fits well with the title. The original license plates were photoshopped, though.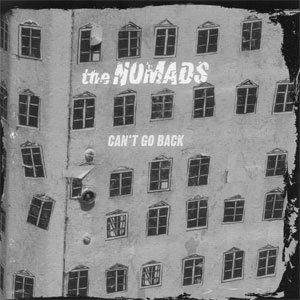 Discographic facts
A. Can't Go Back (B. Fröberg, C. Kiesbye)
B. Up, Down Or Sideways (B. Fröberg, C. Kiesbye)
[Pitshark Records I RIK 043 / 2014]
Included in Pitshark Records Single Club. Limited edition of 100 hand-numbered copies.
Content description
Both songs are originals taken from the Solna album (2012). This single is one of those included in the French label Pitshark Records' Single Club 2014 whose members received twelve exclusive 7" by mail.
Testimony
Gilles Martin of the French label Pitshark Records had been keen on releasing something by us for some time, but this was the only occasion we actually made it happen. The single was prompted by that Gilles had decided to launch a very selective single club driven by the idea that he would send a limited edition 7" by mail to a small number of subscribers for a period of time. Can't Go Back and Up/Down and Sideways was among the first of the dozen or so 7" that was circulated this way.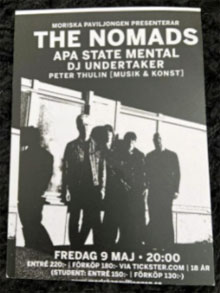 As for the songs, both are from the recording sessions produced by Chips Kiesbye that led to the album Solna. But Can't Go Back and Up Down and Sideways were not exclusively set aside for this single, since they had already appeared on the Solna album two years earlier.
We were not engaged in the design of the front cover, but the black and white photo of the band on the back was taken by Hanna Werning, Joakim's wife.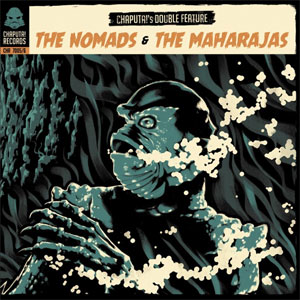 Discographic facts
C. She Ain't No Use To Me (D. Bingham, R. Mayne)
D. The Fire Of Love (J. Reynolds, S. Sturdivant)
Chaputa!'s Double Feature Vol. 1. Double single, split between The Nomads and The Maharajas.
[Chaputa! Records I CHR 7005/6 / 2016]
Content description
The Nomads bring two covers to life on this double single put out by the Portuguese label Chaputa! She Ain't No Use To Me is a cover of the minor hit originally recorded by the Canadian garage band The Ugly Ducklings and released on their second single in 1966 (Yorktown Records). The cover in question here is taken from The Nomads' mini-album The Cold Hard Facts Of Life (1996) on which they cover eight Canadian original garage punk songs.
The Nomads back She Ain't No Use To Me with a cover of Jody Reynolds' The Fire Of Love – his second single [Demon Records, 1958], "written together" with the fictitious Sonja Sturdivant. The Fire Of Love is an outtake from The Nomads' Powerstrip session (1994) and was before that also immortalized by The Gun Club in 1982.
The Maharajas are a Swedish garage rock band that also contributes with two covers to this double single.
Testimony
Chaputa! Records is a small Portuguese independent label that has released several albums with The Maharajas that we share this split with. Chaputa! Records contacted us after they came up with the idea to release a series of split double singles with different bands doing covers only. We were totally free to choose covers from our discography for this one. We finally agreed to pick She Ain't No Use To Me and Fire Of Love.
It was extra pleasant to do something together with The Maharajas, who we know from way back, and even share the same rehearsal space with. Jens Lindberg, frontman of the still going on strong The Maharajas, has been in the garage rock circuit since the 1980s and member of a number of bands, like The Stomach Mouths and Crimson Shadows. And Mathias Lilja, who also sings in The Maharajas, is with The Strollers – another great Swedish garage band.
She Ain't No Use To Me is taken from our mini-album The Cold Hard Facts Of Life on which we cover The Ugly Ducklings and seven other Canadian garage bands from the 1960s.
The idea of doing a cover record with Canadian bands was hatched during a cruise from Vancouver to Victoria along the scenic coast of British Columbia for a show together with our Canadian friends in Bum. Jack Tieleman of Lance Rock Records was with us on the trip, as were Ron Sanchez and his wife Karen. Jack loved the concept and suggested a couple of originals for us to cover. We recorded all covers during an intense and effective session in the Music-A-Matic studio in Göteborg, December 1995, under the supervision of Chips Kiesbye.
Fire Of Love is a bonus song from the Powerstrip session we did in 1994. We were inspired by the cover The Gun Club released in the beginning of the 1980s but we like Jody Reynolds' atmospheric original '50s recording too. To the merits of Fire Of Love also belongs that MC5 covered it live in 1970.
Nix' wife, Eva Vahlberg, took the photo of us at the Brighton Pier, England, in conjunction with a gig we made there around 2005. This visit to Brighton not only brings back fond memories, for it was at this concert that Joakim was exposed to an intense noise peak from which he still suffers complications of.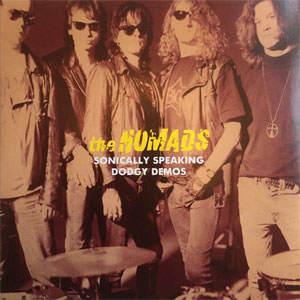 Discographic facts
A. Can't Keep My Mind Off You (B. Fröberg, N. Vahlberg, H. Östlund, P. Ahlén)
B. Primordial Ooze (B. Fröberg, N. Vahlberg, H. Östlund, J. Werning, P. Ahlén)
[Universal Music/Sonet (no cat #) I / 2016]
Free 7" with 25th anniversary Record Store Day edition reissue of Sonically Speaking.
Content description
Two "dodgy demos" from February 1991. The final versions of both tracks were later included in the album Sonically Speaking and also released as A-sides on two singles in 1991 and 1992, respectively (see Part 3).
Testimony
These two songs were newly written and still on the drawing board at the time so we wanted to run them through and hone them in the Sonet Studio with Chips Kiesbye before we began the real-thing recordings for Sonically Speaking. Christer Mellström, a veteran of Sonet/Universal Records and an infinitely dedicated supporter of The Nomads, found these tapes in the archive – all other demos for Sonically Speaking are probably lost. Christer was also involved in the work with our Solna album. He excavated and prepared this bonus material for the Sonically Speaking 25th anniversary, released as a Record Store Day special edition.
Can't Keep My Mind Off You was so new that we did not have any words for it yet so we used lyrics from whatever came to mind, trying to find the right accentuation and phrasing for the vocals. Alex Chilton had recently made a cool cover of Slim Harpo's Te-Ni-Nee-Ni-Nu which happened to become the template for the final lyrics – that our friend Per Ahlén, singer of the Wayward Souls, co-wrote with us. This dodgy demo of Can't Keep My Mind Off You gives an interesting insight in how a song develops and the creative process behind it – it is really a "work in progress".
Mårten Levin was responsible for all photos connected to the Sonically Speaking album. This one is from the photo session we did for the video of Can't Keep Mind Off You, which was taken at the same day as the cover of the 7" Primordial Ooze (cf. Part 3).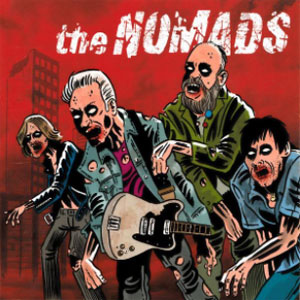 Discographic facts
A. Better Off Dead (Live) (G. Sage)
B. Wasn't Born To Work (Live) (B. Fröberg, N. Vahlberg, H. Östlund, T. Johnson)
[Ghost Highway Recordings I GHR-143 / 2017]
Split 7" EP with Sator. First edition: 240 copies (black vinyl); 100 copies (green vinyl); 100 copies (yellow vinyl). Second edition: 300 copies (white vinyl); 60 copies (red vinyl) and 66 copies (red vinyl with puzzle cover artwork). Hand numbered.
Content description
Better Off Dead is written by Greg Sage and recorded by his Portland (Oregon) punk group The Wipers. It was released on a three track 7" EP on Sage's own Trap Records in 1978 (which has been reissued several times since). The Nomads released Better Off Dead first time as a track on the Powerstrip album (1994).
Wasn't Born To Work is a Nomads original included on the Sonically Speaking album (1991). It was also released as the A-side of a 7" in 1993 (see Part 4).
Both tracks are outtakes from the live album ¡Demolición! Live At El Sol, Madrid, recorded at Sala El Sol in Madrid, November 20, 2014 (Ghost Highway Recordings).
Testimony
These tracks were two strong unreleased leftovers from the recording of the live album ¡Demolición! that we did 2014 in Madrid.
Better Off Dead was originally recorded by an old all-time favorite band of ours, Greg Sage and The Wipers – which we learned about from the renowned music writer Lennart Persson, who mentored us in the beginning. The Wipers were a band that often expressed explicit desperation with their music. Better Off Dead is on their first 7". Because it is perfect as it is, it is also hard to do it full justice – although Better Off Dead fits The Nomads' line-up and mentality really well. Hence, it is both demanding and fun to play. First time we put it out on record was the studio version on Powerstrip, but it took a while before we picked it up again. We had to rehearse Better Off Dead a lot before we considered it ripe enough to be included in our live set. Particularly this cover cannot be done half-hearted – it is all in, like a knuckle sandwich in order to reach an intensity level close to that of the original.
Hasse took on the task of mixing these songs. The boost that the mixing results in becomes obvious when the raw tape is compared with the end result we hear on the single. The original live recording amounted just to the bare sound picked up by the microphones on stage. In the mixing process, Hasse added a number of carefully selected effects which highlights and reflects our live performance and presence.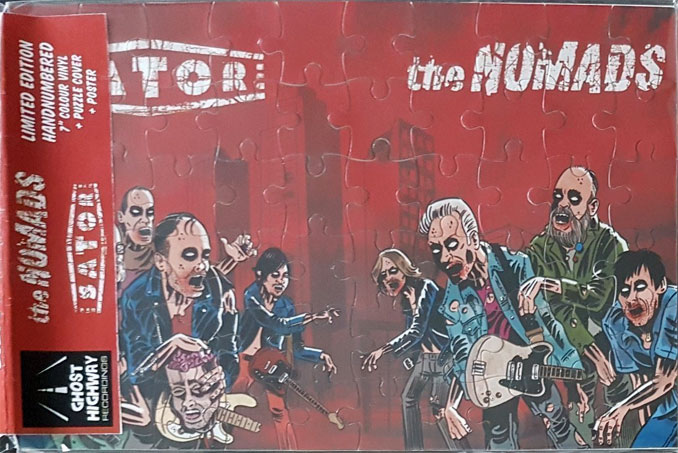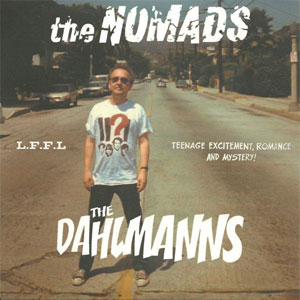 Discographic facts
A. Working For The Man (B. Fröberg, C. Kiesbye)
[Ghost Highway Recordings I GHR-169 / 2017]
A split single with The Dahlmanns. Limited edition (250 black and 250 green copies) available at Lindsay Hutton's 60th birthday party at Wurlitzer Ballroom, Madrid, November 4th 2017.
Content description
The Nomads perform their own Working For The Man, which is only available here on this special edition released to honor Lindsay Hutton, founder of The Next Big Thing fanzine (1977) and label (1984).
Lindsay Hutton and Andy Shernoff (on backing vocals on Working For The Man) have previously contributed with statements to The Nomads' 7" story.
The single is split with The Dahlmanns, a power pop rock group hailing from Norway.
Testimony
This split single became a suitable birthday present for Lindsay Hutton after he had invited people from all over the world to his fantastic 60th birthday party held in Madrid. Lindsay was presented this 7" on the afternoon before The Nomads and a number of other guests made performances that evening.
Marco Padin of Ghost Highway Recordings was out early in the planning process, at least six months in advance. For our contribution to the release we chose Working For The Man that Chips and Björne had written especially for this event. We recorded Working For The Man in our rehearsal room with Chips Kiesbye's mobile studio Planet Of Noise a few months in advance of the release and then we recruited Andy Shernoff to add backing vocals to the audio file from the other side of the pond before we sent the final recording to Marco.
The Dahlmanns is the husband and wife team of Andre and Line Dahlmann, great friends whom we have shared a stage with several times. The Dahlmanns also performed that evening in Madrid, November 2017, along with Wreckless Eric & Amy Rigby, Reine Laken, Amy Allison and Suzy & Los Quattro.
"L.F.F.L." on the cover alludes to the The Dictators slogan "D.F.F.D." (Dictators Forever, Forever Dictators) and should be interpreted to "Lindsay Forever, Forever Lindsay" as a tribute to Lindsay Hutton and also a nod to the Dictators' song 16 Forever (see Part 2). "L.F.F.L." is shown along with "Teenage Excitement, Romance and Mystery!" on the cover – the slogan of Lindsay Hutton's fanzine Next Big Thing.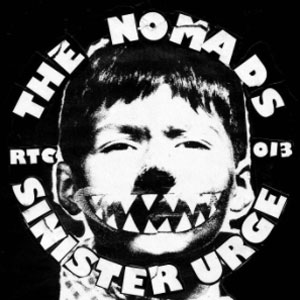 Discographic facts
A. Ain't Yet Dead (A. Carroll, B. Stark, C. Burt)
[Reduced To Clear Records I RTC 013 / 2021]
Limited edition of 25 copies (with T-shirt and badge) in a hand screen printed sleeve.
Content description
A split single with Ain't Yet Dead on both sides. The Nomads' cover is back to back with Sinister Urge's original (for the first time on vinyl), while The Nomads' version was previously released as the B-side of I'm Gone (see Part 5) in 1999.
Testimony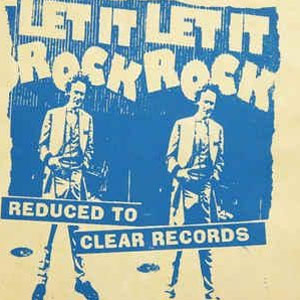 Reduced To Clear Records has focused on releasing a string of exclusive singles recently. The latest ones are with The Phobics and Los Coyote Men. The releases are exclusive not only in the sense of a very limited edition (25 copies) but also the whole product is classy. The 7" comes with a T-shirt and a badge nicely packed in something resembling a pizza box, but decorated with a stylish silk screen print.
As it sold out in just a few minutes on April 30 2021, a second pressing seems to be underway (which is an exception from what Reduced To Clear Records normally do).
The main driving force behind this release was to make Sinister Urge's original of Ain't Yet Dead available on vinyl for the first time (the full story behind Ain't Yet Dead is found in Part 5). We were then asked to contribute with our version as a fine complement to go along with it.
Thanks to Björne, Hasse, Joakim, Nix and Ron for sharing your memories/photos and for reviewing the text.