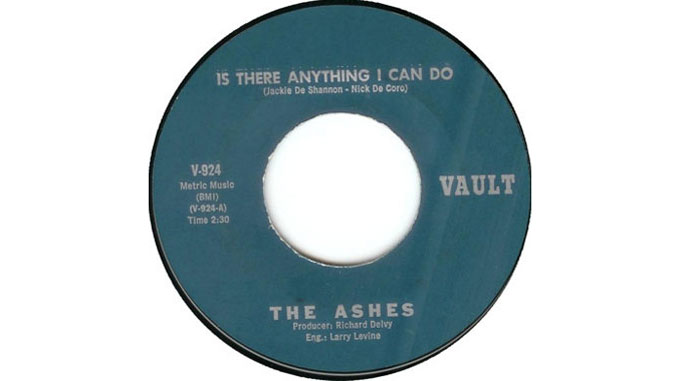 Veckans aktuella låt spinner vidare på hybridtemat från förra veckans Olofssons Lost Treasures. Nu tar vi oss till den amerikanska västkusten för att höra ashes to ashes, disc to disc.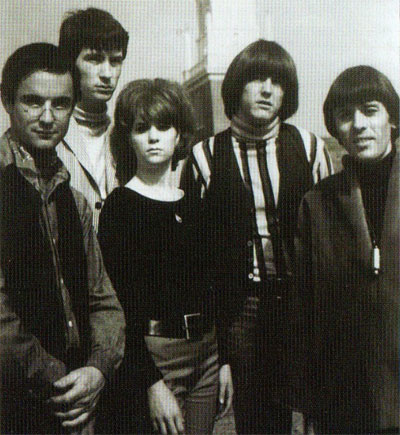 En hybrid av The Byrds jingle jangle-sound, inklusive tamburin, och The Mama's & The Papa's vackra kvinnliga stämmor, låter ju som den perfekta företrädaren för sextiotalets amerikanska västkustpopsound. Det finns ett relativt okänt praktexempel, förevigad av gruppen The Ashes.
Gruppens första singel Is There Anything I Can Do slår knock på mig redan i introt, när gitarren och tamburinen inleder en kärleksrelation, för att därefter kulminera med sångerskan Barbara "Sandi" Robisons något släpande men ändå bedårande stämma. Rösten förmedlar både en domedagsstämning och desperat längtan, som gör den i och för sig ljuvliga melodin till mer än bara en mycket bra poplåt. Och då har jag ändå inte nämnt det magnifika sticket.
Olofssons Lost Treasures
The Ashes1966
Is There Anything I Can Do
(Jackie DeShannon – Nick De Caro)
Låten spelades in i Gold Star Recording Studios och gavs ut i februari 1966. Tyvärr stod inte skivköparna i givakt för att köpa mästerverket, utan låten såldes i princip bara i Los Angeles-trakten.
En av kompositörerna till Is There Anything I Can Do är Jackie DeShannon – en av pophistoriens bästa kvinnliga låtskrivare, som jag hoppas få återkomma till någon gång i framtiden. På tal om Jackie och The Byrds, så har ni väl inte missat deras fruktbara samarbete.
The Ashes hade bildats året före som The Young Swingers och gav samma år ut två singlar på olika småbolag. Jag har bara hört ett av spåren, Or Else You'll Cry – en habil låt som inte säger något om vad som skulle komma året efter.
En av medlemmarna var för övrigt den blivande Jefferson Airplane-trummisen Spencer Dryden. The Young Swingers bytte snart namn till The Ashes och gav ut två singlar under det gruppnamnet.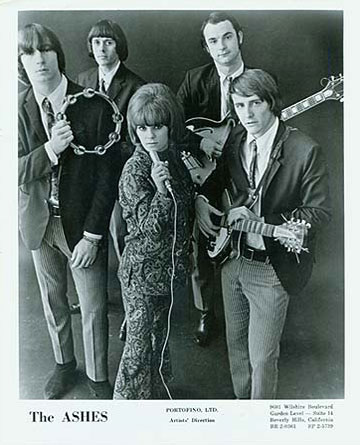 Man ska vara försiktig med superlativer, men de fyra låtarna har förgyllt tillvaron i min bostad medan jag skrev denna artikel. B-sidan på första singeln, Every Little Prayer, är i och för sig en lättviktig sak, åtminstone i jämförelse med A-sidan. Det låter som en okänd barnvisa, kryddat med ett sedvanligt, luftigt sound. Ja, den ljuvliga produktionen och det vackra mollpartiet, cirka 75 sekunder in i låten, förlåter dess något banala framtoning.
Andra singelns A-sida – softa, jazzinspirerade Roses Gone – låter som en nedtonad variant av The 5th Dimension. Roses Gone hade förgyllt många album från den här tiden, men det var knappast en låt som en hittörstande publik eller flower power-fans ville höra 1967.
B-sidan, Dark On You Now, är något helt annat; som en låt från en galax långt bort i rymden och – med risk för att bli tjatig – sagolikt ljuvlig sång från Barbara Robison. Trots att Barbaras röst låter en smula barnslig på låten, kan jag inte värja mig, speciellt när hon sjunger orden "laughing" och "talking" i första versen. Båda låtarna på singeln är skrivna av gruppens kompgitarrist, John Merrill.
Dark On You Now borde kanske ha varit huvudlåt i stället för Is There Anything I Can Do i veckans avsnitt av Olofssons Lost Treasures, men jag ville inte svika Jackie.
Det är sorgligt att Robison aldrig fick det erkännande hon förtjänade, men det var i stället Janis Joplin och Grace Slick som blev västkustens vinnare.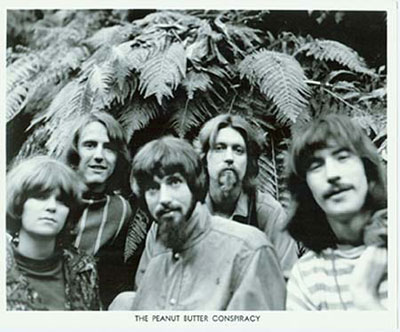 Strax därefter valde Spencer Dryden att sluta för att gå med i Jefferson Airplane. De övriga medlemmarna bildade gruppen The Peanut Butter Conspiracy. Även om den gruppen aldrig nådde Jefferson Airplanes framgångar, fick de i alla fall en mindre hit med It's A Happening Thing och gav ut tre album.
Jag kan med viss tvekan rekommendera debutalbumet The Peanut Butter Conspiracy Is Spreading. Här finns också en nyinspelad, snabbare version av Dark On You Now.
Året efter gjorde gruppen The Love Exchange en cover på låten, som dock fick titeln Swallow The Sun.
Historien om The Ashes tog dock inte slut 1967, utan året därpå återbildades gruppen med några andra medlemmar, inklusive den nya sångerskan Pat Taylor. De spelade in albumet Ashes Featuring Pat Taylor, som dock inte gavs ut förrän 1970. Det är ett högst ojämnt album, men den inledande låten Gone To Sorrow (skriven av en ung Jackson Browne) är inte alls dum.
Barbara Robison fortsatte som sångerska och sjöng bland annat på låtar från kultfilmen Beyond The Valley Of The Dolls (åtminstone på den 25-spåriga soundtrack-CD som gavs ut långt senare) samt medverkade i musikalen Hair. Barbara fortsatte dessutom att samarbeta med ett par av medlemmarna i The Peanut Butter Conspiracy.
Dessvärre avled hon redan vid 42 års ålder, efter att ha blivit hastigt sjuk under en konsert.