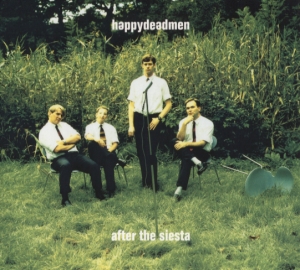 After The Siesta was the second release on Torpedo Records out on the 13th of July 1998 [TPCD2]. Again 1 000 copies were pressed in digipak, all hand numbered. [BUY]
Songs:
01. A Lovesong
02. Out Of The Blue
03. In The Summer Sun
04. Not The Only Sucker In Town
05. Free Space
06. Love Lies Bleeding
07. Euphoria
08. To Our Health
09. Cure Me
10. Heavy Metal Rules
11. Snowfall
12. Starfan
Bonus Track:
13. Ultimate High
SHORT BAND BIOGRAPHY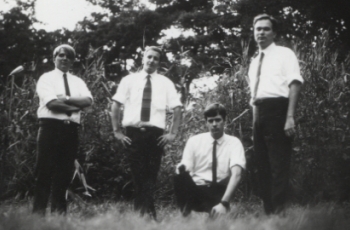 Roger Kjellgren – bass
Thomas Kristoffersson – drums
Jan Hedin – vocals/acoustic guitar
Magnus Karlsson – electric guitar
Happydeadmen was one of the first indie pop bands from Stockholm. In 1988, when the band was formed, the rest of Sweden's alternative bands were playing hardcore, Goth rock or garage rock.
To be called a "pop" band was more or less an insult in those days.
In 1990 they released their first album, Eleven Pop Songs, and with that they spawned the Swedish indie pop boom of the mid 90's. Since then Happydeadmen has successfully released two more albums Game, Set, Match and the recently released After The Siesta.
Happydeadmen has often been compared with British pop bands like The Smiths and Lloyd Cole and The Commotions. This comparison is not all wrong, but Happydeadmen really has a distinct sound of its own which is hard to pigeonhole. Their guitar pop style is renowned for good singing melodies and lyrics, backed up with clean beautiful guitar harmonies.
On their latest album After The Siesta they take their pop style a little further and add a bit of country, a bit of bossa nova, some heartbreaking string arrangements, horns, and mix it all with catchy melodies and a lot of that pop feeling. It is without doubt the most beautiful and elaborate album they have made so far.
The album was originally released 1997 in Japan under the name Bullfights Every Sunday [Polydor], now it's available to the rest of the world. After The Siesta has one bonustrack – The Ultimate High.
REVIEWS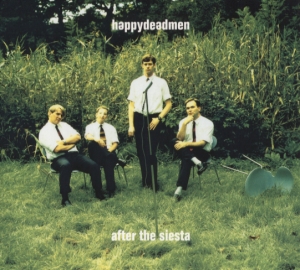 I've got a confession to make–one that won't surprise anyone who has ever read my reviews before — I'm a major popaholic.
And nothing feeds my addiction better than Swedish pop, except perhaps the thousandth playing of the Housemartin's London 0 Hull 4.
For the uninitiated in this little, global cult of pop worshippers, I've got a tip.
There's a hell of a lot more to the land of Volvos and great graphic design than just the bloody Cardigans. They're fine, but dozens of far better bands remain virtual unknowns on this continent.
I urge you to run to your local indie record store and look for anything by The Merrymakers, Eggstone, The Wannadies, and Happydeadmen.
Happydeadmen are not a goth band despite their odd name. Just as a side note, what's with "death" names for Swedish pop bands? There's the aforementioned Wannadies too (who did receive a stateside release last year that I highly recommend).
Perhaps it's their sense of bitter irony—a way of acknowledging that a dark edge can exist even in pop. Anyway, this quartet from a small burgh in Sweden is relentlessly jangly even though they often pen ironically maudlin lyrics.
They've been called the Swedish Smiths, which has some truth in it. Jan Hedin's vocals occasionally possess a smooth vulnerability and cheery acceptance of gloom that certainly bring Morrissey to mind. But there's a lot more jangle pop in their sound and they've obviously been playing their Housemartins records as faithfully as me.
Nothing on this disc revels in glorious misery, while sounding so absolutely gorgeously appealing, as Live Lies Bleeding with its country and western, mourning, steel pedal guitar and plaintive harmonica. It doesn't take this long (the sixth track) for After the Siesta to get you.
You're trapped from the first notes of the first song A Lovesong. I don't often write about imports because they're so ridiculously expensive and often hard-to-get unless you're lucky enough to live near a great record store, like I'm blessed with in Chicago with Reckless.
But if you dig Britpop, the Smiths, or just flat-out great tunes, you'd be hard pressed to spend your money any better than this.
9,5/10
Sarah Zupko
Editor & Publisher PopMatters Media, Inc.

**********
Happydeadmen var i början av 90-talet ett av de stora svenska pophoppen, men sedan det i stort sett utmärkta albumet Game Set & Match som gavs ut på Norrköpingsbolaget Ceilidh har det varit tyst om bandet.
Comebacken på lilla Malmöetiketten Torpedo är inget mindre än återkomst i triumf – detta är bandets stora stund. Soundet är mognare och mer ohejdat och självklart.
Bandnamnet ger helt fel associationer, även om man råkar känna till att det är hämtat från en låt av Liverpoolbandet Echo & The Bunnymen.
HDM har alltid legat närmare brittiska popesteter som Lloyd Cole och Edwin Collins; finkänsliga poppoeter som avslöjar en litterär begåvning utan att spotta ur sig titlar från 20-poängskursens litteraturlista i varannan mening.
Poptexter av samma kaliber som Jan Hedins To Our Health eller Love Lies Bleeding växer inte på träd, inte ens dem i Lundagård.
Som sångare hamnar han allt närmare en modern crooner som Morrissey, men här finns också stunder, främst den svagt latininfluerade Out Of The Blue, där bandet närmar sig den subtilt orkestrerade antirock som låg på amerikanska topplistor alldeles i början av 70-talet.
4/5
Håkan Engström
Sydsvenskan
**********
Ja, åren går och vi gamla pop- och rockrävar följer med i utvecklingen hur den än beter sig.
Stockholmsbaserade popgruppen Happydeadmen har funnits som popband så länge jag kan minnas, och de var mycket riktigt också det första riktiga svenska "indiebandet" som hyllade artister som The Smiths och Lloyd Cole The Commotions.
På den tiden, prick tio år sedan, så visade också HDM var skåpet skulle stå och det gör de fortfarande.
Denna platta, After the Siesta är släppt på det trevliga skivbolaget Torpedo i Malmö. Albumet släpptes förra året i Japan via Stockholm records och då under titeln Bullfights Every Sunday (som inte har med baksmällor att göra om nu någon trodde det/red.). Och som tioårsjubileumsskiva är den passande nog utmärkt.
After The Siesta visar upp HDM på alla typer av humör, men känslan för ren och pur pop finns alltid där. Och det är svårt att låta bli att lalla med i utsökta poppärlor som den inledande A Lovesong, In The Summer Sun, Not The Only Sucker In Town och min alldeles egna lilla favorit Euphoria (som bandet delvis framträdde med på en av ettnolletts-fester i Stockholm i höstas).
Här finns mer att hämta. Saknar man pop med blås och smäktande stråkar, vackra gitarrslingor, snygg stämsång och smeksamma melodier i det stora hela så är After the Siesta en näst intill ultimat popplatta, åtminstone om man följt med Happydeadmen i alla år
3+/5
Nicke Boström
ettnollett
**********
Redan i SA #4 var vi stolta att kunna presentera ett av den tidens svenska pophopp, Happydeadmen (även om de då inte skrev namnet i ett ord). Nu går det inte alltid som man hoppas och Stockholmsbandet blev aldrig så stort som både vi och de hade trott – tystnad rådde.
Men, tro det eller ej, nu är deras nya album här och ryktena om en splittring får för tillfället anses något överdrivna. De har bara tagit en – visserligen lång – siesta från musicerandet, men efter att ha rönt vissa framgångar i Japan med denna utgåva är det dags att ge dem en chans igen.
Och det tycker jag gott att vi lyssnare kan göra. Happydeadmen står sig nämligen mycket bra i det allmänna svenska popbandsklimatet och borde ha en chans jämte Wannadies och This Perfect Day.
Bevis för detta finns att hämta i In The Summer Sun och Not The Only Sucker In Town till exempel. Och den Beatles-inspirerade skojiga historien Heavy Metal Rules, om tjejen bakom skivdisken.
Ninni Brunnberg
Sound Affects
**********
Svensk pop på engelska är ju inget nytt, men långt ifrån allt är bra. Stockholmska Happydeadmen däremot har både talang och känsla för popgenren.
After the Siesta är deras tredje album efter ett, som titeln antyder, uppehåll. Fyramannagruppen har dock funnits i cirka tio år. Basen är som sagt melodiös pop, med en viss 60-talskänsla. Tilltalande är att man, utan att tappa tråden, tänjer lite på de musikaliska gränserna.
Out of the Blue ger med sin trumpet lite jazzkänsla, Heavy Metal Rules påminner, trots titeln, om Smiths och Love Lies Bleeding har klara countryinfluenser – och nej, det är inte Elton John-låten – Happydeadmen skriver sina egna låtar!
Lite radiopluggning och de kan bli stora.
4/5
Rolf Yxing
Jönköpingsposten
**********
Tillåt mig citera en egen recension:
"Bandet spelar bättre än någonsin, Jan Hedin sjunger alldeles utmärkt, och dessutom har det dykt upp lite nyttigt varierade influenser från andra stilar, som kompletterar Happydeadmens vanliga mjuka gitarrpop".
Så skrev jag om Happydeadmens senaste skiva Bullfights Every Sunday. Skivan som Trampolene/Stockholm Records hade rättigheterna till kom aldrig ut i Sverige. HDM-fantasterna fick nöja sig med Japan-import.
Rykten om att Happydeadmen skulle lägga av efter många års slit i den snällare gitarrpopbranschen oroade, men det verkar som om herr Hedin och hans mannar nu tänkt om.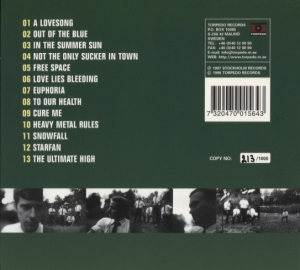 After The Siesta är det lilla Malmö-bolaget Torpedos variant av Bullfights Every Sunday, med ett bonusspår hämtat från en japansk singelutgivning. Hela förpackningen är, precis som musiken på skivan, mycket smakfull.
Det är bara att tacka Torpedo för att de tar sig an det härliga knippet Happydeadmen-låtar och ser till att de kommer ut även här hemma.
Urban Århammar
Popöga
**********
Heavy Metal Rules heter en av låtarna men det ska inte tolkas som någon programförklaring. Happydeadmen från Stockholm är ungefär lika stökiga som Freewheel och spelar sommarpop av det mest förtjusande slag.
Det är fem år sedan sist (därav titeln) och 1993 var Game, Set, Match en av de mest spelade plattorna hemma hos mig.
Ingen kursändring på After The Siesta, sångaren Jan Hedin låter fortfarande som en mindre sargad Morrissey och jag hittar favoriter som In The Summer Sun, Free Space och To Our Health.
Johan Hedberg
Nerikes Allehanda
**********
Happydeadmen är tillsammans med Skellefteås stoltheter Popundret det band som i Sverige som bäst förvaltar det poparv som engelska The Smiths lämnade efter sig när de kastade in handduken 1987.
Och nu är de tillbaka med en platta som funnits ett bra tag i Japan, där bandet gjort sig ett namn, precis som många andra svenska artister. På After The Siesta får vi som vanligt en stor dos gitarrpop av bästa märke, med sångare Jan Hedin och Magnus Karlsson som vår tids Morrissey/Marr.
Man inleder albumet med den briljanta A Lovesong, som även släppts som singel i Japan, och sedan fortsätter man rada upp den ena popärlan efter den andra, och det enda som egentligen bryter från mönstret är den country- doftande balladen Love Lies Bleeding, där bandet får hjälp av Lizette Pålsson (f.d. dansbandsstjärna, numer countrysångerska) och steelgitarristen Janne Lissnils.
Det här är en riktigt bra platta, som gott och väl kan tävla om den bästa svenska i år. Ni som gillar The Smiths, Popundret eller Skånepågarna i Leslies har ett givet köp att se fram emot.
4/5
Tommy Gunnarsson
éntre
**********
and some voices about "Bullfights Every Sunday"…
Det finns de som på allvar påstår att Happydeadmens två föregående album, 11 Popsongs och Game, Set, Match är de bästa popalbum som getts ut i Sverige – någonsin.
Nog för att det finns skäl att vara mycket entusiastisk, men påståendet är kanske att sträcka sig lite väl långt. Hur som helst är Happydeadmen ett ofta sanslöst bra band, och det finns inga skäl att bli besviken på nya alstret, tolv smäckra, intensivt legande och höggradigt eleganta låtar samlade under titeln Bullfights Every Sunday.
När genre-kategorierna för den nya svenska popen fastställdes i slutet av 80-talet hamnade Happydeadmen ohjälpligt i wimp-facket. Gäll och lite vankelmodig musik, söta melodier, förfinade arrangemang och romantiska texter.
Det lät mycket Smiths då, och det gör det nu också även om gruppen med åren fått ett något mer kraftfullt uttryck. Till exempel spårar man i Jan Hedins låtar ett intresse för country – det slår igenom i spår som Love Lies Bleeding och A Lovesong.
Annars är det allra mesta sig likt – Happydeadmen är ett homogent kvalitetsband och låtmaterialet håller genomgående ypperlig klass. Melodierna är slipade och personliga, avvägningarna mellan det distinkta, luftiga spelet och Hedins klara stämma är utsökta, refrängerna varmt och välvilligt klingande.
Happydeadmen håller ställningarna som ett av landets mest högklassiga band och Bullfights Every Sunday är ett album att imponeras och njuta av.
4/5
Jörgen Olsson
Arbetet
**********
För tillfället är det väldigt populärt att rangordna de bästa svenska skivorna någonsin. Stockholmska Nöjesguiden har redan publicerat sin lista och branschtidningen Topp40 håller på att genomföra en omröstning i samma ämne. Troligen kommer båda att nå samma resultat – Jakob Hellmans …Och Stora Havet som etta.
Ett band som inte verkar figurera i de här bäst-någonsin-sammanställningarna är Happydeadmen. Orättvist, för deras Eleven Pop Songs och Game Set Match (båda på Ceilidh) är bland de bästa gitarrpopalbum som gjorts i det här landet.
Och skulle en liknande omröstning göras för singlar så vete sjutton om jag själv inte skulle sätta Happydeadmens egenutgivna debutsingel Silent Sigh City (från 1989) allra främst.
I samband med Ceilidhs gradvisa tillbakadragande försvann även HDM bort från den svenska popscenen. Visserligen plockades de upp av Stockholm Records-etiketten Trampolene. Men vi vet vad som hände – ett band kallat The Cardigans tog samma genväg och nådde de stora framgångarna.
Happydeadmen har fått harva vidare i skymundan, drabbade av det fenomen flera svenska storbolag gjort sig skyldiga till – att kontraktera mängder av bra band utan att backa upp dem tillräckligt.
Åtminstone i Sverige. Happydeadmens senaste album finns inte ens utgivet i Sverige, och något releasedatum är inte satt för Bullfights Every Sunday. Japan-utgåvan vi lagt vantarna på visar att det är stor skam.
Skivan innehåller nämligen några av gruppens allra bästa låtar någonsin. A Lovesong, In The Summer Sun, Not The Only Sucker In Town platsar samtliga på en HDM-tio-i-topp, och det säger inte lite.
Bandet spelar bättre än någonsin, Jan Hedin sjunger alldeles utmärkt, och dessutom har det dykt upp lite nyttigt varierade influenser från andra stilar, som kompletterar Happydeadmens vanliga mjuka gitarrpop. Särskilt tydliga är countryingredienserna i Love Lies Bleeding (där Lizette Pålsson körar fint).
Bullfights Every Sunday är en superb skiva från ett av landets bästa popband. Någonsin. Att den inte finns utgiven i Sverige är grymt.
4/5
Urban Århammar
Popöga