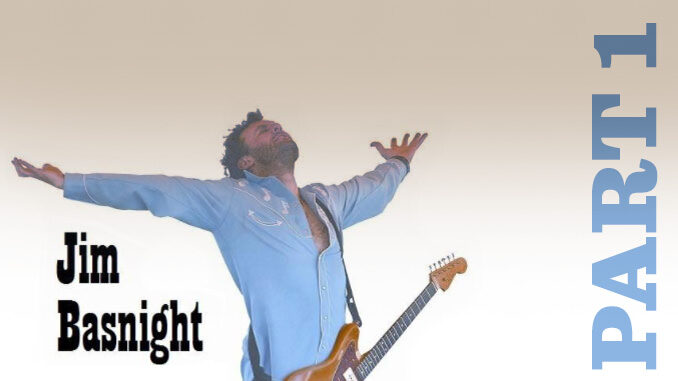 Before we dig into this rather substantial interview with Jim Basnight regarding his newly released album Jokers, Idols & Misfits, we want you to know that this conversation is not only about the album itself. It deals with much more than this. One way to perceive this interview is that each track on Jokers, Idols & Misfits is a runway for a takeoff for a storytelling excursion navigated by Jim Basnight's associations from that particular song. Since the album contains more than 20 songs (recorded over a time period of 37 years), Jim Basnight will walk us through plenty of stories – from the easily recognizable childhood fascination from the first records, over the teenager's ambition to master an instrument to be able to play favorite songs, to a professional career with an average of 200 + yearly gigs for the last 25 years. We also get Jim's comments on the wide range of genres and artists from which the songs are covered – '60s garage/pop, glam rock and punk bands, and even Prince – along with renditions of his personal encounters with interesting people in the music business, such as: Phil Volk, Marty Thau, Alan Vega, and Johnny Thunders, among others. As a result, we get a pretty good overview of the extensive network of musicians, labels, engineers, producers and other important people that the works of Jim Basnight are embedded in.
Jim Basnight's extraordinary capability to remember songs and lyrics makes him a human equivalent to a jukebox. What must be added is his ability to tell stories. And you can be sure that he has some really good stories in store for you! Genuine music history lessons in the shape of a mind map that allows you to connect the dots in your own musical landscape. PopDiggers try to enhance this mapping by the help of more than 150 links to songs, records, bands and persons mentioned in the text, which are at your disposal if your curiosity is whetted. In fact, this interview is so extensive that we have decided to divide it into two parts, so that you get the chance to digest all the information in part one before you sink your teeth into part two.
Anyway, a short bio that can serve as an introduction to those who do not happen to be familiar with Jim Basnight's music career. Later on we will also introduce the album itself before we take part in Jim Basnight's track-by-track comments and associations spawned by the content of Jokers, Idols & Misfits.
Short bio
Geographically, Jim Basnight is firmly rooted in the US Pacific Northwest. Even though he has made several excursions to other places to pursue a music career, he has always returned to the Seattle area. Given the state of Washington's solid music history, there are good reasons for doing so, since its previous generations of artists must be a particularly fertile source of inspiration. Those who are unconvinced of this deep tradition are recommended to consult Peter Blecha's Sonic Boom – The History Of Northwest Rock for a full description– book review here.)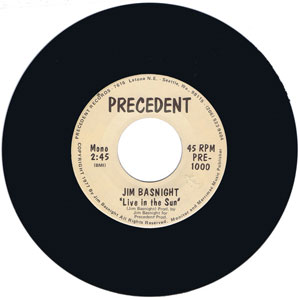 By the tumultuous debut gig of his high school band, The Luvaboys, in the mid-'70s at the Roosevelt High School in Seattle (described in Sonic Boom), it looks like Jim Basnight got hooked on music early. From there, things seem to have just rolled on. The first single was released in his own name in 1977, after which he continued to surf on the New Wave and founded the pop-oriented The Moberlys. In 1979, the self-titled album became their first. Another one (Sexteen) came in 1984.
Almost forty years later, Jim Basnight is still thriving in the music business and can look back with satisfaction on a huge record production as a solo artist or in various constellations – Jim Basnight Band, Jim Basnight Thing, The Moberlys and The Rockinghams – which has generated a dozen studio albums and a large number of contributions to compilation and tribute albums. As will be evident in the following, Jim's musical interest embraces many different styles – spanning punk, pop, and rock'n'roll just as well as blues, folk, country and soul music – which makes it intriguing to investigate how all these aspects can be expressed by a single person.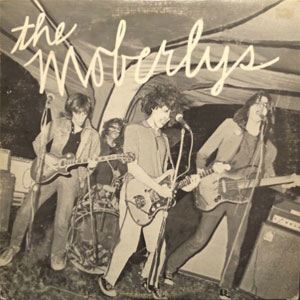 Jim Basnight has stayed busy with many projects relating to popular music, like composing film music, musical production, including research for a biography on the legendary blues man "Sonny Boy Williamson" (Alex Miller). He has also played guitar on records with other artists, such as Sky Sunlight Saxon. As a live artist, he has shared the stage with members of mega-bands such as Blondie and Nirvana and been on the same bill as notables, for instance, The Ramones, The Smithereens and The Band.
Until now, Not Changing was his latest album (see PopDiggers' introduction here), released in 2019 on his own Precedent Records (founded in 1977) which contains 14 original songs.
Jim Basnight with The Moberlys, Rockinghams and more: Jokers, Idols & Misfits
Before we go into detail with this album, there are a few things about Jokers, Idols & Misfits that are good to know.
This remastered all covers album was released on CD in November 2020. Jokers, Idols & Misfits contains ten songs that have never been released on CD, two of them on vinyl only in the early '80s. Eight have been released on one of Jim's previous CD albums and three more have only been available on tribute albums before. The recordings on Jokers, Idols & Misfits have been made between 1983–2020 by different configurations centered around Jim Basnight. All selections have been remastered by Basnight's longstanding co-producer Garey Shelton in 2020.
The choice of covers reflects Jim Basnight's diverse interest in music – timeless originals of well-known bands are mixed with those recorded by lesser-known groups, at the same time as a Jokers, Idols & Misfits represents a wide variety of styles. In fact, the scope of the album is so extensive that the result is astounding, given that one and the same artist effortlessly can embrace such a wide range of music.
PopDiggers: How did you come up with the title: Jokers, Idols & Misfits?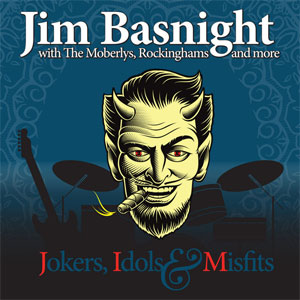 Jim Basnight: I was looking for fun as a sort of bottom line because it was such a joy to get all these songs together with all these different people I've worked with. The title is an acronym for who I am: "JIM" (which I made a big deal of on the cover). It is also a description of both these rock'n'rollers who played on it and the characters that were covered on the album. I tried to make as aptly a description as possible of what the product was about. Some of these characters are unbelievable, like: The Kinks, The Cowboys from Seattle, Mike Czekaj, Flo and Eddie of The Turtles, Gene Clark and Roger McGuinn (two phenomenal songwriters) – it just goes on and on…
The cover art is interesting. Since Aaron Kupferberg, who designed the cover of my last album, Not Changing, did a good job then, I wanted him to do it again. So, we kind of worked together on it and talked about what would be cool for the cover. The Not Changing cover was more of a flashback á la Marty Robbins or Johnny Cash, but for Jokers, Idols & Misfits we settled for a fun and rock'n'roll cartoonish approach. I gave him the title of the album and what it was all about. Aaron Kupferberg went from there and came up with what he saw, icon and everything. We looked at a few designs, but this was the one we settled for. I love the background with the band's stuff. The design is apt for this album. All credit to Aaron.
PD: OK, then. Here we go for the content!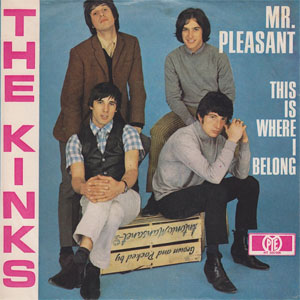 The original was released as the B-side of The Kinks' Europe mainland single Mr. Pleasant (1967).
This cover was first released digitally in the series Big Stir Digital Singles # 64 (2020).
JB: This Is Where I Belong and The Kinks has always been really important to me. One of my first musical experiences was getting The Kinks Greatest Hits album when I was about nine years old. I had that one and I had Revolver by The Beatles, The Mothers Of Invention and The Fugs, which was kind of odd (my dad bought those for me – he was a lot of fun). And a few others, like The Rolling Stones' High Tide And Green Grass.
So, I had about five LPs, but I was captivated by The Kinks at that time, listening to the record over and over again. It was such an uplifting feeling. They took over my life, more or less. Since then, The Kinks has never gone away. I did not decide to become a musician until I was 16, but it was that special uplifting feeling that then changed my perspective of what I should do in life. Just like the line in that Lou Reed song, Rock'n'Roll: "Jenny said, when she was just five years old". That kind of thing. Basically, that's my relation to The Kinks, stating it is a really important band to me.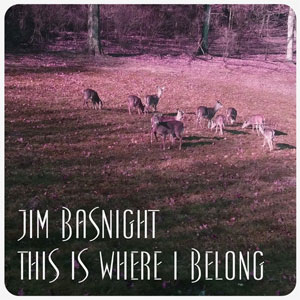 This Is Where I Belong specifically spoke to me, and the preface that I laid out to you says that this song told me: "This is who I am". And that's the reason This Is Where I Belong became an important record for me.
I got in touch with Big Stir Records through Patrick DiPuccio. Patrick is a good old friend of mine. He's got a band called The Condors and earlier he had this band Blow-Up. He introduced me to Rex Broome and Christina Bulbenko. I really like what they're doing and I think they are great people. They know their stuff and they are putting out records for the love of music, which really builds this whole thing – this overwhelming passion for music. And what tears things down is generally business. Big Stir has the attitude that the love of music is their main motivation but they also encourage people. That's why I chose to work with them for the original release of this cover as download only of This Is Where I Belong.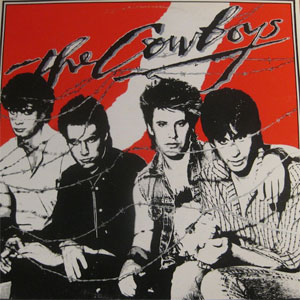 The original was released as one of the four songs on The Cowboys' self-titled 12" EP (1982).
This cover was first released as a track of The Rockinghams' album Makin' Bacon (1999).
JB: Rock And Roll Cowboy is actually a classic rock song from The Northwest scene. The Cowboys made their first gig in 1979 and they became a very big band shortly. The guitar player was Jeff Cerar, who co-wrote Rock And Roll Cowboy. He was the first guitar player in The Moberlys for a while when we did a five-song demo – one of the first things we ever did.
Ian Fisher was the lead singer and front guy of The Cowboys. His style was something between David Johansen and Barrie Masters of Eddie And The Hot Rods and he had a fun kind of a shtick as well as an ability to write really good songs. Rock And Roll Cowboy is one of his top tunes. Ian sadly passed away in 2007. Jack Hanan, who also played in The Rockinghams, co-wrote Rock And Roll Cowboy as well. I went to junior high school with their drummer, Marty Waychoff, so it was a close knit music community in Seattle where we knew each other well and had members playing in both The Cowboys and in The Moberlys, like a fraternity. And The Heats belonged to that brotherhood, too.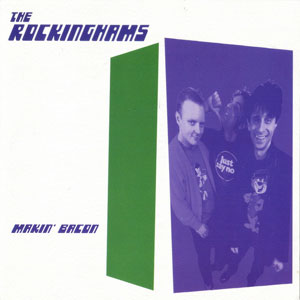 Also Criss Crass, who was in The Rockinghams and kinda started The Muffs, performs on the Jokers, Idols & Misfits album. All three of us take a verse. I start with the first, then Jack Hanan comes in and Criss finishes it off with the third verse, spicing the original lyrics a little bit.
Seattle sports a unique rock'n'roll scene with a historic legacy. Back then, we were standing on the shoulders of artists like Jimi Hendrix, The Sonics, The Raiders, going all the way back to The Ventures and The Wailers. After that, the '90s with Nirvana, and other grunge bands like Alice In Chains. So, the key thing is that in the era in between – The Cowboys, The Moberlys and The Heats and many other bands – are perhaps less known to a wide audience. These bands played an important role during that time period and are very worthy a note of recognition in the history books.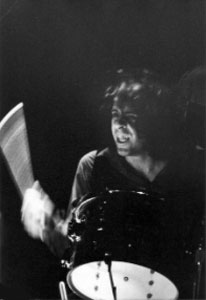 03. Red Light Moon (M. Czekaj)
Formerly released as a track on The Jim Basnight Thing (1997).
JB: I met Mike Czekaj and his band The Stratford Survivors in Connecticut in 1982 when The Moberlys played some gigs with them. I was very impressed by his high energy passionate drumming and his ability to sing and play drums at the same time without speeding up or slowing down. Mike and I got together when The Stratford Survivors backed me on a demo deal with Genya Ravan, famous for her production work, for instance with Ronnie Spector and The Dead Boys. I recorded the demo with Mike and The Stratford Survivors as the backup band using the studio in the Daily Planet Building, in New York City. However, Mike and I never managed to form a band, but we kept in touch after I returned to Seattle in 1984. Then Mike moved to Los Angeles in 1985 when I had moved down there, so we started writing songs together, which was cool. I think he liked my songs and I turned him on to some good music, like The Sonics. We had a good vibe going writing songs on the side of Mike playing drums in The Fuzztones. A lot of these tunes ended up in The Moberlys repertoire.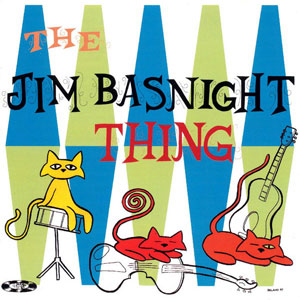 When I moved back to Seattle in 1992, Mike was writing a bunch of cool stuff and this song, Red Light Moon, was one of them. I worked on it and tried to fit it into what I was doing. Red Light Moon was too slow for the style of The Rockinghams, but I played it in my acoustic shows that I've been doing since I moved back to Seattle. Eventually, Red Light Moon ended up on The Jim Basnight Thing album in 1997. Since then, Garey Shelton remastered it for Jokers, Idols & Misfits.
Mike got the idea for Red Light Moon when he was a busker in Amsterdam. When The Fuzztones were done with touring, he decided to postpone his trip back and stayed in a youth hostel and played on the streets in the Red Light District of Amsterdam for the money to live on. It was a hard life, he said. He developed the characters in the song from people he saw in the Red Light District. Just as in the case of This Is Where I Belong, I connected directly and identified myself with the meaning of the song.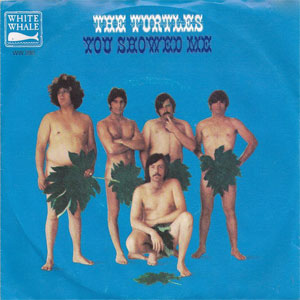 04. You Showed Me (G. Clark, J. McGuinn)
The original was released as the A-side of a single from the album The Turtles Present The Battle Of The Bands (1968).
This cover was first released as a track on the 2 CD compilation Full Circle: A Tribute To Gene Clark (2000).
JB: You Showed Me was recorded for the Gene Clark tribute album Full Circle. I recorded this song with the people who at the time made up The Jim Basnight Band, that is: Geoff Castle on violin, Jim Knodle on trumpet, Suze Sims backup vocals, Mikel Rollins on bass, and Mike Slivka on drums. We did it as a pop song with a rhythm and blues feel. Most significantly, Jim Knodle adds some jazz element into You Showed Me with his trumpet. Even though Jim is into free jazz, in my band he quickly adapts to what we do, but he contributes with a certain edge of creativity giving a jazz feel to this song.
I know that Carla Olson who sang on my Pop Top album which came out on CD in 1993, was very close to Gene Clark. She did a couple of albums with Gene Clark, and it was most probably through her, I was invited to contribute to the Gene Clark tribute.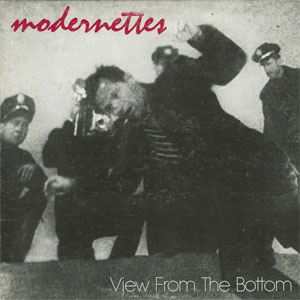 05. Rebel Kind (B. Cherry, R. Valentino)
The original was released as one of the five tracks on The Modernettes' 12" EP View From The Bottom (1982).
This cover was first released as a track on the CD compilation Seattle – New York – Los Angeles by Jim Basnight & The Moberlys (2000).
JB: I think The Modernettes still do some musical stuff. They're a Northwest band from the other side of the border – which could just be the Iron Curtain in these covid-times – but very close geographically. John Armstrong, who is the main singer in The Modernettes, and Randy Carpenter wrote Rebel Kind under their aliases Buck Cherry and Randy Valentino. On the suggestion of Dave Drewry, who was great in finding fitting covers, we started performing Rebel Kind in The Moberlys right after I moved back from New York City. Shortly after we were playing gigs with The Modernettes in Seattle and in their hometown of Vancouver. Together our bands developed a good chemistry. I really just love The Modernettes – it's probably my favorite band from Canada ever. I say that with all reverence to other amazing icons in Canadian rock, like The Guess Who, Neil Young and Leonard Cohen. There's a couple of compilations with The Modernettes that I recommend. Of all their great songs, we chose to cover Rebel Kind, because it told who The Moberlys were at that time – devoting our lives to rock'n'roll; it wasn't for the money it was really for the love of it.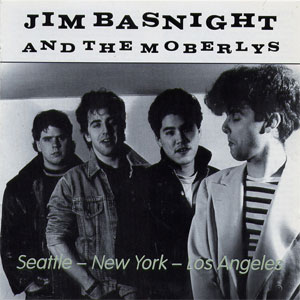 Thus, Rebel Kind became a standard in our repertoire. Then we recorded it in 1985 at EMI Studios in Los Angeles as a step in making a deal with EMI America Records for a potential follow-up to Moberlys Sexteen album. Unfortunately, that fell apart when EMI merged with another label and the rock'n'roll thing got phased out. So we didn't put out an album with them, but we did a lot of recordings with them. Randall Wixen financed that specific session. He is a publisher and a good friend of mine who I still entrust my entire song catalog to.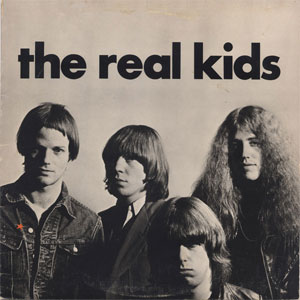 The original was released as one of the tracks on The Real Kids' self-titled debut album (1977).
This cover was first released as a Jim Basnight Thing track on the CD compilation I Wanna Be A Real Kid!: A Tribute To The Real Kids (1999).
JB: Daniel Casado is a friend of mine who recorded Just Like Darts and did a lot of demos with both The Jim Basnight Thing and The Rockinghams in the mid to late '90s. Daniel is a really musical guy and was recording on digital audio tape (DAT). We did these kind of tapes at rehearsals and they turned out very good, actually. A lot of the songs we did on these demos were later re-done in studio situations.
Just Like Darts was for a tribute to The Real Kids on an Australian label. Somehow I got hooked up with this label over there and they asked me to do a song. I was doing a lot of tribute albums and compilation albums with the stuff from The Rockinghams, The Moberlys and The Jim Basnight Thing. That is probably the reason that they contacted me, assuming that I knew The Real Kids' song catalog. Which I did from the time when I moved to New York City as a kid in 1977 after my band, The Meyce, split after playing our last gig opening for The Ramones at Seattle's Olympic Hotel in March 1977 – probably the first punk tour ever to come to Seattle. The Ramones encouraged me to come to New York. So, I moved there about a month later.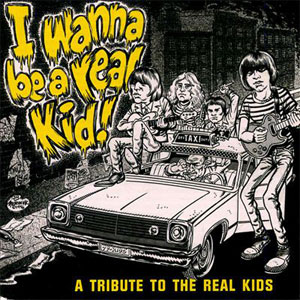 One of the people I met in New York City was the late Marty Thau who was manager of The New York Dolls early on. Marty was an important part of the New York music scene. He helped Blondie put together their record deal with Private Stock and worked with Richard Hell and Johnny Thunders' Heartbreakers. Marty also got hooked up with Alan Vega in Suicide, who I became friends with through Marty after he took me to a Suicide gig at Max's Kansas City. (I was blown away by Suicide.) So we stayed in touch and Marty, I guess, asked me to help promote Suicide in Seattle. Which was probably 40 years too early for Seattle! I went to these different FM rock stations and tried get them to play Suicide. It was the last thing they wanted to do. They took my call because they liked my band as playing locally, but Suicide was a little bit out there for them. But Suicide influenced a lot of people, for sure.
If you want to get further into it, Alan Vega's girlfriend for many years – her artist name is Anne Deon. She was a performer in New York City as well as a painter and actress. When Anne and Alan broke up, she went with David Johansen for a while when I was living in New York City. Alan Vega introduced me to her and I played in her band, because she needed a guitar player when I moved back to New York in 1980. We opened for Billy Idol and did a bunch of other cool gigs in different clubs around New York City. Later, Anne moved to LA and we became involved and I married her in 1989. We lived together and were married for a couple of years. Unfortunately, it didn't work out in the long run, but we fell in love pretty hard.
OK, back to where we were: Then, Marty Thau's Red Star Records went on to release an album with The Real Kids, of which I got a copy of from Marty. I really like that Real Kids album. When I was asked to do one of their songs for this tribute album, Just Like Darts really drew me, because I think it is a dramatic song – it hardly couldn't have been done even more dramatically than The Real Kids' version.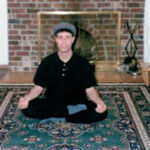 But I endeavored to do Just Like Darts with Daniel Casado, who did a great job – much like Aaron Kupfenberg did on the album cover: got the idea and really went for it. Daniel played bass on it and a couple of oddball percussion instruments. And then we used the sound of water coming out from the taps in a sink in my basement to create a dark feel of everything going down the drain. Even though it was a low-budget recording, it turned out well and I am very pleased with it. I didn't have a lyric sheet, so I don't know if I got half the lyrics right. But I did the best that I could and I hope that John Felice is not offended.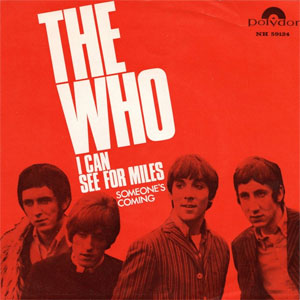 The original was released as a single, later to appear as a track on The Who's 1967 album The Who Sell Out.
This cover was first released as a track on the CD compilation Who's Not Forgotten – FDR's Tribute To The Who [Face Down Records, 2003].
JB: My relation with The Who resembles my fascination with The Kinks. When I first heard The Who, it was a pretty big revelation. I was an elementary school student; I would guess in the fifth grade. I remember that someone had a transistor radio during recess in the playground. And this guitar sound came over the radio and I just: "Wow, what is that?" That was such a big thing for me, as it was for a lot of people. I'd heard Happy Jack and Boris The Spider on the AM radio before, but I Can See For Miles with that heavy duty sound really did it to me. That sound was invented by Peter Townshend, but it is influenced by Link Wray by expanding Wray's use of the power chord. I Can See For Miles is a great song and the lyrics are fantastic. It has the anger simmering underneath this pop layering of vocals. One underlying fact about The Who was this incredible musical vision of Keith Moon that created a special boiling feel that make their music sound different than anything else. It is such a tremendous song. Of course, I bought the single and listened to it over and over again on my stereo. Then I started to buy their albums as well – I love that album that I Can See For Miles is on; The Who Sell Out.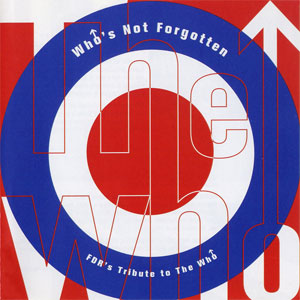 Then there were a number of people that felt similar about The Who. One of them is Garey Shelton and another one is Bruce Hazen. So, when I got an opportunity through Mick Chorba to be on this Who tribute, I accepted. But the tribute was also a benefit for a cause that Pete Townshend wanted to support called H.E.A.R. (Hearing Education and Awareness for Rockers), which I thought was added value. Anyway, Pete Townshend was partly sponsor so I was truly flattered and thought it was a fantastic opportunity. Townshend heard my version of I Can See For Miles and told Mick that he really liked it, which made me very happy. The recording had a lot to do with the other guys – Garey Shelton as a great bass player emulating the Entwistle feel and Bruce Hazen who is a huge fan of The Who and the Townshend guitar sound. Also, Ben Smith, who is nowadays known as the drummer in Heart, really caught that Keith Moon feel, which certainly is no small chore. I sing, play rhythm guitar and the twelve string guitar that adds another element to the Who sound. It really clicked and our cover is almost like those on Todd Rundgren's Faithful, where he does covers which are hard to separate from the originals. I was amazed that we were able to make it sound just like The Who.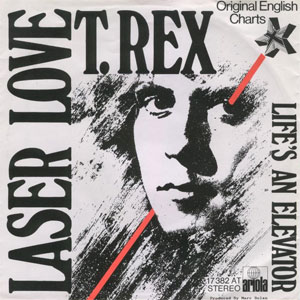 The original was released as a single with T. Rex in 1976.
This cover is released exclusively for Jokers, Idols & Misfits.
JB: T. Rex is a really important band to me. I was about twelve or thirteen when I first started to notice them. I picked up on them with the singles Ride A White Swan and Hot Love. Hot Love wasn't a big hit here, but they actually had some success in Seattle – or at least T. Rex liked Seattle, because they had played at Eagles Auditorium during the late sixties (I wasn't around for this) and were impressed by the feel of that venue. And in the song Get It On (Bang A Gong) there's a line "A cloak full of eagles" which was based on that experience. Marc Bolan's lyrics sound like they are completely out of nowhere, but I've gathered over time after studying his work that almost all of them have some sort of meaning.
Marc Bolan was a tremendous artist who had a huge influence on my music. T. Rex was the first band I liked of the so-called "glam era", visualized by make-up and campy clothes. Before that, I was really into The British Invasion and a number of the rockers of the late sixties, but I kind of lost interest in new rock around the Woodstock era and got other interests, like chess and basketball while I still listened to older music from the '60s. But when T. Rex came along, and this glam thing started happening things changed for me. Marc Bolan was the first out. Then I started to listen to Alice Cooper, David Bowie. And from David Bowie, I found out Lou Reed for real – I was familiar with Velvet Underground since before. And I also discovered Iggy Pop around that time.
My first concert I was ever able to go to alone was with T. Rex in 1973, because my dad had a hard line edict that didn't allow me to go to concerts on my own until I turned sixteen. It was a different world then. But when I turned sixteen, it was OK for me to take the bus and come home at a certain hour. That T. Rex concert just blew me away. It was something else. Marc Bolan was at the peak of his career and did a fantastic show. Gloria Jones and another woman were singing harmonies. Everyone had spectacular stage outfits. After that, I was totally pushed into the glam stuff and also began to listen intensively to Bowie.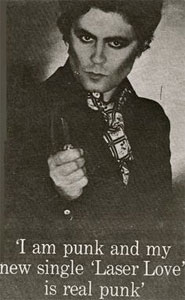 Besides from that, Marc Bolan did Laser Love towards the end of his career right before he hosted that Marc show. In 1976, he had this Laser Love single that was not a big chart hit in the UK charts. I don't think he even had a record deal in the US at that time. Basically, I loved that song already back in 1976 and brought it into The Moberlys in 1986. It really fit with what Glenn Oyabe, Dave Drewry and Toby Keil liked. It was straight-ahead fun rock'n'roll with some cool harmonies and pounding drums. Laser Love really worked for that band. It sounds kind of rootsy, despite that T. Rex is not known as a roots band. But T. Rex were heavily influenced by American roots rock'n'roll – Eddie Cochran and Bo Diddley and all that stuff.
We recorded Laser Love in EMI Studios in one of the demo sessions around 1986/87 when we were ready to make that deal with EMI with Peter Buck from REM producing. Garey Shelton's remastering made Laser Love sound that much better on this, the first release on Jokers, Idols & Misfits.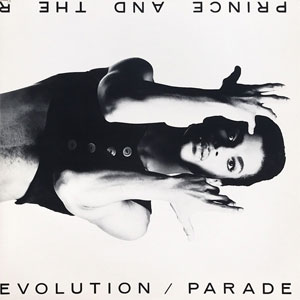 A medley of three giants. Sometimes It Snows In April is included on Prince's album Parade (1986) and Win is a track on David Bowie's album Young Americans (1975). The World Keeps Going Round is originally included on The Kinks' album The Kink Kontroversy (1965).
These covers were first released digitally in the series Big Stir Digital Singles # 97 (2020).
JB: This thing kinda has a life of its own. In fact, I've been playing around 200 gigs a year ever since about the mid-'90s to make a living. Most of my income comes from these night-after-night live shows. Quite a few of them are acoustic solo gigs, during which I often play stuff off the top of my head. Through that process, I come up with these medleys of different songs. I've done that quite a bit. But I haven't recorded it until now. But medleys are a really big part of my shtick. I've this Led Zeppelin medley, a medley with Rolling Stones' songs, and a medley that starts with Velvet's Sweet Jane going to other songs that sounded like Sweet Jane.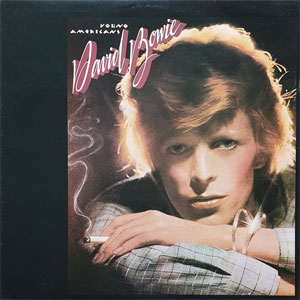 Basically, this track on Jokers, Idols & Misfits is one of the things that I do in my acoustic live shows. This medley may not be as entertaining as my Sweet Jane or Zeppelin medleys, or these others I do, but I think it's very cool anyway. It's amazing how these three songs sort of go together in a natural way. I thought that my cover was an interesting peephole into the past of these three iconic artists with careers roughly ten years apart. It starts with Prince in the mid-'80s, then to mid-'70s Bowie and then it goes to Ray Davies in the mid-'60s.
Jones is obviously David Bowie's real name, and Prince/Jones ties together in a cute way a line in Eric Burdon and The Animals' Monterey referring to Brian Jones. Win reminds of some kind of early Prince song – before Prince. And Davies is of course Ray Davies. It's funny, in my live shows Win used to go into I Ain't Gonna Eat Out My Heart Anymore (The Young Rascals), but then I realized that the similarities between those two remind of the intro to The World Keeps Going Round, which made me think that this is a better song to go with Win.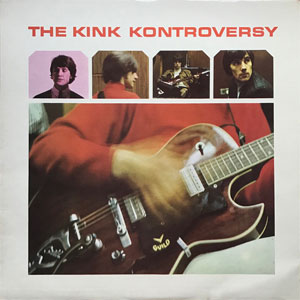 Again, Garey Shelton really helped me fulfill this concept in the studio. We recorded this with me just playing acoustic guitar and him playing bass and kept doing it until we had the right feel instead of manipulating it digitally. It's all about feel and building on that. And then we brought in the rest of the instruments and harmony vocals on top of that, just like on my previous album, Not Changing. Dave Warburton was amazingly adaptable on drums, following all these subtle changes. Bruce Hazen, who also loves these three acts, came in and played. Steve Aliment, who sings harmonies on Not Changing, also did that here. This medley was saved from the Not Changing session for Jokers, Idols & Misfits when it became apparent that an all-covers album was in the works. The Prince Jones Davies Suite is my latest single with the Big Stir label as well, with Best Lover In The World from the Not Changing album as "flip".
The Prince Jones Davies Suite can be seen as a part of some kind of lexicon of rock. Sometimes I'm called a "walking juke box". One thing I do well in life is that I remember lyrics and I have a good feel for songs, although I'm not a jazz or classical musician or can sing in five octaves. But I remember lyrics and songs. That's my thing. I learned a lot of songs over the course of my life I and put these three songs together from that experience.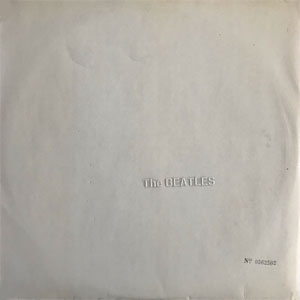 The original is included on The Beatles' "White Album" (1968).
This cover was first released as a track on the 3 CD compilation It Was 40 Years Ago Today: A Tribute To The Beatles [Bulls Eye Records Of Canada, 2004].
JB: The Beatles were a big deal to me, that's for sure. When the White Album came out, it was a major event in my life. I was eleven years old then and listened to it night and day as many others did. One of the songs that I really loved already then was Happiness Is A Warm Gun. To me, it reminds of Frank Zappa a lot; tremendously similar to Brown Shoes Don't Make It and other songs on the Absolutely Free album by The Mothers Of Invention. Absolutely Free was one of my first albums I've ever had, and I just worshipped that album, too. Happiness Is A Warm Gun is in that vein and also reminds me in a lot of ways of The Velvet Underground, with lyrics referencing the drug vernacular, that Lou Reed could have written.
I just thought that Happiness Is A Warm Gun would be a cool song to cover and I didn't know an awful lot who have covered it. It's a hard piece to do, much like I Can See For Miles or, for that matter, the Prince Jones Davies Suite. In order to do Happiness Is A Warm Gun, I had to bring in the heavyweights which of course was Jack Hanan and Bruce Hazen. I have so much respect for these guys because they can play all this different stuff. We did this song with Dave Warburton, and I brought in Suze Sims from my band to sing harmonies as well as Mikel Rollins on flute and the distorted sax which makes the track sound so great. Some people think our version bended the original version too much as we added all those instruments and other touches that The Beatles didn't have in there. As opposed to I Can See For Miles, which we tried to do as like the original as we possibly could get it, this cover is also really cool, I think.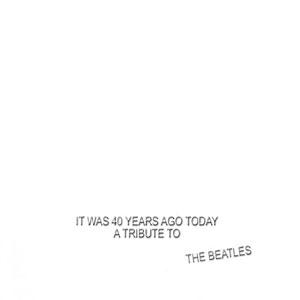 The reason we did Happiness Is A Warm Gun was for a Beatles tribute album that was initiated by a guy who was in The Wackers, Bob Segarini. He asked me to do this, and I thought it was great to be onboard. Our tribute actually was on The Beatles' official web-site for about four weeks, which was just amazing at the time, almost twenty years ago when the thing about being on a web-site was kind of new. It was a tremendous honor to be able to do a Beatles song in this context and being recognized in that way.
I was actually only two blocks away from the place where John Lennon was murdered in 1980. I was heading home from a rehearsal in the Upper West Side and was waiting at a subway station at the 72nd street and Broadway. When I came home to Brooklyn, I learned instantly that John Lennon had been shot and that it had happened while I was waiting at that station on that cold December night. That was a kinda devastating time for me. It was traumatic. John Lennon has meant so much to me ever since I saw first him in the movie Help! with my dad. I must have been seven or eight years old.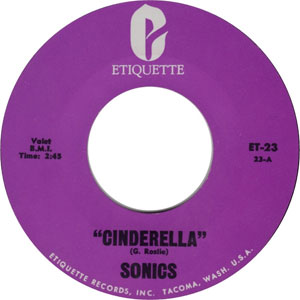 The original was released as the A-side of a single from The Sonics' album Boom (1966).
This cover was first released as the B-side of Jim Basnight & The Moberlys' single with I Want To Be Yours on the A-side [Precedent Records, 1983].
JB: The Sonics were also really important to me and started to affect me early in life. When I was about ten, I had these records I told you about. I was extending my record collection as fast and furious I possibly could do at that age with the limited amount of money I could scrape up. I was really into my record collection of albums and 45s. Some older kids had pretty large collections of 45s, so I figured out that I could get these 45s by trading them for firecrackers. My family went to the native reservation to get firecrackers – it was legal to buy them there – like cherry bombs, bottle rockets, M-80s and other dangerous stuff. I went with my dad on the 4th of July and we camped and my dad used to blast fireworks on the beach. So we went up and bought fireworks at the firework stand at the reservation. I brought them back home and traded them for stacks of 45s. And this was an amazing revelation in my life. In these stacks were so many records that became important to me. This was at a time I first started playing guitar and I learned by playing along with the records. Songs like Gloria (Them) and The Witch (The Sonics). I had a number of other Sonics 45s as well as by The Wailers and a couple of other Northwest bands. So I had an early exposure to the Northwest scene before it became hip much later. Of course, I had the advantage of living in Seattle which was the only place you could get all these records back then.
I started to perform The Witch, just by myself, at a very young age, and a couple of other Sonic songs, like Psycho and Cinderella. Obviously, Cinderella was a big deal. It was already covered by DMZ in 1978, before I covered it. Cinderella really fit in the Moberlys' show and we started doing it in 1982 or 1983. The two bands we covered most were The Sonics and The Heartbreakers. When we got in the studio, we gave it an even more distorted punk treatment than The Sonics did. Probably a lot of it was influenced by The Heartbreakers' sound – you can actually hear echoes of Johnny Thunders in the guitar solo.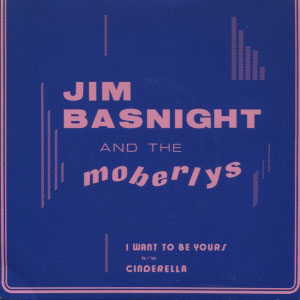 We recorded Cinderella in Canada at Mushroom Studios when we played there with The Modernettes for the first time. Our production company in Seattle brought us up there, because they thought it was a smart way to break The Moberlys in Canada, just like Heart had been broken in Canada at first. The reason is that you get airplay in Canada more easily than in the US, provided it is recorded in a Canadian studio with a Canadian producer. They have this kind of protectionist laws. So we figured that if we got the single played in Canada, we could break it in the US after that. A good concept for a 45 would be an original with a cover on the flip side. And it ended up pretty well with I Want To Be Yours on the A-side.
The Sonics is a huge touchstone for the garage scene. Many other bands have covered their songs. Just think of The Fuzztones, The Brandos and The Nomads, to mention a few. Gerry Roslie of The Sonics came and saw us right after first The Moberlys broke up in 1980 when I did a solo show with a bunch of friends making guest appearances. Gerry showed up with the late Buck Ormsby from The Wailers. It was a real honor that they came and saw the show. The Sonics are an important part of the Northwest music scene. I want to pay tribute to that lineage which includes Paul Revere And The Raiders – another band that has a lot to do with my personhood.