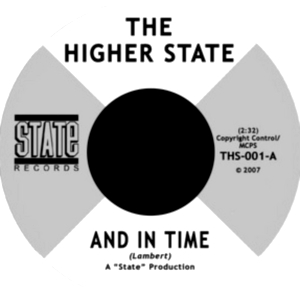 Continuing their joint jangly trip towards the higher spheres of mid'60s garage punk folkydelia, started out way back in the early '90s, while they were considered to be Mystreated, "from 'round here" Martin and Mole are back together with their new band's sophomore release (last year's debut album on Misty Lane reviewed elsewhere on these pages), delivered on 7 inches of pure vinyl, as this stuff's supposed to be after all.
Coupling a pair of Mole written (and sung) children of nuggets, there's no way for The Embrooks comparisons to be avoided, and the fact that both of them could've easily fitted on Separations or some of their early singles, doesn't really help much neither.
However, comparisons aside, both of the tracks are killer garage stompers, with And In Time being a fuzzed out little mutant of sorts, sounding kind of like Love, fronted by Jeff Beck on guitar, with the Byrds providing the vocal harmonies, and with The Who stepping in for a freaked out pop-art-ish middle eight noise, while If We Don't Realise might've been The Dovers doing an imaginary Graham Gouldman tune.
"If we don't realise", or else if we don do it "in time", they'll be up high where no one else will be able to hear them anymore, so let everyone of us repeat the following mantra: "I'll be following" !!!
[Released by State Records 2007]