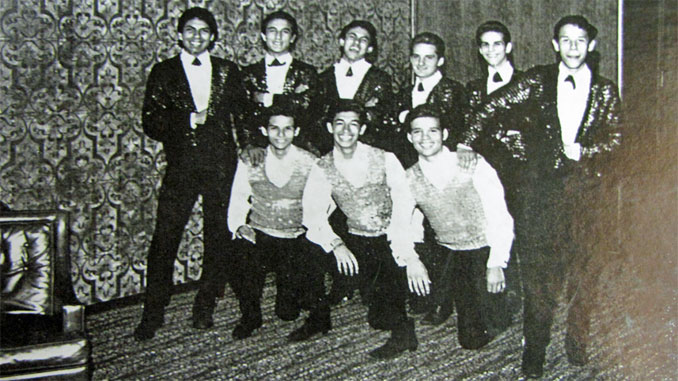 Varje vecka presenterar Hans Olofsson obskyra eller bortglömda låtar från sextiotalet som förtjänade ett bättre öde.

Efter förra veckans totala brist på smak och omdöme i tuggummipopens primitiva värld, tar jag mig från Hong Kong till Los Angeles och blir förtrollad av eastside-soundet.
Den aktuella låten är ingen raritet eller ens särskilt bortglömd, åtminstone inte hos northern soul-fans. För er som aldrig kan få nog av vild rhythm 'n' blues (alltså inte dagens R&B, eller Aaar än Beee, som det heter på stockholmska) väntar chockterapi.
Det handlar om Thee Enchantments första och enda singel, I'm In Love With Your Daughter (Part I & Part II). Om det någonsin funnits en blåssektion som fått en fuzzbox inopererad i instrumenten så har det skett på denna låt. Lägg till en sångare som tar ordet kaxig till nya dimensioner; det råder ingen som helst tvekan om vad han är ute efter och han är inte beredd att kompromissa.
Olofssons Lost Treasures
Thee Enchantments1966
I'm In Love With Your Daughter (Part I)
(Chick Carlton)
I'm In Love With Your Daughter (Part II)
(Chick Carlton)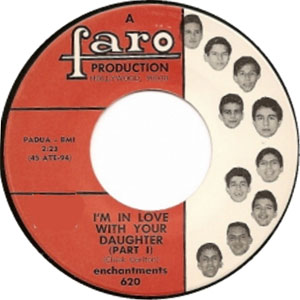 Det enda som stör mig är att Part I tonas ner och avslutas inte så långt efter att gitarrsolot äntrat studion och försökt ta upp konkurrensen med fuzzblåset om att föra så mycket oväsen som möjligt. Och bara det borde ju ha varit en övermäktig uppgift … Som om inte detta vore nog ger tamburinen högtalarna pisksnärtar under hela låten.
Nej, jag är inte färdig än, men jag låter er själva få upptäcka vad som händer under de sista tjugo sekunderna på Part II.
Jag hörde I'm In Love With Your Daughter första gången för cirka tjugofem år sedan på ett kassettband, som jag hade fått av Sveriges bästa rockjournalist någonsin – han hette för övrigt Lennart Persson, om ni nu hade missat det. Naturligtvis tappade jag bort namnet på gruppen och det dröjde närmare två decennier innan jag av en ren händelse stötte på låten igen på den universella jukeboxen YouTube.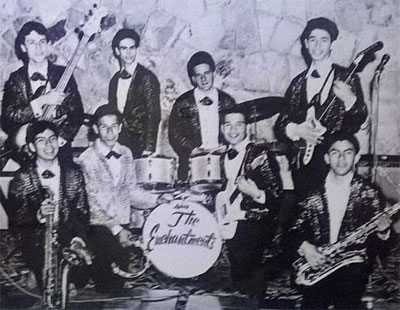 Thee Enchantments bestod av ett gäng latinos från Los Angeles. (Det står enbart Enchantments på skivetiketten och The Enchantments på bastrumman på bilden, men enligt en expert på eastside-scenen hette gruppen Thee Enchantments.) De mest framgångsrika grupperna ur ett kommersiellt perspektiv på denna scen var The Premiers (Farmer John), Cannibal & The Headhunters (Land Of A 1000 Dances), The Blendells (La La La La La) och Thee Midniters (Land Of A 1000 Dances).
Även bröderna Pat och Lolly Vegas, som skulle nå framgångar i början på sjuttiotalet i gruppen Redbone, tillhörde denna scen. På tal om The Premiers får man betrakta I'm In Love With Your Daughter som en svarslåt på just Farmer John.
Jag måste också ge den suveräna gruppen Thee Midniters lite utrymme. Beträffande temat blåssektion har jag sällan hört ett fräckare ljud än på deras singel Love Special Delivery. Om ni inte anser er ha råd med den utgångna 4CD-boxen Thee Complete Midniters: Songs Of Love, Rhythm And Psychedilia, så testa åtminstone samlings-CD:n Greatest.
Den kanske största stjärnan, åtminstone lokalt, var den karismatiske Little Ray (Jimenez), så därför känns det helt rätt att bjuda på dubbelsidig dynamit. På A-sidan gör den då femtonårige Little Ray en suverän version av I Who Have Nothing. B-sidan I Been Trying har skrivits av ingen mindre än Arthur Lee från Love, något år innan hans egen grupp hade skivdebuterat!
Ni som vill veta mer om eastside-artisterna bör kolla in Mark Guerreros utmärkta sajt.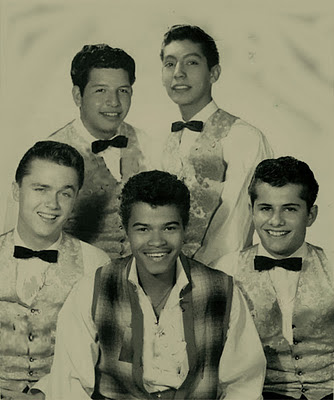 Jag blev också nyfiken på mannen som skrivit låten, Chick Carlton. Det visar sig att Carlton har en karriär som nästan är värd en egen artikel. Han hade skivdebuterat redan 1958, men min favorit med honom är dock den fräcka So You Want To Rock (tillsammans med gruppen The Majestics) från året därpå. Carlton gav faktiskt ut en skiva så sent som 2015.
Även skivbolaget Faro Records är värd en artikel. Bolaget gav ut ett femtiotal singlar mellan åren 1958 och 1967. Den största framgången kom när The Premiers nådde 19:e plats på Billboards singellista 1964 med Farmer John. Eller jag ska kanske hellre skriva borde ha kommit, för när låten väl blev en hit stod det Warner Bros. på skivetiketten … (Vi får väl hoppas att Faro tjänade en del på dealen i alla fall.)
För att spänna vidare på temat Chick Carlton och Faro, så gav samma skivbolag 1962 ut en av Barry Whites första skivor, Tracy (All I Have Is You), under namnet Barry White & The Atlantics, som var skriven av Carlton.
I'm In Love With Your Daughter blev alltså Thee Enchantments första och enda skiva. Sångaren Eddie Serrano fick sedan ett erbjudande om att bli medlem i en ny upplaga av Cannibal & The Headhunters. Fast den gruppen försvann också ganska snabbt in i de bortglömdas Hall of Fame.