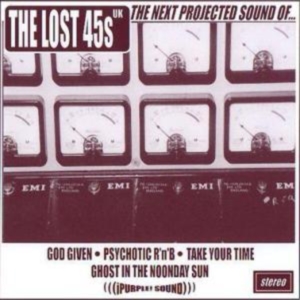 After last year's debut album What Time Do You Call This??? (reviewed elsewhere on these pages) being hailed by modernsists all over the scene(s), followed by some serious live action, including the conceptually triumphant Who-support gig.
The Lost 45s are back to their destined media form, releasing not only one but two (!) of them at the time, just to make sure they don't run out of them, while trying to find "the lost ones".
As for the "next projected sound" itself, however good some of the album tracks might've sounded, some of these are even better, with God Given being a Style-ish blue-eyed mod soul, with a jazzy touch to it, Psychotic r'n'b finds them halfway between Kim Fowley's "Bubblegum" and The Beatles' "revolving" just-about-to-turn-psychedelic sound, while Take Your Time is yet another soulful stomper, powered up with some garagey Farfisa.
I'm yet about to hear the other b-side, though I'm pretty sure it cannot be "projected" too far from the rest of its surrounding.
[Released by iPurplesound! 2007]