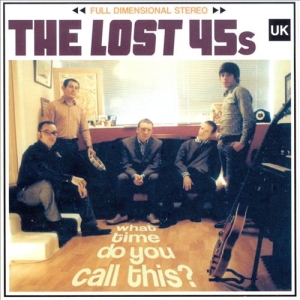 After three "lost 45s", here they are all, finally gathered on a "new-found" long-playing format, with some additional recordings, making a strong debut album by this Leeds based bunch of modernists.
According to the actual content of the record, it seems that their own collection of 45s ranges from the pioneering mid'60s beatsters and shakers, through the late'70s'/early'80s mod revival, up to the mid'90s Britpop, which might make some of you ask the "title" question upon hearing it all.
Chronologically, they open with a piece of quirky, pop-artish freakbeat, carried on a groovy bass Macca-ronies, called ThursdayFridaySaturdaySunday, followed by the blue-eyed-Motown-"action"-by-way-of-Weller in The Tracks Of Time, as well as some Kinky Hammond-laden popsike of Insomniac.
The following "blurry madness" is a tale about a certain Billy, who might've easily been a moderndaze cousin of his Hunt namesake, after which they romp into one of "Them old garagey Gloria riffsploitations" (in a good way!) with Ivy, before delivering another mod-beat stomper called Sister Sue Said.
With the exception of the discoid Russian Roulette (mixing disco and mod concepts the way Nick Cohn's original mod-story inspired Saturday Night Fever) they get kinda moodier towards the end of the album, with the laidback Britsike feel of The Man That Time Forgot, in a way it's being done by Weller (again), the pair of We Were Storming and Montgomery Haigh which also remind of some of his post-punk/pre-soul mod cons, while Katmandu takes them through a jazzy-psych "traffic" searching for "the coral".
I'm still not sure "what time do you call this", but I hope it will be realized by as many as possible, that this stuff is actually pretty timeless.
[Released by Biff Bang Pow 2006]