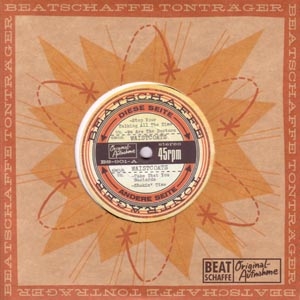 The German Beatschaffe label couldn't have chosen a better debut. Feeling perfectly comfortable within the label's concept of analogue live-in-the-studio-2-track-reel-to-reel-no-overdubs (mostly 1-take)recordings, the moderndaze Dutchbeatsters Waistcoats, deliver another set of mind-blowing mid-60's-influenced sounds, with all the essentials well on display.
Stop Your Talking All The Time is a freaky kind of a beat by way of The (British) Birds, making a killer double A-side with We Are The Doctors, which is like The Creation covering Them, with an early Who twist. The flip side is none the less of a killer, featuring Take That You Bastard, a surf instro as if done by the early Love, along with Shakin' Time, a Crawdaddy-era Yardbirds-kind of a soulful r'n'b.
There's no better way for this stuff to be listened to than from 7 inches of vinyl!
[Released by Beatschaffe 2008]