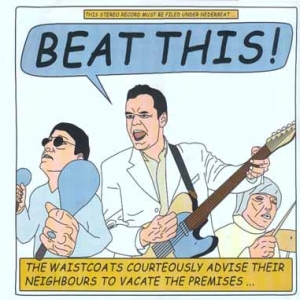 The lords of the moderndaze dutchbeat are back! Though it's an album that manages to fit only the small 10" vinyl format, it will certainly be a hard one to "beat", even by their own self!
As already indicated by the previous two albums, this band is getting noticeably better with every new one, and while always remaining within the '65/'66 time span, they cover a pretty wide stylistic range.
Going from the earliest Who efforts when the beat started to get a bit freaky, in a pop-artsy way (It's Not True … NOT a cover!!!) and the similar "Eyes-sight" of Everything Falls Down (including the night I suppose?), through the beat-band-covering-Arthur Alexander simulation (Gonna Tell That Girl), to Gouldman-through-Yardbirds sounding Forever Mine.
With Day After Day they also do get slightlydelic in a kinda jazzy Zombie-like way, Shape Of You is almost as if The Doors had been a mid'60s beat band instead of… whatever they were, while the closing Voice In The Wind sounds like a moodier, garage take on The Byrds/Turtles' You Showed Me.
In accordance with The Waistcoats' long-lasting tradition, there's always a place for an instrumental track or two, it's just that now it's not surfy twang but classic mod organ-isation in the vein of The Prisoners.
Anyone who tries to "beat this" and comes at least close, must be regarded as a respectable beat band!
[Released by Larsen 2004]