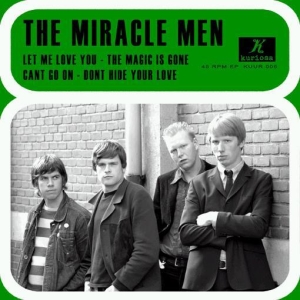 Before they "came" to the scene with their debut album They're Coming, released on Teen Sound this year (reviewed elsewhere on these pages) , one of the latest products of the Dutchbeat revival, The Miracle Men, announced their arrival with these 7 inches of pure beat extravaganza, as previously done by their native genre forefathers.
The opening title tune sounds like Can't Seem To Make You Mine by way of their Swedish soulmates, The Maharajas, followed by Let Me Love You which is kinda like a Del Shannon tune covered by a mid'60s teen punk combo, while the pair of b-sides, The Magic's Gone and Can't Go On, also falls within the classic snarling garage-punk-nugget/bluesy ballad model, respectively.
If you haven't already, be sure to check out the mentioned long-playing follow up, for an even more exciting sound.
[Released by Kuriosa 2005]