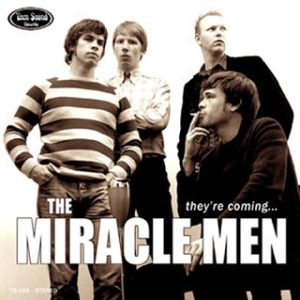 As the promo sheet says "The Dutch-Beat scene is alive and well", but we all know that already, don't we? Still, it's good to see that a new bunch of mop-topped youngsters pops up every now and then, ready and willing to continue the legacy of The Outsiders, Q65 and the like.
Being recorded and produced by a member of elder soulmates The Waistcoats (EJ Kloosterboer that is) is just another reference suggesting where "they're coming" from.
Expectedly enough, all is delivered with a distinctively garagey attitude, with the best songs being the ones with an additional moody, teen-punk jangle, as heard in the opening Stop Pushin' Me, the closing Cry, Cry, Cry, as well as in Won't You Try, which happens to share equal parts of the similarly titled pair of The Seeds' Try To Understand and The Barbarians' I Just Don't Understand.
Other favourites include the universal beat-pop sound of Down Today and there's also an upbeat pair of stompers I Said Girl and Misplaced, both being touched by the hand of Mod.
Not much of a "miracle" really, but it's nice to see them "coming", and I'm sure that this album will find it's place alongside your garage beat faves, be it the initial or revival ones.
[Released by Teen Sound 2006]