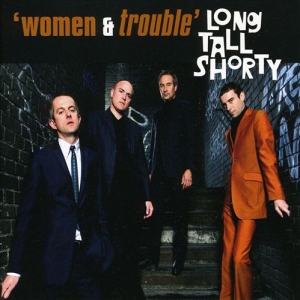 After last year's CD single, taking them even further away from their initial post-punk mod revival aesthetics, towards some more appropriate sounds, suggested by the band name itself, with this latest long-playing release, Long Tall Shorty makes an official turn-over to a full-blown r'n'b combo, with it's roots knee-deep in the vibes of early'60s Britain.
The above is made pretty clear right from the opening "title song", with it's hard hitting "bluesbreaking" sound, heard throughout the album as in Two Can Play, Nightime or Night And Day, which takes us back to the mentioned British r'n'b boom in a kinda Kinky way.
Some of them, such as the freakbeatish No Good Woman, also heard on the single, as well as I'll Put A Spell On You and the hip-shakin' Bitch, feature some mighty fine slide work, recalling the "Misunderstood" Glenn Campbell or the young Ry Cooder, from his early days with The Rising Sons or The Magic Band.
While Walking Down The Line and Girl Like You sound not unlike the early Spencer Davis Group, fronted by a bit less soulful and more punky vocalist, and there's also some upbeat blue-eyed soul feel of the "Leaving Here" kind, as heard in Missing.
Suitably enough, by the end of the album, things calm down with the stripped-down Spoonful-ish good-time 12-bar Raining Again, sounding as if recorded at the end of a show, with the audience still mumbling while leaving the venue.
[Released by Biff Bang Pow 2006]