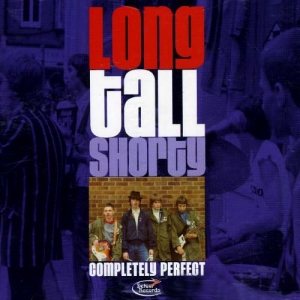 Another one takin' a "detour", in a line of great mod-revival reminiscings.
Thanks to their manager's idea, Long Tall Shorty is a band that will always grab the attention of any sixteez oriented audience, even before they actually hear them. It's because of the name, of course, but it's the music what makes the attention a permanent one.
The story about Tony Perfect buying his union jack jacket from Bruce Foxton and getting his Vox amp from Weller, pretty much sums it all up.
The influence of the early Jam is evident in songs like Can't Stop Moving or On The Streets Again, but then again, they tend to put their own stamp too, adding some extra vocal harmonies on Falling For You, which sounds more like US garage beat than mod, but still as if done by The Jam, just like Long Time, but this time taking it back, over the Atlantic, playing "the game" of "addicted men" on 78 rpm.
The sunny side of their debut single By Your Love, gets two reggae- nerations, one in a kinda Clash-ing way and the other is given a riot grrrrly vocal treatment, and there's also a Stooges-like, raw punk version, which I prefer actually.
Then, there's She's All Mine, about a girl that seem to have a lot in common with the "fine" one George Young and Steve Wright were talkin' about back in '65, and while we're at it, you'll also find some fine, mid-'60s danceable r'n'beats called That's What I Wantand I Do, as well as If I Was You, with a bit of the "Holly" smoke around it, and the anthemic New Generation.
To be honest, I'm not sure if I would've get hooked on these guys after hearing their debut single, but having the complete audio-picture spread over two CDs, I can say that they really deserve their place among the true pioneers of the '79/'80 mod-revival scene.
[Released by Detour 2002]