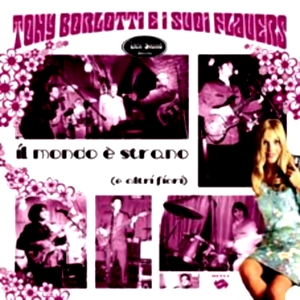 Originally released back in 2003, this re-release of Il Mondo e' Strano comes with no less than 11 additional "flauers", or "altri fiori" (single, unreleased, demos), all being equally fragrant, and also making this an ultimate beat "bouquet".
Even if I can't understand a word they're singing (well, maybe just a word or two, but still not enough to make much lyrical sense), it's always good to hear a band trying to retain it's national legacy, instead of opting for the more obvious, though the Anglo-American influence remains an inevitable one of course.
Nevertheless, there's a whole lot to keep the record spinning, be it the mod-beat of Non vivo per te or Superdonna, with an additional word or two from a certain "paperback writer", an Italian flavoured Zombie-heaven heard in Non ti diro', or the occasionally fuzzed-out garage (Mersey)beat sounds as heard in the likes of Come vivi, or in the debut single's "self-explanatory" Monkee business Inno dei Flauers, as well as one of it's b-sides, the outrageously catchy Del Shannon tribute La verita' non basta mai.
Via da questa citta, is a kind of a Farfi-sized fuzzy Gouldman-nerism of the kind that The Yardbirds started bashing out when they decided to move forward from the initial purist r'n'b approach, while Capelloni noi, takes it right back to those actual roots. In case you're "searching" for the perfect folk-rocking jangle, C' e' un fiore is a starting point as good as any, while both the tile tune and Il giramondo are just plain mid'60s beat galore.
Another way of celebrating the tradition comes through the well chosen set of covers, such as Barri & Sloan's "rootsy" Bambina sola, as done by I Profeti, or the Italian garage classic Atto di forza No.10, originally done by Ragazzi Del Sole, and yet another cover of a cover, in the shape of an Italian take on For Your Love (Finira).
I'm sure that the extensive liners on the back of the original LP release contain all the right phrases, trying to convince you that this is the album that you've been all waiting for, ever since you'd realized that the original Italian beat records will be pretty hard to find, but all it really takes for you to get convinced, is just to put the record on (or in, considering it's new digital form.).
[Released by Teen Sound 2003 & 2006]