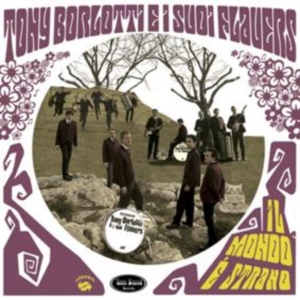 Even if I can't understand a word they're singing (well, maybe a word or two, but still not enough to make sense), it's always good to hear a band trying to retain the national legacy, instead of opting for the more obvious.
Though in this case, national isn't really national enough, since the main influence seems to come from the Anglo-Italian beatsters, The Rokes, there's still a LOT to keep the record spinning, be it the opening mod-beat of Superdonna sounding like it comes right out of the pen of a certain "paperback writer" or an authentic Italian flavour heard in Non ti diro'.
Via da questa citta, is kind of a fuzzy recollection of the moment when The Yardbirds decided to move forward, from the initial purist r'n'b aproach, while the closing Capelloni noi, takes it back to the actual roots, through the "shadows" of the American mid-'60s garage. C'e' un fiore fits perfectly the moody-folk-rock/Zombie-like-beat-eclecticism combination, while the tile tune is just plain jangly mid'60s harmonizing perfection.
Another way of celebrating the tradition comes through the well chosen set of covers, such as the Barri/Sloan "rootsy" Bambina sola, as done by I Profeti or the Italian garage classic Atto di forza No.10, originally by Ragazzi Del Sole.
I'm sure that the extensive liner notes on the back of the album cover, contain all the right phrases, trying to convince you that this is the album that you've been all waiting for, ever since you've realized that the original Italian beat records will be pretty hard to find, but all it takes to be convinced is just to put the record on.
[Released by Teen Sound 2003]