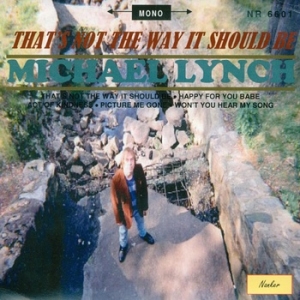 Seeing the artist's own song comments before actually writing a review, always makes it more fun for me, while waiting to hear if I agree with what he/she has to say.
In case of Michael Lynch, his descriptions will mostly lead you towards the right direction, leaving enough space for you to fantasize. Sometimes, you'll expect one thing and get something completely different, discovering that he was right after all.
That is the case with the track Act Of Kindness which, he says, is "The Kinks-meet-The E-Types", making me wait for a Mersey-flavoured Kinky rifferama while instead, it's a quirky little popsike gem, mixing Something Else with Put The Clock Back On The Wall.
The title song's supposed to be of "The Zombies/Brummels trade cooking recipes", which it really is, pairing Ron Eliott-like verses with the White-coloured chorus , while Happy For You Babe, according to Michael, retains the same folk-rocking vibe and I'd go even further, describing it like an imaginary Turtles' demo of another Dylan tune.
Though the first thing that the title Picture Me Gone recalls is Dave Berry's great cover of Evie Sands' song, it's actually another stab at harmonious jangly popsike in the vein of maybe The Critters and the closer Won't You Hear My Song, justifies Michael's reasons to call his label Nanker, if you know what I mean, and if you don't, you probably wouldn't be reading this in the fist place.
Oh, and by the way, this IS the way it should be!
[Released by Nanker 2003]