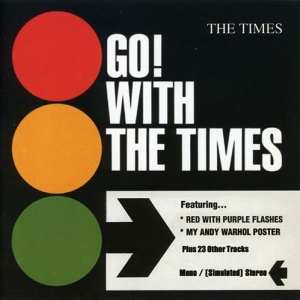 Here's the latest of the ArtPop sketches about the life and times of the acknowledged «well respected man, a man's man, rugby captain, champion athlete …» and, as I have already mentioned in previous reviews (elsewhere on these pages), all-round Dandy MODernist Ed Ball.
Non-chronologically scheduled, this actually happens to be the first of the actual Times chapters, recorded over a weekend in December 1980, while Ed was taking some TVP time off, and released only in 1985, except for the Red With Purple Flashes single, which was released on Whaam! in 1981, already showing off his knack for trademark snappy little mod-ish creations.
As also heard in No Hard Feelings, My Andy Warhol Poster, I'm With You or Reflections Of An Imperfect Mirror, with the latter sharing the quirks of pre-Tommy Who, as does Pinstripes, powered up with a marching military rhythm, while You Can Get It is classic blue-eyed Weller "jam", just about to get (even) more Style-ish.
Extended with Joe Foster's "simulated" stereo mixes and unreleased tracks, if you haven't already, the time is as perfect is it can get to Go! With The Times !!!
[Released by ArtPop! 2007]