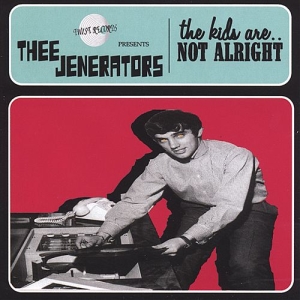 Not being too much of a fan of their previous output, my encounter with this one seems to "jenerate" much more enthusiasm, starting from the album title itself, referring to one of my all time fave bands, in spite of it's negativity, through the funny looking cover art, featuring what seems like a possessed mod DJ, and to an actual song title like George Best.
All of these at least make me want to like it more than before …… which I do. Even though I'm not really fond of saxophone(s) being used outside of the pure soul context, not even one but two of them seem to work quite fine within the Jenerators' newfound prevailing high-octane-blue-eyed-soul-carried-on-the-punkish-new-waves sound, as heard right from the opening triple of Frank Wilson, 5 Years On The Edge Of Tyme and Mr. Lucky Pants.
Unsurprisingly, the title tune seems to share some of that mid'60s Who-like frenzy, Devil Eyes is a Diddley beat-en garage punk, reminiscent of John Mayall's … Witchdoctor, and it's not just because of it's similarly spooky topic, and while at it Attila The Hun is a "feelgood" kind of an r'n'b.
In both How Does It Feel and Alright they also throw in some harmonica blows, which is actually what I'd replace the pair of saxes with, it's just that, whoever plays that harp, he should replace the Höhner Marine Band (or whatever folky type it is) for Höhner Blues Harp, providing some more muscle needed for this kind of stuff (which might be the very reason why it's so low in the mix?).
Anyway, the "kids" ARE alright, more than ever before.
[Released Twist 2007]