Never Get Away is one of the eleven well-kept together tracks on The Waldos' only album Rent Party [Sympathy for the Record Industry, 1994; Jungle, 2013, enhanced CD] which sounds just like The Heartbreakers of the '90s. This is not an accident since Walter Lure personifies the common denominator of these two bands; a survivor that truly typifies and fathom the New York City soundscape and rock'n'roll approach.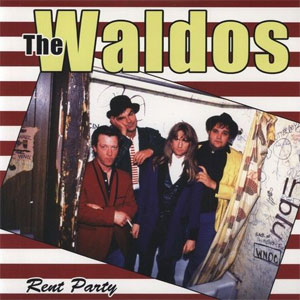 Rent Party is brilliantly produced by another music personality from New York, Andy Shernoff, one of the founding members of The Dictators. He is firmly rooted in the New York rock scene as a musician, producer and songwriter since the mid-'70s. It seems that he has nourished a dream of putting the band together again (Blues Brothers style) for some time, but Andy Shernoff has also payed tribute to Joey Ramone in an unusually heartfelt way.
The Waldos' association with earlier New York band gets obvious by the fact that The Waldos also care for the memory of the Gary U.S. Bond's Seven Day Weekend on Rent Party – a song picked up by The New York Dolls, The Heartbreakers, and moreover recorded by The Heroes – to some extent an early lineup of The Waldos – in 1978 [released as Skydog 7" in 1983].
Newsflash: Andy Shernoff tells he has produced a new Waldos album that will be out in a month or two on Cleopatra Records.