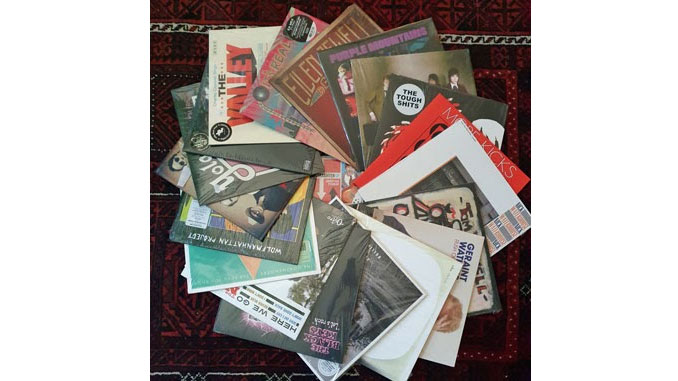 Here is a selection of my personal favorites of recently recorded albums which are accompanied by one-liners. Hopefully, the spread between genres will help everyone find something new to dig, whether you like this or that type of music.
01. Ex Hex: It's Real
Five years after Ex Hex's punky debut album Rips, Mary Timony's combo releases ten new exciting and exquisite songs rocking everywhere between Blondie and Joan Jett.
02. Eilen Jewell: Gypsy
The content of the ninth studio album from the constantly touring Eilen Jewell can best be categorized as exceptionally well-balanced and varied country/Americana.
03. Purple Mountains: s/t
Just as happy as I was when Silver Jew David Berman was back in business after ten years, I was just as sad when I learned that this obviously tormented soul hanged himself in August 2019.
04. Daddy Longlegs: Lowdown Ways
The move from Norton to Yep Roc did not stop this Brooklyn trio from pushing another slab of gutsy punk-infused blues.
05. The Tough Shits: Burning In Paradise
This Philadelphia garage act's first new album in eight years contains rock'n'roll tunes with pop hooks with The New York Dolls as role model.
06. More Kicks: s/t
This power-pop trio from London is said to have cut their debut album in just two days – thereby adding to its live feeling, I guess.
07. Nick Waterhouse: s/t
Despite the title, this album is his fourth; an intimate and almost super-natural sounding record with horn arrangements inserted in all the right places.
08. Tom Russell: October In The Railroad Earth
With thirty-something albums behind him, this durable recording artist, painter and author continues to deliver country/folk songs with texts that have the same narrative quality as well-written novellas.
09. Geraint Watkins: Rush Of Blood
This seasoned musician – nicknamed by Nick Lowe as "the missing link between Paulo Conte and Howling Wolf" – delivers ten genre-crossing tracks, most of them produced by Simon Ratcliffe (Basement Jaxx).
10. Wilco: Ode To Joy
Constantly changing Wilco make up an anomaly in this list by presenting casual and laid-back songs all the way through; soothing and perfect to unwind to (if appropriate).
11. North Mississippi Allstars: Up And Rolling
Sharde Thomas' and the Dickinson Brothers' collective North Mississippi Allstars brings forward a modern version of their fathers' concept with the help of Mavis Staples and Cedric Burnside, along with others.
12. The Black Keys: Let's Rock
America's sweethearts Dan Auerbach and Patrick Carney are back after a five-year silence with a self-produced album that seems to further cement their fame and popularity.
13. Jonathan Puskar: Straighten Up
Straighten Up is made up of a string of '60s flavored pop songs from this 23-year old Nashville debutant – deliberately very nearly named after a Badfinger album.
14. The Night Times: Here We Go
Just by their looks on the LP-cover it is easy and accurate to assume that this debutant six-piece East Los Angeles/Orange County band is nothing but dead-serious garage rock revivalists.
15. The Coathangers: The Devil You Know
Atlanta female punks Coathangers have evolved and add a melodic touch to this set of songs that exemplify the contemporary punk rock attitude.
16. Wolfmanhattan Project: Blue Gene Stew
An uncompromising album project by Mick Collins (Gories, Dirtbombs), Kid Congo Powers (Gun Club, Cramps and Bad Seeds) and Bob Bert (Sonic Youth, and most recently Jon Spencer's Hitmakers) that follows up their 2015 debut single; not intended for the faint-hearted.
17. The Long Ryders: Psychedelic Country Soul
We welcome back The Long Ryders to the recording artists, club with their first album in 33 1/3 years; a well-polished Ed Stasium production.
18. Yola: Walk Through Fire
English born Yola's (Yolanda Quartey) Americana roots debut album was delicately conceived at Dan Auerbach's Easy Eye Studio in Nashville.
19. Pixies: Beneath The Eyrie
The third studio album since their reunion in 2004 from these veterans of surreal rock shows that they have passed their creative peak, but enough of the old Pixies is still here.
20. Charley Crockett: The Valley
Davy Crockett descendant Charley sings a set of autobiographical country tinged songs dedicated to anyone who ever walked that lonesome valley by themselves.