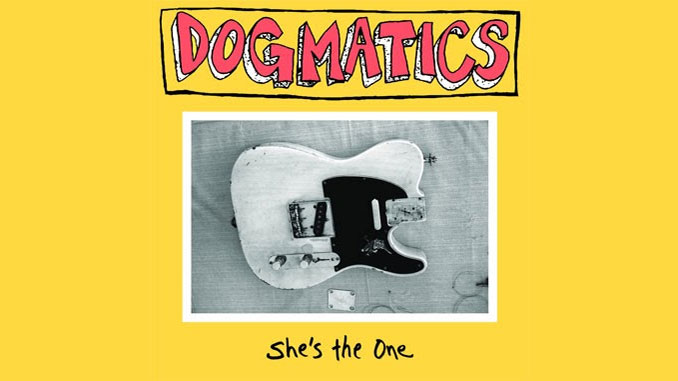 What a pleasant surprise it was to reconnect with Dogmatics after so many years through their 2019 7" release She's The One; a 1m44s pop knockout that Buddy Holly should have been proud of. The CD version comes with two extra songs; five all together. What a treat!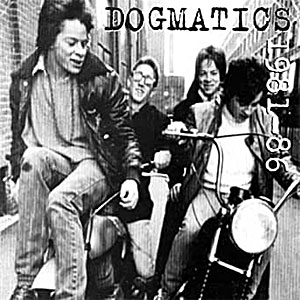 The last one heard from these Bostonians before She's The One, and which was released in their own name, was the CD collection 1981-86 (1998) that had four previously unreleased tracks. This compilation covers their entire production up to 1986, except for the B-side on their self-released first single (1983), Eddie Cochran's 20 Flight Rock that backed up Gimme The Shakes, composed by Jerry Lehane – Dogmatics' singer, guitarist and one of the original band members together with brothers Peter and Paul O'Halloran (guitar and bass) and Tom Long on drums.
Dogmatics issued two mini albums (Thayer St. and Everybody Does It) on Homestead Records in 1984 and 1986. Both albums contain eight songs each that build on good fun plain rock'n'roll added with a garage rock and punk mentality. The resulting snotty attitude makes Dogmatics easy to embrace for all of us who have zoomed in on loud and uncomplicated rock. Just listen to the hard driving sounds of Sister Serena and the should have been classic Thayer St., and you know what I mean.
During the '80s, Dogmatics also became represented on several compilations; Teenage Girls on Rock Turns To Stone. Paul and Peter O'Halloran's X'mas Time (It Sure Don't Feel Like It) showed up on Midnight Records' A Midnight Christmas Mess – a worthy alternative to A Christmas Gift For You from Phil Spector. Furthermore, a version of their assault of Dion And The Belmont's lament Teenager In Love; Teenager On Drugs, is included in the Mr. Beautiful Presents All Hard compilation.
A member of the original line-up disappeared when Paul O'Halloran unfortunately died in a motorcycle accident in 1986, only 26 years old. Since then, Dogmatics has done many reunion concerts with brothers Johnny or Jimmy O'Halloran on bass. Peter O'Halloran's The Hired Men also keeps the kettle boiling with occasional acoustic performances. Dogmatics' later recordings include compilation contributions; Summertime on Ruling the World From the Backseat (2008) and Black Plastic Shoes on The Reducers tribute Rave On (2012).

The best thing is yet to come. Jerry Lehane tells PopDiggers that a new album is in the making for Rumbar Records and that Dogmatics hope to tour France and Spain this summer. That is certainly something to look forward to!