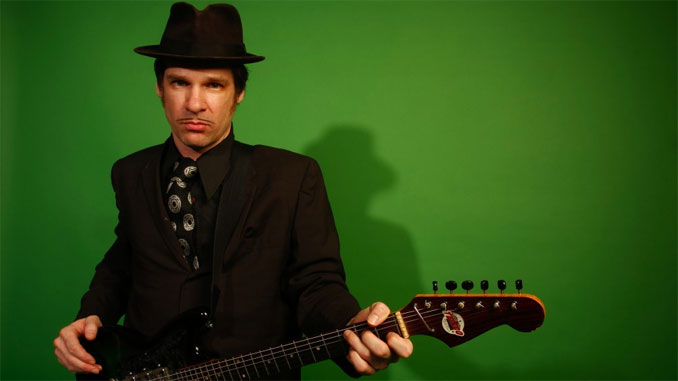 Rounding up the usual suspects and some first time offenders in 2016:
01. Jack Oblivian And The Sheiks – Lone Ranger of Love
Mr. Yarber joins forces with Memphian Sheiks with a tip top record that embraces the whole spectrum from garage to country, maybe by the aid of products from Tip Top on Madison Ave.
02. Dan Stuart With Twin Tones – Marlowe's Revenge
Dan Stuart's relocation to Mexico and associated musical company suits his Green on Red purposes exceptionally well.
03. Kurt Baker Combo – In Orbit
Likewise, Baker's repositioning to Madrid, Spain, has made favors to his fairly new combo's first studio album that is oozing with Little Steven-approved power pop.
04. Jeremy And The Harlequins – Into The Night
Fifth rule is: Never underestimate plain rock'n'roll.
05. PJ Harvey – The Hope Six Demolition Project
Polly Jean has traveled around and gathered impressions to her musically accompanied critical standpoints concerning a selection of so-called "social challenges".
06. Tyrannamen – Tyrannamen
Melbourne's finest live act finally has a studio album (well, just about) out that all fans of brazen garage rock deserves to know about.
07. The I Don't Cares – Wild Stab
When Paul Westerberg teams up with former Blake Baby Juliana Hatfield, we get some of the most evident reverberation of The Replacements heard in years.
08. Shovels & Rope – Little Seeds
Married couple and folk duo Cary Ann Hearst and Michael Trent collects a set of songs worth a ¾ 2 LP that in a positive way appears as well-known right from the first listening.
09. Frankie Cosmos – Next Thing
Second album from 22 year Greta Kline's (yes, that Kline) alter ego contains lightweight intimate pop songs that brings big hopes for the future.
10. Kid Congo And The Pink Monkey Birds – La Araña Es La Vida
Best-dressed Chicano old-timer is back again on his label In The Red Records with his band that took its name from the lyrics of Bowie's Moonage Daydream.
11. BT's – Bustin' Out
These busters bust out breast-first confident enough to release a bunch of power popish songs that reminds of early Nobunny.
12. The Fleshtones – The Band Drinks For Free
Fleshtone "youngster" Ken Fox told me during the band's Swedish visit in October 2016 that their long lasting Yep Roc record deal was running well because the group and the label have realistic expectations on each other.
13. The Mystery Lights – The Mystery Lights
Take two parts of garage rock, mix with one part psychedelia, and add some Daptone vintage stamina; then: voilà.
14. Wilco – Schmilco
One thing certain about Wilco is that you never can be sure what to expect when they release a new album; in this case, an output that is surprisingly acoustic, subdued and mellow.
15. Handsome Family – Unseen
Rennie and Brett Sparks carry on doing what they are good at; their tenth album contains subtle songs with surreal lyrics performed in the usual promenade tempo.
16. Javier Escovedo – Kicked Out Of Eden
Kicked Out Of Eden offers this ex-member of Zeros, True Believers and Chariot plenty of space to excel his Johnny Thunders-mannerisms.
17. The Parrots – Los Niños Sin Miedo
These kids from Madrid, Spain, attacks garage music without fear (of being accused as progressive or mimicking The Black Lips).
18. M. Ward – More Rain
Eighth album by easy-going M. Ward if you want something ear soothing for a change.
19. Karl Blau – Introducing Karl Blau
In a stiff funny-hats-competition, an all-cover album finally won over the latest productions of Aaron Lee Tasjan, Cale Tyson and Paul Burch.
20. Apache – Alcatraz
Bay Area's half punks half Indians, Apache has at last released a captivating album # 3 after a six years sentence of silence regarding long-playing records.