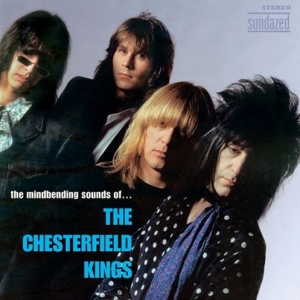 All these guys have been at it for multiple decades now, dealing out their Rock in time tested idioms. Hell, Steve Cataldo's of the Nervous Eaters has been slashing away at his guitar since some time in the Sixties. Yet he is still revving it up, back with a newly revived Nervous Eaters full of energy and toughness.
Eat This! is a solidly packed sheaf of taut, driving rockers full of slashing, shearing guitars, pumping rhythms and just the right morsels of melodic infusion from the lead and backing vocals. You can hear that toughen bar band Rock and Roll that was shared with their '70s Boston brethren like the Real Kids, DMZ, etc.
But also a focus in line, particularly, with Radio Birdman, as well as snatches of things like latter period Devil Dogs in the chorus of the pop inflected 5-2-8 and a bit of AC/DC in the whipcracking boogie Poe Boy Bluez.
The Fleshtones are still working their distinct formula of equal parts R&B, Garage-Rock and Frat-Rock. But 25 years or so of partying and life has taken their toll on Peter Zaremba's voice; as they say the heart is willing but the voice can't get up there anymore.
There is still plenty of energy and snap to the band's playing — see the thumping intro to their cover of Alright. So the best moments here are when they stick to group vocals instead of a single lead. The swing and excitement of Destination Greenpoint and I'm Back Again are prime material for any party.
And the quasi-instrumentals — the jokey, energetic One Four Five and the taut, moody Double Dipper — are thick, prime slabs of Rock. I have no idea what to make of their rampage through Zepplin's Communication Breakdown; it's to be heard to be believed.
The Chesterfield Kings are the babies of this bunch, not really surfacing until the beginning of the Eighties. Still Greg Provost, Andy Babiuk and Co. have made a record that stands with their finest.
All fourteen tracks are totally focused on that core of mid-'60s Stones refracted through the "real" Chocolate Watchband which has been the essence of the Kings through all these years.
The album leads off with an assist from self-proclaimed patron of Garage-Rock, Miami Steve Van Zandt, as co-writer, added musician and backing vocalist on I Don't Understand: a ringing, sneering, fuzztone dripping, mid-tempo rocker with vibrato guitar, a subtle organ and cowbell.
They have a song called Stems And Flowers that lists a co-writer named Saxon that from the grinding rhythm and particularly raspy vocal style implies it's Sky Saxon, though it has this keening, bubble-like guitar popping throughout.
And Joram Kaukonen guests on the reverb soaked, "Bo Diddley beat" driven Death Is The Only Real Thing and Mystery Trip with its the vaguely Gloria sounding rhythm and Twilight Zone guitar solo.
They built Flashback on Jumping Jack Flash's signature riff. I'm partial to the jangly, backing harmony touched, Folk Rocker Somewhere Nowhere and the rumbling, Psych washed, raga-rocker Transparent Life.
Come, enjoy the funhouse.
[Released by No Tomorrow, Yep Roc & Sundazed 2003]