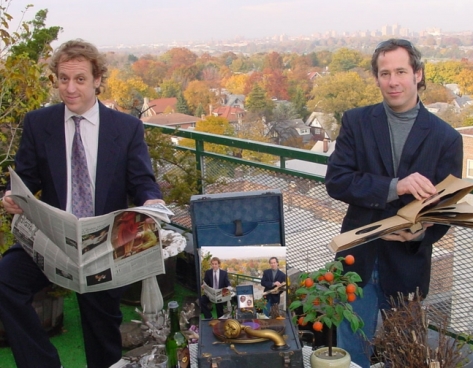 Assuming everyone can manage to pry Big Star's In Space outta their ears for a moment or two, may I then suggest (in strictly alphabetical order, of course)…
COL. KNOWLEDGE & THE LICKITY-SPLITS Fall In Love All Over Again With…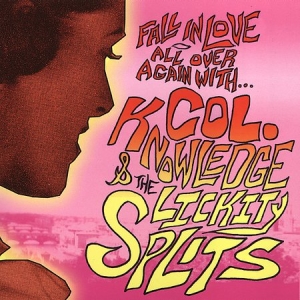 The very, very fine folk over at Bomp Records who, these past twelve months alone, have brought us not only the Howling Diablos but some tres cool Hypstrz and even Stiv Bators re-issues to boot, have now gone and delivered the debut cracker from those Farfisa-soaked prides of Athens, Georgia.
This disc, expertly semi-recorded on some creaky olde Tascam 8-track in the Colonel's lickity living room ("those who believe cleanliness is next to Godliness can suck it," the Press Release advises) launches most sturdily upon the wings of Johnny Tillotson fronting a rightfully terrified Swingin' Medallions (Someday There Will Come A Time) before recklessly plowing through a slew of perfectly rank Flo & Eddie / Young Rascals homages-in-fromage (Furthest Cloud In The Sky most pointedly).
Then there's Sleep Through The Day (wherein Boyce and Hart demo the ultimate slacker anthem for Pisces, Aquarius, Capricorn and Davy even) plus Fallin' Off The Depths, which truly does slap silly anything and EVERYTHING off This Year's Model for starters.
Though things somehow get a bit profound near the last ten minutes or so (Storm Clouds = Indigo Boys), Tim Boykin's Lolas at least should cover Don't Wanna Be Your Friend immediately …and then R. Stevie Moore should be hired to collaborate – ideally TOUR – with all these here Splits too asap.
To summarize? Pure, extremely adulterated genius, through and then through again.
JOHN ENTWISTLE So Who's The Bass Player? The Ox Anthology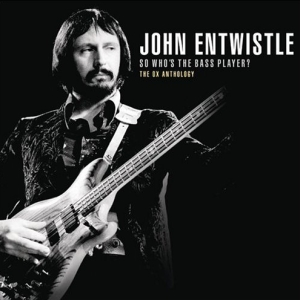 In this great big archival year of the Zimmer Man's Bootleg Series Volume 7 most obviously, many other true nuggets of pop's pure past have gone criminally under-listened. Case very much in point indeed is this thoroughly ear-wracking two-disc, 38-track collection of slam-bang solo rawk by that most similarly unheeded member of the once 'orrible 'oo, John Alec Entwistle.
Sure, the man's later offerings may be quite misguided indeed (blame collaborators such as Joe Walsh, I'd say), but throughout the very early Seventies Entwistle was creating some of the greatest music Who fans especially never ever got the chance to properly hear.
Witness Heaven And Hell (compare, if you dare, with that oh-so-lame rendition by Messrs. Daltrey, Townshend and even Moon), its cosmic companion-piece What Are We Doing Here …not to even mention that stellar ode to suicidal bop Do The Dangle (from the Rock 'n' Roll Revival album to end ALL Rock 'n' Roll Revival albums – thank gawd! – John Entwistle's Rigor Mortis Sets In).
Then throw in a couple'a vintage live slabs of Whiskey Man and the acropolitic Boris The Spider and you can get yourself set for a listening experience every single bit the equal to ANYTHING found at the bottom of a 1965 Bob Dylan tape reel, believe you me.
THE EXPLOSIVES Ka Boom!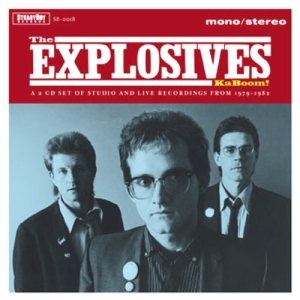 From Japan, of course, comes this unquestionably definitive double-disc, near-two-hour, forty-nine-track (including over eighteen recorded live) retrospective of Austin, Texas' great wild wonders The Explosives who, during their criminally brief reign circa 1979 thru 1982, created at least one track (A Girl Like You) that certainly deserves to be immortalized in the same breath as your or my all-time fave 20/20, Boyfriends and/or Romantics A-side.
Then, whilst not deftly crossing socio-musical barriers with the strike of a mere E-chord (e.g.: Night Ride pits those Stray Cats straight up against Chris Isaak, UFO spots Devo confronting Gerry Anderson at some Star Trek swap, Summertime Come brings The Dickies into Focus at some sold-out Black Sabbath soiree, and Headhunter actually sounds just like The Great Lost Link Wray / Shadows collaboration …not surprising at all on the latter, as The Explosives once moonlighted as none other than Roky Erickson's back-up combo!), these three guys, looking for all the world like prime candidates to play Marshall Crenshaw's Movie of the Week, actually were FAR more a globally-astute power (pop) trio than, say, that English Jam EVER were (on Fortress Europe especially).
Meanwhile, New Shoes is the finest Police record Sting never could write; and while we're on the subject, why in heck wasn't Sellin' Out a nationwide Top of the Forty smash in that great wasteland which was all-American AM radio in those extremely early Eighties?
PS: Revolutionary cover of Paul Revere and the Raiders' Steppin' Out included as well, as if additional incentive were ever needed to give this exemplary release Pride of Place in your collection.
THE FLESHTONES Beachhead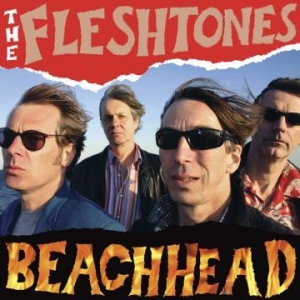 Let me guess: You just laid out a couple'a thousand bucks for the latest Stones album and concert, blew another twenty or thirty at Starbucks en route home on their lame-o new Rarities CD and a mocha-white-chocolate-something-grande, then after all was said and sung STILL felt sonically emptier than a post-Chinese dinner.
Really, you should'a called me first; I would have set you straight right away with the latest and greatest from none other than those mighty mighty Fleshtones.
Produced nice and LOUD by Rick (Southern Culture On The Skids) Miller and Jim (Dirtbombs) Diamond, these here snares never forget to snap, the guitars slice like rusty pop-tops – when not tremelo'ing beneath gallons of dirty Bosstown water that is – and the keyboards must have wafted clean off some Seeds 45 of olde, I do declare. Then if you're STILL feeling any loyalty whatsoever in a Jaggerly direction, simply pit the F-tones' Do Something For Me against Brown Sugar …or Bigger And Better for a MUCH bigger bang, for that matter.
"It's Only Rock And Roll," you counter? Well, I'd much rather hear December's TRUE children screech I Am What I Am (while, not coincidentally in the least, belting out Push Up Man, the abs-down greatest record Iggy hasn't yet recorded). You can skip the over-priced coffee and stale brownies too and get this all, and so much more (i.e.: Jon Spencer / Matt Verta-Ray's Heavy Trash disc!) over at Yep Roc Records right now.
Coz, as Sergeant P. Zaremba Himself would tell us, "Let's get serious about not being serious; c'mon, Give it a try!"
MARK JOHNSON Mark Johnson And The Wild Alligators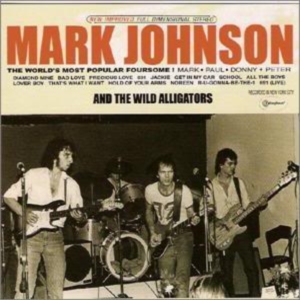 Imagine cold weather across the lower sides of New York, New York circa that Buddy Holly Story movie. Doc Pomus and Arthur Alexander share a cab ride downtown under the direction of Phil Spector, hook up with Del Shannon en route, only to join forces round a small Teac multi-track machine while Side One of Beatles '65 spins in Repeat Play over in the corner.
Welcome to the one-man International Pop Overthrow which is the one and only Mark Johnson who, alongside his grand Alligator Band, were busy serving – some would say SAVING — real Rock and true Roll back when you or I were probably being distracted by the latest Springsteen album or that last Lennon long-player.
Those who may only know and love Mark from his landmark 12 In A Room album, or by way of his writing the greatest song Dave Edmunds ever recorded, will thrill in eavesdropping now upon the man's vintage Village roots. And they're all here to hear anew – future past classics such as Lover Boy, Hold Of Your Arms, Diamond Mine, Noreen – and available again in fully Full Dimensional JohnsonSound to boot.
No, there still really isn't anyone making music like Mark does; spend just a few minutes under the spell of this album alone and you'll immediately realize why.
MAD HAPPY Renegade Geeks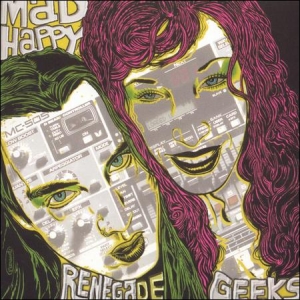 A press release that name-checks Public Enemy, Hank Williams, Nina Simone, Madonna and Sly Stone — all in the same sentence! – wrapped around a disc that similarly skips hipply from Cream to Duke Ellington by way of the White Album …and again, that's all in ONE song. Welcome to the mad mad mad world of Mike iLL and Rivka, one beastie boy and girl who, armed with a mere Danelectro six-string alongside the latter's Roland MC-505 meaty beat box have gone and created one of the wildest, widest listening experiences this side of 2005 and counting.
Sure, there may still be those out there who recoil at the mere mention of turntables scratching the night away, but slathered beneath THESE renegade geeks lay more jagged guitar hooks than a side of Flat Duo Jets, not to mention pure piles of kill-worthy choruses that leave no doubt Gwen and Fergie are already becoming blunt as an MC Hammer.
Loaded Up is the obvious h-i-t here, dragging as it does no less than James Brown's bag kicking and screeching into a Century 21 John and Yoko bed-in, while elsewhere Wild And Bold gives all nude meanings to the words "klezmer" and "chaos," I kid you knot …with a little help from the still-Tom-Tomming-after-all-these-years Chris Frantz and Tina Weymouth by the way.
Trip-hop, kid-hop, mmm-bop, whatever the case may be: Just remember, as Mad Happy always do, that's it's all just POP. And you'll be just fine.
RAQUEL'S BOYS Music For The Girl You Love
"Introducing the Latest Phenomenal Pop Combo" and "The Men With The Mojo" boast the jewel-encased big-font blurbs. And for once this year, such claims are totally, unequivocally hype-worthy! Yes, I know I know, technically this garage-baked li'l wonder was a 2004 release, but you'll just have to trust me that it took nearly a year for it to make its way into the ol' Pig Player …where it's been more or less most happily lodged ever since, I'll have you all know.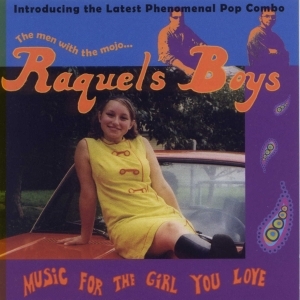 Sounding at times enticingly like Shake Some Action-era F. Groovies out-takes (Knockout), and then more often than not pitting Bobby Fuller against the Bangles in a bubblegum pull to the death (Please Thrill Me), the dynamically sonic duo of Sean Hutton and Reg Carter, more than ably assisted by that ultra-ubiquitous Jeremy Morris, have just about gone and made The Great Lost Power Pop Album we've all been waiting for ever since, oh, your most beloved Ramones or Teenage Fanclub platter at least.
Never once afraid to let their Rickenbackers jumble as opposed to just jangle, and keeping a sense of good-fashioned levity close to ear, Raquel's Boys can make music for even the girls you simply like!
MICHAEL SHELLEY Goodbye Cheater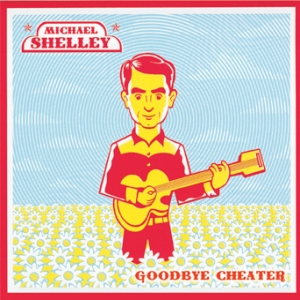 It takes little over half an hour for these fourteen tracks – several bravely clocking in at well under the two-minute mark, by the way! – to find a forever place deep within the heart, soul, and even funny-bone-sorta of you more discriminating listeners out there. For when not lazily tilling the traditionally rich soils tended as well by Walter Clevenger and Bill Lloyd, Michael goes and creates the kinda sounds lovers of the Lovin' Spoonful's Z. Yanovsky-powered B-sides, as opposed to merely their chart-toppers, will especially appreciate.
Elsewhere, the crazed C&W Buck Owens and Mike Nesmith unfortunately never got the chance to create together appears (Out and especially A Little Bit Blue), a roller-rink bed of organ the likes of which Garth Hudson could so easily crawl beneath for a nice long nap supports Where Did I Go Wrong, Goofball and Ha Ha Ha Ha Ha, two instrumentals truly too cool for words, provide themes for some long-lost Hee Haw / Ready Steady Go cross-programming, then none other than the lovely and talented Laura Cantrell joins Michael on I've Been Trying to produce perhaps the greatest Everlys recording Don or Phil sorrowfully never made.
A most astute eye for lyrical detail ("I felt so alone, the smell of Coppertone, french fries in a car and sand in my guitar") sung in a voice Colin Blunstone would surely wink towards all adds up to one of the most majestically understated releases of this or of any other year I can recall.
FRANK LEE SPRAGUE Merseybeat
While the still-crazed-after-all-these-years specter of a monochromed Freddie Garrity shaving with his hand mic whilst leaping across The Ed Sullivan Show may to this day strike terror in the minds of ethno-musicologists the world over, West Texan Frank Lee – yes, the taller of those root-rockin' Sprague Brothers – now makes it more than safe to once again bust out the 12-string acoustic, slip into a black turtleneck and fade each original upon a Vox-drenched sixth chord. In fact, these here dozen songs (or is it fifteen?) (or even sixteen?!) run gear gamuts across the Beau Brummels and Peter and Gordon, between long lost Swinging Blue Jeans and Searchers extended-plays while, vocally of course, bridging that seldom-heard gap between Buddy Holly and The Hollies.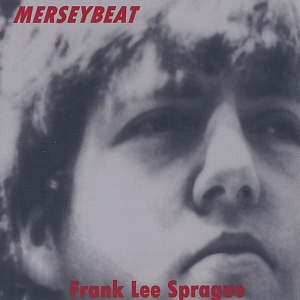 Elsewhere, none other than Doug Fieger regains his knack by adding "can't stay"s to Can't Stay, Without You, I Do combines, and then BETTERS those last three or four Squeeze albums at least, The Plimsouls make Billy J. Kramer sing Like The Break Of Day and, to nearly end it all, Our Love Is Real catches Micky Dolenz beneath the bleachers at a vintage Isley Brothers soundcheck.
In other words? Until those powers that be get round to releasing each and every With The Beatles out-take, demo, rehearsal and tune-up session, consider Frank Lee's Merseybeat the unquestioningly fabbest of them all …until FLS next enters his Cavern, that is.
TAN SLEEVE American Blood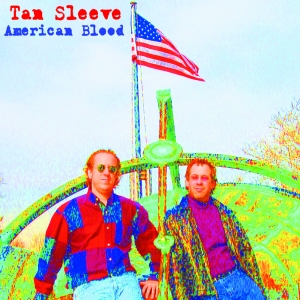 Here comes the latest politically incorrect digital delight from Lane Steinberg and Steve Barry, thankfully d.b.a. Tan Sleeve once again right there in 2005.
But no longer content to simply let Frank Zappa's Mothers dance the Wah-Wah as they take their clothes off with George Harrison, Lane and Steve have now added a big bit more bite to their previously subdued Bacharachian wares (the shockingly, atypically N. Youngish title track especially), while at the same time remembering to trip towards their trademark Houses of Rundgren and Wilson (Walk Me Through It) by way of scaling Sugar Mountain.
Those who wish to read between the lyrics may indeed detect a distinct concern over issues of the follicle (Mr. Combover, not to mention the fully American pied, actually-lives-totally-up-to-its-title When Lindsey Buckingham Shaved His Beard). But such heady matters completely aside, Tan Sleeve honestly do remain one, or should I say two of the most potent purveyors anywhere of that seemingly long lost art of the Pop Star as Auteur.
Yes somewhere, somehow, Harry Nilsson smiles down in knowing appreciation …making sure to first check his party affiliation at the celestial door, that is…