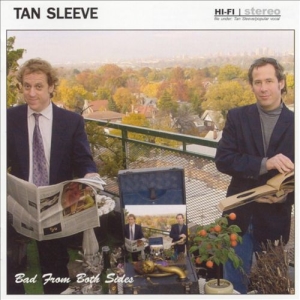 After the two "stops" at the very same Bus Stop, two years ago, resulting in both Tan Sleeve and Wall of Orchids CD EPs, accompanied with his ex-Wind "blower" Steve Barry, Lane Steinberg continues the "peyote marching sound" with what might be his most focused project in a long while.
Adding quite a thing or two to the strictly acoustic/piano based arrangements on the mentioned EP, the pair still covers a pretty wide soundscape.
The two most straightforward-sounding pieces, also among the album highlights, are Maria Bartiromo, which is like Neil Young at his most cheery (kinda recalling his Burned melody) and the Zombies-through-Rundgren sophistication of More Than Best Behind.
Take A Piece While It Lasts (also on the debut EP) and The Meaning Of Success are sure to bring a "SMiLE" on your face, which is also the case with the only cover, Mancini's instrumental Breakfast At Tiffany's.
Destruction is a jazzy little piece of ballad that wouldn't sound out of place on Odessey And Oracle, When Things Go Wrong might easily pass for a cover of an unreleased Dionne Warwick "trackarack".
Puffy's Gun countrifies the early 'Stones (It's All Over Now?) and the title track will definitely make you "stop stop stop" after you hear the bluesy-psychedelicised Hollies in it. Another one also featured from the self-titled EP is the Paul Simon-gone-country sound of It Doesn't Snow In New York Anymore.
So, it must be more than obvious by now, that the album's title might be a bit misleading, but then again, who knows what "bad" could mean in terms of "peyote marching sounds"?!
[Released by Bus Stop 2004]