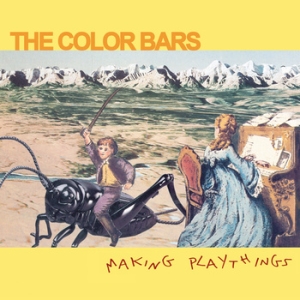 This one struck me as a bit of a surprise really!
After accidentally getting hold of their tune All Your Kitchen Ghosts over the internet, I thought it might be a perfect example of the vintage-influence/moderndaze-sound marriage, making it another one of those retro-futuristic workouts, which it really is!
While the mentioned tune's loose quirky-Beatley-psych, sounding not unlike Beck at his popsike best, remains my favourite on the CD, there's also seven more techni-COLORED sound-BARS, that will keep throwing you back-and-forth through the time.
With the … Kitchen Ghosts being the opening track, it was a bit strange hearing the bubblegummy mid'60s garage vibe of Dog Out Of Water, kinda like adding more balls to the '63-'65 Beach Boys, but by the time of the third one, which is another Beatlism by way of Jellyfish grandeur called Eliza, you'll realize what a kaleidoscopic soundscape you've just entered.
The Last Time I Felt Alive is almost like an ancient lullaby sung by the Everlies, She Disarmed Me takes you back to another Jelly-made-through-Queen prog-pop-rocker, while Slivers Of Green slows it down again for a beautiful Macca-like ballad, sliding through some distant country overtones.
The Nazz-buzz of We're A Tag Team combines some aggressive guitar licks and heavenly harmonies, before the CSN-vocal stylings of the closing Greetings From Dubai take you to the "pre-road downs".
As appropriately suggested by the band's name, your mynd is definitely about to be colored with more than one undertone.
[Released by Paranoiac 2003]