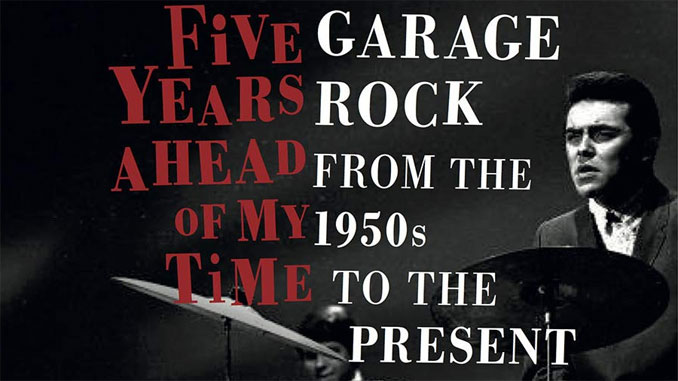 I am not the first to congratulate Seth Bovey for writing a book that fills an important gap in the music history. Garage rock is for some reason sadly under-represented compared to other genres when it comes to in-depth investigation and analysis. Maybe the relatively low status of garage rock explains why so few specialized books has been published on this topic, especially by academics. Seth Bovey – a professor of English at Louisiana State University and a member of several garage bands during the 1970s and early '80s – seems to be an exception who gives our beloved underdog ability to bark. Initially, I also like to mention that another benefit of Five Years Ahead Of My Time is its ambition to embrace garage rock from the beginning to the present in a spatio-temporal fashion, with a global outlook.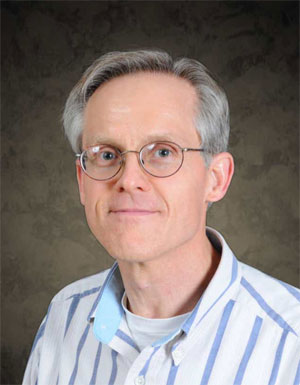 The front cover of the book boasts with a Shindig statement that Five Years Ahead Of My Time is "the first truly comprehensive study … concise, passionately written and well researched." It might be the first one, but If "comprehensive" equals "including or dealing with all or nearly all elements or aspects of something", I do not agree. Please let me explain why.
First, I want to confirm that the author and I have the same point of departure: that garage rock is made by home-grown rock 'n' roll combos that produce a rough and unrefined sound as they put more energy than technical skill into their performances. A fairly rigorous two-line description, n'est-ce pas? But the fact that the author uses this definition as a springboard to start his first history lesson with Tacoma's (WA) Fabulous Wailers, leaves a lot to be desired.
Remember that in the same manner as the British invasion created thousands of the classic '60s garage band prototype, Elvis Presley and his contemporaries did pretty much the same ten years earlier to their fans when they introduced the first wave of rock 'n' roll craze a few years before The Fabulous Wailers went active.
Thousands of teenagers especially in the US reacted quickly to the mid-'50s wild rock 'n' roll novelty and picked up instruments and began to bang out their own raw and amateurish interpretation of it, sometimes rockabilly style. Many compilations by the Dutch White Label (with LP-titles like: "Primitive Sound" and "Home Made Early Rock and Roll") are proofs of this, as are Norton Records' numerous releases of 7" with uncontrollable rock'n'roll enthusiasm from the pre-Beatlemania period. Let us hope that the fact that the sounds of the Pacific Northwest and Southern California are well-researched (see, for instance Peter Blecha's Sonic Boom and Kent Crowley's Surf Beat) did not bias the author, because that would be like to searching for something just under the light of the lamp.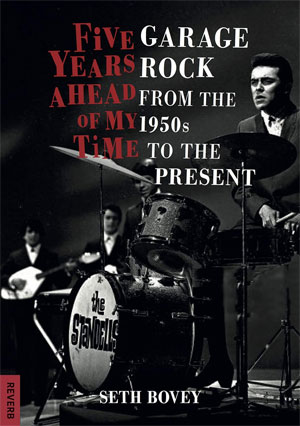 The Upper Midwest is put forward in the book as a third hot spot where the rock'n'roll ethos was kept alive until Beatles broke through, although Minneapolis' The Trashmen's Surfin' Bird became popular just before the British Invasion turned things upside down.
All of this is also true of course, but as I mentioned, there were plenty of activity all over the continent (and elsewhere) during the mid-'50s that could count as garage rock according to the definition above – both with regard to live performances and to unsophisticated studio recordings. Therefore, it would have been positive if Five Years Ahead Of My Time also had highlighted a well-balanced selection of these scattered '50s/'60s garage bands to paint a fuller picture of the founders of American garage rock.
It is doubtful if the author could be blamed for this way too short opening summary. Since such briefness also signifies the rest of the book, I suspect that the publisher had the final saying about the slim outline and straightjacket table of content that prevents a full presentation of the subject. Such limits will put the author in the awkward position to describe six decades of garage rock in just 170 pages (including some 10 % illustrations); a mission impossible! That is probably why the scanty text slots in the following chapters render the same criticism of shortness as the introduction.
A symptomatic example is what would have been the main chapter on American mid-60s garage rock is allowed just 35 pages, albeit with a commendable description of its sub-genres (British style R&B; folk rock; garage punk; psych (and all girl bands as a category of its own); please compare with the Nuggets map in Garage Rock School, Lesson # 1) with clarifying examples of each sub-genre. But omitting some of the most important '60s garage bands (such as The Standells – only present on the cover of the book! – and The Seeds) makes also this history section unsatisfactory incomplete.
Anyhow, it leaves us to conclude that Five Years Ahead Of My Time nevertheless can be regarded as a good introduction to garage rock with many relevant listening suggestions for the beginner, but also that the full-blown history of garage rock that many of us have been waiting for a long time remains to be told. Hopefully, this author/publisher constellation, or someone else, will accept the tough challenge to bring about the complete story of garage rock that this genre truly deserves. Ten Years Ahead Of My Time: The Comprehensive Story Of Garage Rock From The 1950s To The Present, someone?
Extra: Why not some sounds to go along with the title of the book? Links to The Third Bardo's original I'm Five Years Ahead Of My Time and the first wave of covers, most likely prompted by the re-release on Greg Shaw's LP compilation Pebbles Volume 3 [The Acid Gallery; 1979]. Here is further reading on Pebbles.
The Third Bardo's original (1967)
The Cramps (live; 1982)
Plan 9 (1983)
The Nomads (1983)
The Chesterfield Kings (live; 198x)