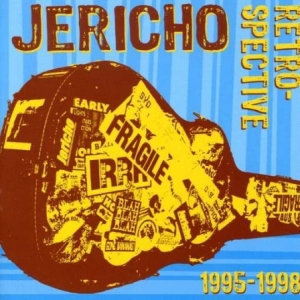 It seems that these days you just can't get rid of Danny McDonald… thankfully!
His catchy hooks are all over the scene, be it the power-pop soundtrack to an endless summer of his band P76 or his own solo stuff, the glammy garage sounds of The Stoneage Hearts and now Jericho, that actually takes us back to his earliest days when it all began.
Of course, had this been the first one that I heard of his works, I'd be much more thrilled, now that I know that he can do even better, I can only enjoy the development of the pop-master-in-the-making.
Still, there's a coupla stand-outs that will make me get back to this collection every once in a while like the usual "big starry-eyed" power-chords of Coming Down, Talking To Myself or Tell Me Something I Don't Know (well, they did name one of their EPs Radio City did they?!), the infectious guitar riff of Everybody's Fool.
Or the jangly "flight" of the teenage-byrds in Don't Know What Comes Over Me and it wouldn't come as much of a surprise learning that he was saving Washed Out for the rainy days, so that he can "survive" by offering it to the Gallaghers, for their "come back single".
Anyway, this is another "pop boomerang" that will keep coming back no matter how hard you try to throw it away.
[Released by Pop Boomerang 2003]