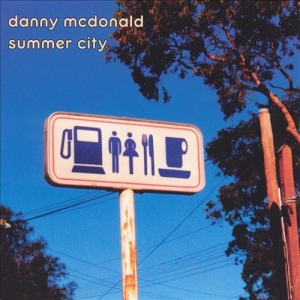 Another perfect soundtrack to the summer days from Danny McDonald's workshop! As we're already used to, he manages to capture all the wonders of the sun, the surf and the lazy days.
The short-sharp-pop opening formula, with 1:20 minutes of perfect "replacement" for your Big Star records, called Soaking Up The Sunshine comes from the recently released EP on Pop the Balloon, to be followed by Living In Traralgon, with one of those guitar riffs that you just know that you've heard somewhere, making you feel like you're hearing your favourite song after a while.
Another pair of classic power-pop gems, praising the sun, are At The Seaside and In The Comfort Of The Summer's Night, and when Denny is left on his own with his acoustic guitar, it always seems like LOTS of fun, either if it's about stayin' in (Let's Get Drunk To You And Me) or about goin' out, like in An Hour's Drive In A Sandman Panel Van, an ultimate surfers' anthem, that makes it easy to imagine Danny with an acoustic, driving in that van, with a bunch of surfers harmonizing around him on their way to the beach.
Besides these, you'll also hear an unexpected "Pogues-at-their-toughest" tune called Sandy Harrison as well as a garagey surf instro, Mermaid Beach, a possible crime-TV show soundtrack.
This should make the cold days much easier to take, before it's "summer city" everywhere!
[Self-released 2003]