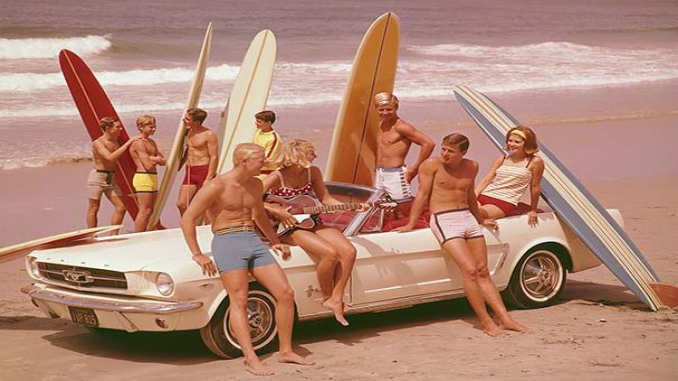 More than fifteen years has gone since I passed on my first selection of favorite instrumentals. (link here, in Swedish only) A mere glimpse into a restricted and somewhat odd music genre that still fascinates, even though the golden era of instrumentals ended long time ago. All of the previously selected tunes have stand the test of time in my book anyway. Nevertheless, in retrospective, I should have included The Catalinas's original of Banzai Washout instead of the Dick Dale cover. Anyway, here is a new batch of Ten Strummin' Mentals for you in the same style as the one before. The tunes follow an order that roughly goes from fame to obscurity. See you in 2030, or so, for the 21–30 list.
DUANE EDDY
Peter Gunn
[Jamie, 1959]
It is impossible to sidestep Duane Eddy in this genre. His twangy guitar occupies a unique place in the instrumentals parlor. Peter Gunn was composed by Henry Mancini (of Pink Panther Theme fame) as the signature tune to a television detective series – most probably by a lucky mistake if you consider the rest of Mancini's repertoire.
Producers Lee Hazelwood and Lester Sill transform the orchestrated correct original to that rough rock'n'roll which makes Peter Gunn one of Eddy's top instros. Peter Gunn also marks the end of his heyday period as I see it. Duane Eddy probably did not need sheet music for completing this one because he more or less repeats the same riff all the way through. His monotonous determination impressed a variety of artists enough to inspire them to do their own covers, from The Blues Brothers to The Art of Noise.
Instead of Eddie, studio session saxophonist Steve Douglas does the real work here. He is, by the way, the composer of the above-mentioned Banzai Washout, peripheral member of The Wrecking Crew and blower on The Ramones' End Of The Century album amongst other things. Douglas honks away in Peter Gunn as there were no tomorrow on an instrument that is unfortunately seldom heard that way nowadays. Or, as some big-head on YouTube fittingly commented this version: "Whoever took the sax out of rock'n'roll should have his reed examined!"
JOHNNY AND THE HURRICANES
Crossfire
[Twirl, 1959]
Crossfire is the A-side of Johnny and The Hurricanes' first single. Originally released on the local label Twirl, Crossfire became so popular that it was leased to the, at that time, newly established Warwick Records. Due to this improved record distribution Crossfire went all the way up to # 23 on the Billboard list in 1959 and became the first in line of the short string of hits Johnny and The Hurricanes enjoyed during the next two years.
This tune has a hard driving beat accentuated with handclaps and it revolves around Johnny Paris' wailing saxophone. Johnny and The Hurricanes recorded it in a Detroit movie theater in order to get the reverb effect sound as it should. The bridge builds around a call and response pattern between the saxophone and the guitar. No wonder it is named Crossfire.
Composer credits go to pianist T. J. Fowler and to Tom King – a pseudonym for Harry Balk that owned Twirl Records together with Irving Michalik. Balk and Michalik also managed Johnny and The Hurricanes and Del Shannon. This überentrepreneurial pair seemed to have earned more money than they deserved due to unsound song credits and unfair royalty agreements. Unexperienced and naïve Johnny Paris was probably easy to deal with at that time, but it seems he got his due credits afterwards.
The Beatles acted as warm-up band when Johnny and The Hurricanes played in Hamburg 1962 – two bands symbolically meeting each other in a time and place when the peck order was inverted; the sun was setting for Johnny and his sidemen but a bright future lied ahead the Mop Tops.
SANDY NELSON
Casbah
[Imperial, 1965]
Sandy Nelson is another instrumental music icon. He is a California born and bred drummer that happened to be schoolmate with Jan Berry, Dean Torrance and Kim Fowley, all whom he collaborated with at various times in his career. We are dealing with an artist that made percussion based instrumentals, often in the form of an uncomplicated duet based on drums and guitar that sounds like some kind of combination between a strip club drummer and Earl Palmer with a Neanderthal twist to it. Alternatively, like The White Stripes' rehearsals the first six months. His primitive and novelty charged records were (quiet surprisingly) widely acclaimed around 1960. He had two top ten hits in 1959 and 1961, respectively, that paved the way for other percussionists who wanted to keep it simple and beat orientated.
Complications after crashing his motor cycle in to a school bus in 1963 (that allegedly had Bonnie Raitt on board) deprived him of his right leg below the knee. However, just like The Barbarians' one handed Moulty, it is hard to keep an enthusiastic drummer down. Mind over matter indeed. Soon after the accident, Sandy shuffled around the drum gear in order to suite his new situation. He went on with his banging. Last heard of this true eccentric, he was busy digging a cave in his Boulder City backyard…
We catch him here some years after his commercial success peak in Casbah – a reunion with guitarist (and producer) Richie Podolor who wrote some of Sandy's earlier material. Casbah is a high tempo and musically quite sophisticated Middle Eastern flavored surf tune clearly influenced by the Lebanese descendent Dick Dale.
THE NIGHT RAIDERS
Cottonpickin'
[Profile, 1959]
North Carolinians finest Mickey Hawks and The Night Raiders were not actually an instrumental group. Cottonpickin' is their non-vocal exception. Instead, they may be seen as the forerunners to the 60's garage band The Sonics because of the similar way that they treat their instruments and make their arrangements. A search on the Internet reveals that this association has been made before (see link). Anyway, their foremost common denominator is the way the keyboardists Gerry Roslie (of Sonics) and Mickey Hawks sings and handles the piano. Just like Little Richard: ferocious pounding on the keys in combination with singing at the top of the voice.
Cottonpickin' is the second of the few singles sides that they put out. The Profile disc label reads "The Night Raiders" most probably because Mickey Hawks do not sing on this one. Guitarist Bill Ballard is the composer and Cottonpickin' builds around his catching riffs. It has some yells thrown in for adding to the excitement. They do not waste any time – this full frontal attack is over in less than 100 seconds.
Coincidentley, Mickey Hawks' Bip Bop Boom is well known to many Swedes of mature age as the musical introduction to Svante Grundberg's fabulous 1980's radio show with the same name.
THE SCOUTS
The Mr. Custer Stomp
[Rendezvous, 1962]
The Mr. Custer Stomp is an instrumental rendering of the Larry Verne 1960 novelty one hit wonder Mr. Custer – which lyrically could be regarded as a great pacifist anthem clad in dark humor. The Scouts are well equipped for the occasion. Furnished with full instrumentation including uncommonly pronounced Indian foot bells they do what they can to evoke the right atmosphere. Commanders call out orders and there are war hoops just like in an old black and white Western movie.
Another version, without the extra sound overdubs that is present on the promotion copy referred to before, was released as Custer's Stomp on Hi-Oldies (in 1967) but it does not make the grade and should be avoided because the initial blending between instruments and the background noise really does the trick here; a rare exception of such a successful combination. Luckily, The Mr. Custer Stomp, has been re-released on a 45 in 2013 (Bighorn) backed with Rusty Isabell's Fire Water (which is to stretch the Red Indian exploitation a little bit too far). You will also find the correct version on various compilations as well – the otherwise highly recommendable Jungle Exotica Volume 2 (Strip), for instance.
The hard to find original version was released on Rendezvous Records very early 1962. Its label number tells us that it immediately preceded the B. Bumble and The Stingers' more well-known and commercially successful Tjajkovskij assault Nut Rocker. Most certainly, these recordings shared the same musicians since Rendezvous Records had a house band in Los Angeles that appeared under several names. Pianist Ernie Freeman, guitarist Rene Hall, saxophonist Plas Johnson, and the fabulous drummer Earl Palmer were among these musicians.
JIMMY GORDON
Buzzzzzz
[Challenge, 1963]
Some claim that the Jimmy Gordon in question here and the well-known unfortunate session drummer Jim Gordon are the same person (perhaps because they were active in parallel for some years in California). Although I have not found definite certainty in this matter, it is highly probable that Jimmy and Jim in fact are two different studio musicians; this one bassist the other one drummer.
Buzzzzzz develops the fuzz sound that Grady Martin first (and accidentally) produced with his bass on Marty Robbins's Don't Worry (1961) and later that year further exploited in his strange instrumental The Fuzz. Besides that, Jimmy Gordon (along with The Ventures) belong to the pioneers that used this kind of distortion in instrumentals. And distortion you get galore in Buzzzzzz. The fuzz guitar that may be played by The Champs's Dave ("Tequila") Burgess – since he is credited as Gordon's co-composer here – really stand out but organ and drums get plenty of noise space as well. This recording was made by session guys (just as the formerly mentioned The Scouts) fooling around with Berry Gordy's Money (That's What I Want) riff in a Los Angeles studio at a time when this type of music peaked in popularity.
A re-release of Buzzzzzz was bubbling under the Hot 100 on the Billboard list for three weeks in late 1966. Many years later Buzzzzzz was re-released again in the UK (Greasy Records), this time backed with The Carnations Scorpion. Jimmy Gordon had two more singles on Challenge in 1967 but they were ruined by the hippy tendencies that started to infect popular music at that time.
TEDDY AND THE ROUGH RAIDERS
Thunder Head
[Tilt, 1960]
Even though guitarist Teddy Grills named this group when they formed in Ohio 1957/8, it is obvious that their real talent was the composer of Thunder Head, Jim Colegrove (more about him later). The story goes that while trying to peddle the master tapes of their first session to Chess Records, (including Thunder Head), Teddy and The Rough Riders entered King Records studio in Cincinnati and re-recorded Thunder Head during that second session. The band even went to Chicago just to get their hands on the master from the first session because they wanted to avoid contractual problems when they later on signed for Tilt Records. Thunder Head was released as A-side on their first single in November 1960 after some over dubs had been added. It sold well locally and London Records picked it up for national distribution, but the sales remained modest nonetheless.
In an ideal world, it should have been a hit, though. Thunder Head is energetically charged by Jim Colegrove's frantic guitar. A manic bongo player, apparently inspired by Bobby Freeman's Do You Wanna Dance (1958), accentuates the up-tempo beat. Canadian Mean Mountain Music knew what they did when their 1981 reissue had the reversed labels on the original release placed as they were meant to be since the original wrongly showed Tomahawk as A-side. Labels schmabels, titles may mean less for instrumentals than vocal records.
When Teddy and The Rough Riders switched to the newly founded Huron Records in 1961, teenager Jim Colegrove became staff producer and head of the A&R for the label. He then continued in the music business. His CV shows a versatile career: as a studio musician (Bobby Charles, Todd Rundgren and Bob Neuwirth), producer, actor (film True Stories) and co-founder of the roots band The Juke Jumpers, amongst other things. (Read Frank Gutch's Jr. comprehensive five-chapter story on Jim Colegrove at Bob Segarini's site.)
TOMMY FALCONE AND THE CENTURIES
Like Weird
[Design, 1961]
Like Weird differs from the hitherto listed items since it is not a rock and roll based instrumental. Instead, you get a keyboard-centered toned-down piece with much atmosphere and a twist of demented exotica and elegance added to it. Quite odd, in other words. Enter the strange world of Tommy Falcone.
Tommy Falcone was active in New York City throughout the sixties, foremost as a music arranger and producer. Well, active is maybe an overstatement since only a handful of recordings surfaced. On the other hand, some of those, like Like Weird, are unearthly remarkable. Like Weird did not stir much commercial commotion when it was released in the summer of 1961 and it did not get much help from Billboard either that listed it as with "moderate sales potential".
Other projects that occupied Tommy Falcone included diverse and experimental recordings as The Shoestring's Candy Andy (bubblegum pop about a child molester), The Cracker Rapper's first recording (doo wop), Polynesian Paradise as The Centuries (check out the B-side instrumental, Outer Limits), New Jersey garage band The Inmates and the spaced out single Heavenly with Bernadette Carroll.
For some reason, but not very surprising, Tommy Falcone's musical career did not take off. He seems to have made a part of his living as a teacher at Red Bank School of Music. Just before he died by a heart attack back stage aged only 40 years (circa 1968), he was reported to stack records at a record store. An occupation as good as anyone.
HERB HARDESTY
Just A Little Bit Of Everything
[Federal, 1961]
Another non-rock'n'roll instrumental makes the second exception here. New Orleans saxophone and trumpet player Herb(ert) Hardesty is by far the most senior in this company since he was born in 1925, which means that he is in his 90's by now. He became deeply engaged in the music life of New Orleans already in the 1940's and associated with celebrities like Fats Domino and Dave Bartholomew. Hardesty can frequently be heard as a session musician on the 1950's recordings that emanated from Cosimo Matassa's studio.
Just A Little Bit Of Everything is an elegant popcornish tune dominated by the horn section. It has some well-balanced tremolo guitar sticking out halfway through. Its mid tempo resembles the Jamaican ska beat and stresses the New Orleans-Jamaica connection. Sometimes, as in this case, Herb Hardesty gave the credit to his son Michael. Maybe as a chance inheritance in advance? In this case, it was not money spinning though.
An alternative – and in fact a better– take of Just A Little Bit Of Everything was re-released 2013 as one side of a 45 on The UK label Jazzman Records in their Jukebox Jam Series (and which the link refers to). This version also appears on the Herb Hardesty CD compilation The Domino Effect (Ace Records, 2012) since the master tape to the original apparently was lost along the road of time.
JIMMY WITTER AND THE SHADOWS
Aaaaahhh!
[Elvis, 1956]
Much of the instrumental music that flourished around 1960 seems to be a fusion of different styles, including Link Wray's power chords and Bill Doggett's rhythm and blues. All this topped with a dash of exotica. Nevertheless, rockabilly also added an important element to the 1960's instrumentals by its contribution of traditional rock'n'roll. Sometimes the B-sides of the 50's rockabilly singles were either country weepers or instrumentals.
This instrumental is an example of how early rockabilly played a part in the evolution of the genre. Aaaaahhh! is a wild mid paced stroller that have the same roughness and primitive presence as the contemporary Come On Little Mama by Sun Records' Ray Harris. There is a vocal part that you easily can imagine how it sounds. Jimmy Witter recorded this gem after having served as a disc jockey for a few years, which gave him insight in the musical forefront.
This cut was made for the Nashville based Elvis Recording Company. Allegedly, Colonel Tom Parker, who (correctly) thought that the name of the record label exploited his protégé, did not surprisingly managed to shut down the business immediately after this one and only release.
After this milestone, Witter continued DJ'ing and recorded five more singles well into the Sixties both in his own name and as Ron Hart. Sadly, Jimmy Witter blew his brains out in the living room just before Christmas 1974.