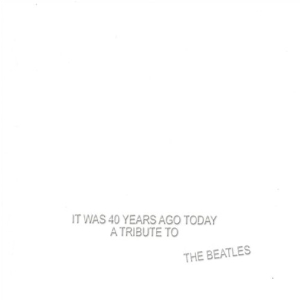 We're in the midst of the usual media overkill celebration of the fortieth anniversary of the Beatles first visit to North America. PBS and NPR have got their oar in, I'm sure the cable channels are pouring it on (still haven't given in to the robber barons, but I'm getting weaker every day) and the September issue of MOJO comes packed with your choice of two cobbled together tribute CDs — the red or the blue. And from up North comes this double CD set.
Anything I am about to write would probably be more accurate if I actually owned more than one official Beatles album. But I don't, so my views, to a degree, are based on a casual relationship formed from 40 years of hearing stuff on the radio, in movies and commercials — like the vast majority of the populace.
Anyway, that this holds together over the course of 50 tracks of varying textures and veneers is as much a tribute to John, George & Paul's writing as this package's existence is. If separated out some cuts have weaknesses or one could think them a mite misguided, but the ordering and segueing of the songs tend to minimize the negatives.
The participants range from the usual suspects and Audities denizens – Bill Lloyd (Across The Universe), Spongetones (Being For The Benefit Of Mr. Kite), Andrew Gold (Lady Madonna), Lackloves (Hey! Bulldog), Jeremy (It's All Too Much), Michael Carpenter (If I Needed Someone), etc. – who do loving, relatively straight versions, to many I've never heard of before (mostly from up North there) some of who spin off in different directions.
In the latter case two instances are Cadence who swirl together Trip-Hop beats, Prince-like lead vocals, some 10cc bass vocals and much multi-tracking in an almost acappella Drive My Car and the proceeding Kate Bush-like, Broadway derived voice and piano version of Here, There & Everywhere version by one Stacey Wheal.
Some of the highlights for me are Jeff Jones' ['70s band Ocean] revved up, Country-Rock I've Seen A Face, Tom Hooper's [Grapes Of Wrath/Ginger] haunted, acoustic guitar and synth led Long, Long, Long, Neilson Hubbard's lovely, similarly toned, though sparer rendition of Julia as a duet with some unnamed partner, the Oohs' unaffected take of You're Gonna Lose That Girl and Walter Clevenger & The Dairy Kings' jangly, plaintive, yet peppy I Will.
A couple of other things to note: This set opens with a snippet and closes with the full version of Sweden's Trimatics' rendition of She Love You in German with a kind of Kurt Weillian arrangement. And possibly like not being able to turn away from car crash there's Al Kooper stretching out Eleanor Rigby as a kind of Blues lament complete with horns and an occasionally Bowiefied lead vocal; and the thrashy Punk, complete with "oi"s and pigfucker chorus vocal, reading of Eight Days A Week by the Deal.
[Released by Bullseye 2004]