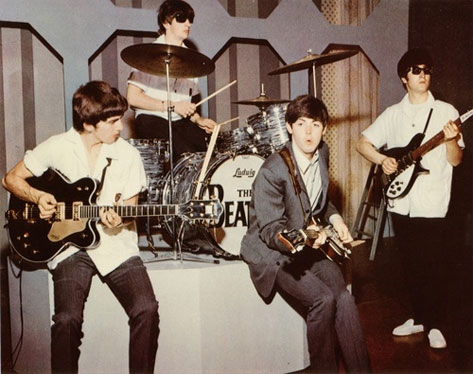 Has it really been nearly five decades already since television's greatest-ever talent scout took a chance on a brash young musical novelty act from far-off Britain? Yes, even to those who weren't extremely tuned into the 2 / 9 / 64 Ed Sullivan Show, the look, spunk, and above all SOUND of J, P, G & R continues to ring within eyes and ears this whole world over. But nobody needs me to tell them that.
So instead, I thought I'd pick a mere forty of my favorite Beatle tunes of the moment, and tell you all why I think they're so, well, Fab. Of course, YOUR mileage – not to mention choices – will differ, but that's half the fun of listening and listing, isn't it?
Allow me then to kick straight off with the Beatlesong I still find myself humming, playing, and yes, writing about most often than not…..
1) PLEASE PLEASE ME
…and, with the supreme Beatle ballad Ask Me Why on its original flipside, perhaps the greatest one-two career launcher in poppy-rock history.
2) IT WON'T BE LONG
As you'll soon realize, John is my unapologetically favorite Beatle, and he was positively on fire throughout my fave Fab album, With The Beatles. Elsewhere upon same, Not A Second Time and All I've Got To Do were pure Smokey Robinson-worthy young Lennon gems, while Paul's All My Loving – not to mention George's first-ever (!!) ditty Don't Bother Me – also helped make the band's second album an end-to-end unbeatable beat group classic.
3) STRAWBERRY FIELDS FOREVER
Arguably the very pinnacle of the band's studio concoctions …before they started getting altogether too magically mysterious for their own good, that is. And STILL the greatest fade-out(s) ever committed to vinyl to boot.
4) I DON'T WANT TO SPOIL THE PARTY
Both Everlys notwithstanding, The Beatles hear-by invent alt. country and, coupled with Eight Days A Week, produce in the process their first of many 1965 North American chart-toppers.
5) TOMORROW NEVER KNOWS
If you hadn't already realized during its previous thirteen songs, Revolver had just forever re-written musical history right before your very ears.
6) A HARD DAY'S NIGHT
The undeniable State of the Art, 1964-model. Listen closely for the driving bed of bongos, not to mention that stellar George M. vs George H. piano-guitar solo (…and not a bad li'l movie they stuck after it either!)
7) HAPPINESS IS A WARM GUN
Lennon truly was pop's Picasso, compositionally-speaking, and only The Beatles could've made it successfully thru this dizzying mini-History of Rock 'n' Roll with the help of only three or four tape splices.
8) GOOD MORNING GOOD MORNING
Stripped of all its Pepper down to the rhythm track alone, as the Anthology 2 version demonstrates, we realize how great a tight little band The Beatles really were …even AFTER a whole year off the road!
9) EVERYBODY'S GOT SOMETHING TO HIDE EXCEPT ME AND MY MONKEY
…and THIS totally Pepper-free hum-ringer must've been even more fun to record than Birthday, Hey Bulldog, or maybe Lennon's Ninth (Revolution).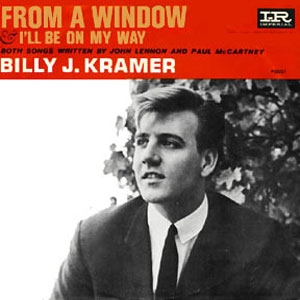 10) I'LL BE ON MY WAY
Along with Hello Little Girl, the nascent Lennon and McCartney's keenest Buddy Holly re-write ever …though you must admit Billy J. Kramer, as opposed to them Beatles, recorded the definitive rendering.
11) I FEEL FINE
The first feedback on record, as John once claimed? Link Wray might just have something to say about that. But there certainly was nothing finer to be heard over Christmastime 1964 …and THAT'S the truth.
12) I SAW HER STANDING THERE
The album-opener to start all album openers …or, as producer-extraordinaire Sir Big George Martin would so aptly characterize it, "a potboiler." Why, even the other George's wholly-Hamburg-drenched guitar solo lives up to Paul's proto-Dee Dee count-in!
13) I'LL BE BACK
Add the lads' always-shimmering three-part barbershop chorale atop John's loving tribute to the late, very great Del Shannon's trademark major/minor way with a song structure, and you have the album-closer to end all albums. At LEAST.
14) I'M DOWN
Meanwhile, Paul gamely wrestles Little Richard to the studio floor …whilst telling Jerry Lee the news.
15) THANK YOU GIRL
This raw diamond, which along with Misery Squeeze particularly built a whole vocal career after, truthfully deserves much more notice after decades spent languishing upon the underside of that original From Me To You single.
16) BABY YOU'RE A RICH MAN
And on the subject of Great Lost Beatle B-sides, this big-bass and Clavioline-driven sing-along has aged SO much better than its Summer of Love topside, All You Need Is… …now what was that word again??
17) COME TOGETHER
Wherein Lennon caps his Fab career with a slyly-subtle slice of Liverpool funk. And, as always, Ringo positively SHINES. So much for the rest of Abbey Road…
18) LOVE ME DO
So frequently poo-poohed coz Brian Epstein could only buy its way up to Number 17 on the hit parade. Yet as no less an authority as Raymond Douglas Davies has always attested, The Beatles' vinyl debut nevertheless pricked up all the right ears all over Britain during that otherwise uneventful winter of '62.
19) IT'S ALL TOO MUCH
…and I guess it IS, clocking in as the not-so-quiet Beatle's long long longest Northern Song ever. Still, I can so much more easily hear it closing Sgt. Pepper rather than that other epic production A Day In The Life, can't you? No?? oh, well…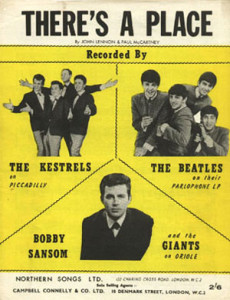 20) THERE'S A PLACE
Somehow telepathically (though monophonically) linked since '63 with Brian Wilson's In My Room as two of the most deeply touching agoraphobic studies of all time.
21) I SHOULD HAVE KNOWN BETTER
Here our heroes, lead again by John, toss off one of the greatest deceptively-arcane musical throwaways of the era with one harmonica holder tied behind their backs. Plus George says it all with the last twelve-strung note of his guitar solo, as usual.
22) I WANT TO HOLD YOUR HAND
The crowning jewel which, rightfully so, took Beatlemania global …and opened B. Dylan's ears especially to a certain misheard phrase in the bridge, just as importantly it turns out.
23) MARTHA MY DEAR
The most beloved song ever written to a sheep dog? Irregardless, it is that most infrequent instance of a McCartney composition which is perfectly, regally understated in both arrangement and execution. Hence its rare, pure, and SIMPLE (got that, Paul?) charm.
24) DAY TRIPPER
The boys gamely take on the twin late-'65 titans of the Stones and Stax …and, wouldn't you know it, cross the line with flying colours.
25) ACROSS THE UNIVERSE (Spector version, btw!!)
So maybe its words do flow out endlessly, but WHAT a tune! (no doubt inspired by George's most-melodious Inner Light being completed that very same week).
26) NOWHERE MAN
The Beatles meet The Byrds.
27) DEAR PRUDENCE
What happens when you take your guitar, and Donovan, to India with you. And then one of your playmates won't come outside. Superb drumming as well …by PAUL this time though!
28) NO REPLY
Hey! A Beatle samba, with an actually complete lyrical narrative along the way. Before John fell off Dylan's deep-end altogether with You've Got To Hide Your Love Away, mind you.
29) THINK FOR YOURSELF
Can you think of any other song, Fab or otherwise, that can employ a word like "opaque" – not to mention a fuzz-toned bass – and get away with it?
30) GETTING BETTER
Paul's ever-cute cleverness pretty near capsized the Peppery proceedings in all too many places, but for these two-minutes-forty-seven he's kept keenly in check ("…can't get much worse").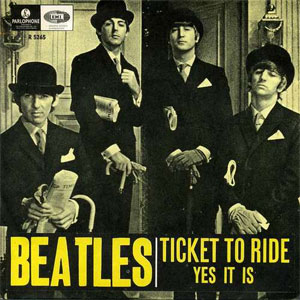 31) TICKET TO RIDE
The first heavy metal song, as John once claimed? Oh, boy…
32) YOU KNOW MY NAME (LOOK UP THE NUMBER)
Until Apple Inc. gets around to compiling all of the band's great goonish Christmas recordings on one shiny disc, there's always this inspired chunk of Brian Jones-saxed lunacy readily available on a compilation and/or file-sharing trough near you.
33) AND YOUR BIRD CAN SING
The Beatles BEAT The Byrds!
34) CRY FOR A SHADOW
George was only… HOW old, when he helped create this delightfully mock-Marvin (as in Hank of the Shadows) Hamburg set-stretcher?!!
35) THINGS WE SAID TODAY
Finally! The first McCartney effort to hold its own against a Johnsong.
36) YES IT IS
Barely-in-tune British doo-wop …and the greatest Beatle backside since its first cousin This Boy.
37) HOLD ME TIGHT
Similarly suspect in the vocal pitch dept., but it's about as close to, yes, heavy metal as these four comparative short-hairs ever got during the once-swinging Sixties.
38) SHE SAID SHE SAID
Metal doesn't even BEGIN to describe the veritable wall of Epiphones which took less than three minutes to raise even Peter Fonda from the near-dead.
39) HELP!
Sure, the movie's a clinker, but the song is as harrowingly autobiographical as anything on Pet Sounds …AND you can frug to it!
40) YOU CAN'T DO THAT
When all is said and sung, however: GOTTA have cowbell…