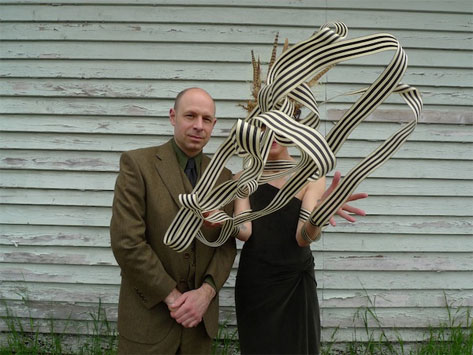 Here is what I've learned: The Golden Bears are a duo, with a fair amount of help, out of Portland, Oregon: Julianna Bright (vocals and drums) and Seth Lorinczi (a whole bunch the other stuff). The former was in the Electrolettes, the latter was in Circus Lupus, and together they made up two-thirds of the Quails. And concurrently Ms. Bright plays in the Corin Tucker Band and Mr. Lorinczi plays in Blue Giant. (Ain't the net wonderful?)
This is their second album and once again I can't give you any context, but I can tell you this one offers a good bit of charm. The record does have a bit of a triadic nature, with one aspect being an indie-hewn pop-rock, another being spare, mostly single instrument & vocal duets, and the third having a more expansive British folk-prog bent, though these aspects can be found intertwined at times. Ms. Bright, who has a wide-ranging voice, melds her tone and timbre to each context. For instance the album's introductory track, a 1' 25" piece called "Alive," opens with just an electric piano and after about 15 seconds Ms. Bright comes in with a conversational, resonant style, a bit like the intro to Patti Smith's "Gloria" (except Sohl's playing an acoustic piano). Then after about 30 seconds in, her voice sweeps up into a classical soprano. In-between those two inflection points, on a much more gradual grade, a subtle string section enters. For the rest of the number her voice moves irregularly between those two states.
"Oh, the Lightning," which "Alive" runs right into, is a jaunty, sinuous pop-rock number. An interesting construction of what seems like a verse done twice with separation by a chamberesque bridge. The latter is composed of just an acoustic piano, at a slight remove, and Ms. Bright's purer side, though a second voice, one Shelley Short, joins in harmony two-thirds the way along. And though it's only a 2' 58" number its last 40 seconds falls into spacey, almost dub-esque pieces for the runout. The alluring "Come to Be" with its crisp instrumentation, including strings, and its pacing brings to mind something from out of Love's Forever Changes. While "Do You See It?" brings the rock: from its fuzzed pick slide intro to its thumpin' rhythm play, to its tart, semi-freakbeat guitar solo. Yet it's the following, mid-tempo "We" that might be my favorite cut. It has a well-formed melody throughout, led by a buoyant lead vocal with subtle and simple backing vocal harmonies, even the guitar solo slips right in on its tunefulness. And at under two-minutes it doesn't have time to lose its focus.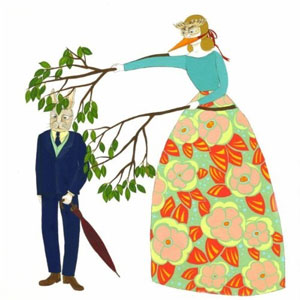 Things make that turn towards the spare in the middle section of "Wine & Want," "How Good" and "All the Birds." Ballads, lullabies of a sort, formed, as I mentioned, with Ms. Bright's voice foreground – with some delicate, carefully placed, backing vocals and harmonies — and generally just one or two instruments. In the first it's a gentle guitar with what seems like a touch of bass underneath; in the second it's acoustic piano; and in the third – a brief, relatively jauntier number — the bass moves to prominence with guitar out along the edges.
The third delineated aspect comes to the fore with the next triptych of "The Rushes," "Goodbye" and "Mist as Me" (which includes the only two songs to stretch past four minutes). With their shifting arrangements, signature instrumental voicings — in the crystalline guitar that intros "The Rushes" and "Mist as Me," the guitar solo(s) in the former's bridge (the whole of which nicely cranks up the speed), the electric piano in "Goodbye" — and a seeming touch more Britishness to Ms. Brights intonation and her elongated phrasing in spots, brings to mind such bands as early Curved Air, Fotheringay and most particularly the Annie Haslam-fronted version of Renaissance.
The Golden Bears – Write It Like You Find It [D.I.Y/2012]