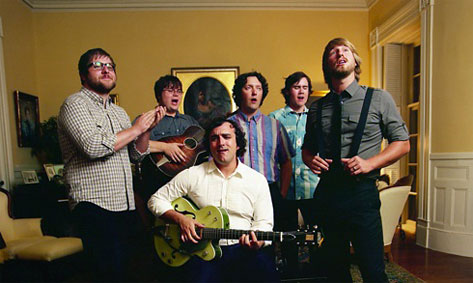 Pastiche: "A literary, musical, or artistic piece consisting wholly or chiefly of motifs or techniques borrowed from one or more sources." There's no getting past it, the Explorers Club are still in that phase. It's loving, quite brilliant and extremely enjoyable work. And here on their second album they have expanded their range beyond the singular fixation on the Beach Boys of their debut, Freedom Wind, to touch on a coterie of softish rock icons: Association, Runt, Glen Campbell, Gary Zekley, Herb Alpert, Bee Gees, Jimmy Webb, et. al. Even the album cover artwork is in homage to the mid-60s A&M jackets of Herb Alpert and the Tijuana Brass, Sergio Mendes and Brasil '66, Baja Marimba Band, etc. Things are mixed and matched, melded or sometimes welded together. But I view this expansion of source material as leading towards the Explorers Club approaching their own voice.
In the meantime we have their harmonies, and their luscious melodies. Even with a couple of trades between discs – Justin James and Paul Runyon tagged in for Jimmy Faust and Stefan Rogenmoser – a high level is maintained in those glorious, succulent, joyful harmonies.
That said, the album starts off with a barely over a minute, instrumental ditty, "Acapulco (Sunrise):" a pleasing, gentle, tropical bossa nova. It leads into "Run Run Run" (not the Third Rail number) whose intro sounds like something Joey Heatherton would enter on in one of her TV appearances. But the rest of the song is a pleasing, temperate number in the vein of late '60s Beach Boys, though with some 5th Dimension style horns and latin percussion subtly added, particularly in the outro. "Anticipatin' " moves a little more up-tempo and into blue-eyed soul territory, complete with mid-'70s Bee Gees falsettos and disco 4/4 in the chorus, while the bridge throws down a bit of Stax funk for 13 seconds. "Bluebird" is an alluring, mid-tempo excursion, riding a countrified rhythm; it is pitched between '65 Bobby Goldsboro and '67 Glen Campbell.
The excursions keep coming with the title track's Tijuana Brass with psych guitar instrumental; the Grass Roots/Turtles/Buckinghams amalgam "Go for You;" the funky one-minute snippet "Any Little Way" with its Herbie Mann-styled flute; and the Laura Nyro-period Rundgren-touched ballad "It's No Use" (the lift from Little Anthony & the Imperials' "Goin' Out of My Head" in the runout is cute). My favorite cut of all is "I've Been Waiting," a winsome, bubblegummy, power-pop number.
A succinct 2' 36", it's driven by a stirring, ringing acoustic guitar, sharp toms and stacks of backing harmonies – particularly the head-long "la la la la"s. The insertion of different textured electric guitar flourishes amongst the periodic, standard power-pop electric guitar chords, and the synthesized ELOish bridge just increases the savoriness of it all.
Track number 12, "Acapulco (Sunset)," is, as you've probably surmised, a reprise of the opening number, though this time with vocals added. Usually when a band does this it's the end of the album. But here there are three more songs that come afterwards. Jason Brewer, one of the guitarists, singers and songwriters, explains "It is to signify the grand finale of songs. It is the penultimate ending if you will." I can't say it quite works that way. If you're an old-fashioned listener who listens to the whole album at one time it might leave you feeling a tad disjointed, it does me. The three final numbers – "Summer Days, Summer Nights," "Weight of the World" and "Open the Door" — are all big ballads, big as in they have a touch of musical bombast at times (noticeably this segment includes the two longest number on the album). The mark of Webb is most noticeable on these, though Mr. Brewer has a bit of mid-'70s Neil Diamond rumbling around in his vocals on the songs he sings lead on (1st & 3rd).
That being said I found much joy listening to this, as you'd find if you get the chance to catch them live. And can only hope it won't be another four years until we are presented with the next one.
The Explorers Club – Grand Hotel [Rock Ridge Music/2012?]