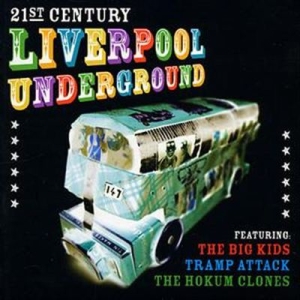 … and Liverpool mainstream in the making if I may add. Featuring three bands that never really managed to make it as big as they deserved, and 18 songs recorded between 2000 and 2002, this is where you get a chance to hear the very roots of most of what's happening on the Mersey shores these days.
Described as "the tightest bunch of bad arse musicians in the town at the time", THE BIG KIDS feature the future Zutons' rhythm section of Russ Pritchard and Sean Payne, his brother, and now The Stands' front man, Howie Payne, all put together and fronted by an ex-Stairs climber Edgar "Summertyme" Jones.
Somewhere between the garage r'n'beat of The Stairs and Edgar's latest rootsy jazz'n'blues moods, The Big Kids open the set with I'm Bored, which you're not likely to be with it's milk-era Beefheart impersonation, followed by a Motown-ish riff turning into a full-blown blue-eyed Stax stomp of Too Much Baby, sounding kinda like the MGs fronted by a mutant made of Dave Aguilar, John Fogerty and sometimes even Otis himself, with Hot Potatoes following the same path.
For A Moment keeps the soul pumpin' with a cool semi-acoustic arrangement, and some additional vocal harmonies contributing to a kind of a Buffalo Springfield vibe, the thumping Up To No Good Again comes out as Weller at his soul-heaviest, with wilder vocal delivery, while Hey, Hey, Now, Now is like a hard hitting, white boy blues "fever".
TRAMP ATTACK, featuring another future Zuton (Dave McCabe), as well as a Jackal (Jay Redmond), kinda predate some of Coral's and Zutons' folky psych excursions (Swine, Barrel Of Fun, Ladybird), spicing it up with the primal r'n'b punk of Double Decker Bus, finding themselves halfway between Roky Erickson and Don Van Vliet, and there's also Broken Man, being not more than a "Stone" throw away from Nic Armstrong's Broken Mouth Blues, both sharing the same standpoint that "it's all over now".
As for HOKUM CLONES, they seem the most derivative and also the most original at the same time, with their own brand of vaudevillian country, and especially western style, most of the time recalling the mid'60s period Charlatans, while on the threshold of the Frisco scene (Breakin' From A Jailhouse Blues, Viper Style, You Ain't Foolin' Me, Steal A Little Time), and on the other hand, they not only cover Robert Johnson, but occasionally manage to sound as if the songs were actually recorded on some porch, overlooking the corn field.
Even though these "kids" weren't "big" enough to hit the big time the first time around, it's good to have them at least in a "viper style".
[Released by Viper 2005]