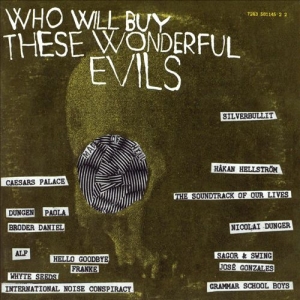 Both released quite a while ago, but some of these "evils" are so frighteningly good, that I figured, if I manage to turn on at least another soul or two, my mission is complete.
Featuring "a smorgosbord of sizzling Swedish rock, pop psych meatballs", the fist volume is divided onto two CDs of moderndaze and late'60s "evil". Generally, I must say that I wasn't too impressed with former, though there's still a couple of exquisite finds to be heard amongst the mostly Britsounding indie-power/retro/andwhatsoever pop.
Such as DUNGEN's Horizon, which would've fitted even better on the set's second CD, the West-Coast-ish acid folk pair of JOSE GONZALES' Deadweight On Velveteen and the well known SOUNDTRACK OF OUR LIVES' Jehova Sunrise, or the Motown-laden American mid'60s garage punk sound of WHYTE SEEDS' Lost My Love and the closing folky Americana of NICOLAI DUNGER's Hey Mama.
Besides the above highlights, there's a coupla more that might be worth the mention, such as GRAMMAR SCHOOL BOYS' shoegazing take on … Baby Blue, BRODER DANIEL's equally shoegazing Byrd-flight You Bury Me, the Goldrush-era Young-ish folk of SILVERBULLIT's I Had To Tell You or PAOLA's female folk-rocking jangle by way of Jackie DeShannon, as heard in Rainbow In The Dark.
However, it's the second part of the first Volume, as well as the complete Volume 2, that make these a pretty "scary" set of evils. Deservedly so, the opening slot goes to THE MASCOTS' '66 single b-side The Girl That You Are, sticking to their Ellpee's mod-ish freakbeat formula, followed, appropriately enough, with THE SHAKERS' spooky, fuzz-laden title tune and THE WIZZARDS' Who-ish mod "creation".
Things settle down a bit with the following harmony-drenched popsike set, featuring THE JACKPOTS, TAGES and the supposed infantile punks, here sounding the complete opposite, ANNABEE-NOX, before raising the adrenaline once again with OUTSIDERS, who not only impressed Hendrix, but also managed to sound not too unlike him, with their funky, "open minded" groove of Inside Of Me, and a similar feel is provided through the soulful-proggy-quirkiness-by-way-of-Electric Flag of MECKI MARK MEN's Midnight Land.
OLA & THE JANGLERS and TROLLS lighten it up a bit once again with some cool blue-eyed soul of the former and classic beat balladery of the latter, before the closing Stripped Dreams Checked Fear by THE DEEJAYS, which is another piece of moody psych, by a bunch of English intruders-turned-Swedish.
The series' second Volume sticks to the all-'60s formula, and is an overall mind-boggling freakbeat extravaganza, starting with CHEERS' surprisingly Anglified freaky take on Somebody To Love, THE STRINGTONES' blue-eyed "freak-soul", with the vocal delivery worthy of Steve Marriott at his growling best, and anther bunch of English Swedes, EVIL EYES' classic Kinks-before-they-started-out-trying-something-else impersonation through Mr. Mystified, while they set their "eyes" on you once again with another mod-ish r'n'b number Movin' Around.
KINGS don't really come close to the Fire's original of Father's Name Was Dad, but they surely deserve some praise just for the cover choice, the single version of THE MASCOTS' moody Brummels-on-speed psych of I Want To Live is even better than the Ellpee version, and THE IVEYS (also British but not THAT one) and VAT 66 provide us with a pair of classic mid'60s Brit r'n'beat boom numbers.
The first one leaning more towards the heavier, though still garagey, fuzzy organ-isation is LES FLEURS' Souls, while the phased-out pair of 14 and DARLING lead the mod towards the slightlydelic, by way of The Small Faces (former) and Zombies-through-Move (latter), and another one worth the mention is the eastern-tinged popsike of Like Before by ACKES.
So, considering all the above, it's more like "Who will NOT buy these wonderful evils"?!?!
[Released by Dolores Recordings 2003 & 2004]