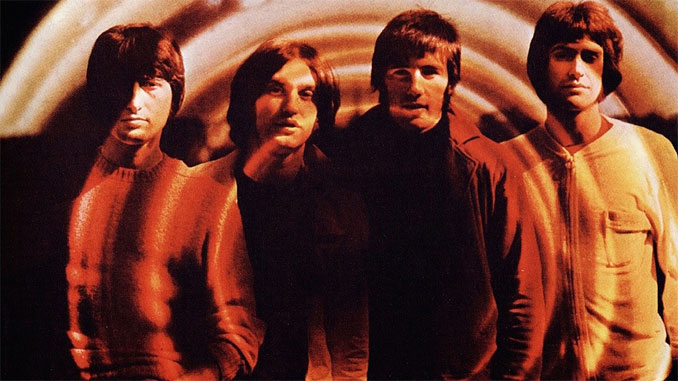 About this article
Kinks In My Head Part 1 by Lennart Persson was published in March 1978 in the music fanzine Larm (Swedish for "noise") # 7 as the first part of two in a thorough review of The Kink's record release. To many, including us, this article has made a compass in how to view and appreciate The Kinks' (including Dave Davies') early (1964–72) production. A compass that we have brought with us since then.
Although The Kink's popularity has not faded over the forty years that has passed between the article in Larm and this reuse of it in PopDiggers (via TorpedoPop in 2004), a lot has for obvious reasons happened on the music front – especially in terms of how music is distributed. Above all, since the original article was written The Kinks' music has been made easily accessible through numerous reprints on vinyl, CD-compilations, audio files and YouTube clips in a way that only could be dreamt of in the 1970s when vinyl, or in worst case cassettes, were the sole formats circulating. Out of print records were rarely found, even in well-stocked record stores, but could be bought from mail order catalogs or auction lists for used vinyl (referred to in the article) where bidding and notices of winning was made by exchanging information in letters; a process that could take many weeks.
The article was written during a time when "old" music was strongly questioned as the punk attitude convention commanded, which a picture of Johnny Rotten at the top of the article's first page illustrates with the words put in his mouth: "I do not even wanna piss on 'em!". In this intersection of old and supposedly new music, the article dismantles the opposition between the different styles by pointing out that The Kinks was inspired by the '50s music and that some of Kinks' material actually could appeal to punks. Thus, the false contradictions are knocked down and Lennart Persson shows that it is possible to embrace different music styles of different ages with same enthusiasm.
About Lennart Persson
Lennart Persson (1951–2009) was an influential Swedish music journalist and critic, who may have been the individual Swedish writer who meant most to shape our music perception. He did not just start Larm (that also was involved in releasing records), but also Feber (newspaper and site). In addition, he began to write in the daily press at a young age, and later in Pop and Sonic magazines. Some of his texts were published as books and he has also written various forms of English liner notes to compilations by Louie and the Lovers, Tages, Creedence Clearwater Revival, Dave Edmunds and Bob Dylan as well as Essential Pebbles.
Few Swedish music journalists have written so passionately and initiated as Lennart Persson. His attitude to music developed early into something that can be characterized almost as a conception of life. Lennart's enthusiasm was contagious and he was never late to share new ideas on what would be worth listening to, whether we met at a gig or in his record store Musik & Konst in Malmö, Sweden. He is sadly missed.
Peter Jönsson & Lars Wenker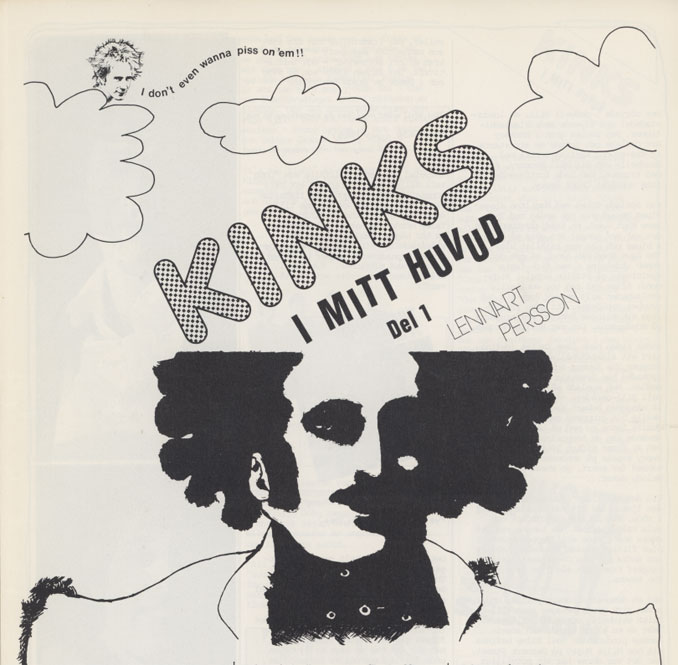 Actually, they're not even unique, if by the word you mean never "sounding" in the more superficial sense like anyone else. From the beginning in 1961 to now the Kinks have relied upon the most worn-out of rock 'n' roll clichés. … But the Kinks are more fundamentally unique. They've never done a flower-power number, sung a drug lyric, recorded a drum solo, used a steel guitar or balled Marianne Faithful. To their own financial disadvantage, they've never picked up on a trend or cashed in on a fad
Ken Emerson
Boston After Dark 1969
Ken Emerson's statement explains why The Kinks is England's finest rock band of all times. There are many more reasons.
Anyway, we thought it was appropriate to give a presentation of The Kinks and their music with broad brushstrokes. "We" are Lennart Persson and Staffan Solding. In this article, Lennart deals with the 1960s Kinks, and Staffan guides you on to The Kinks of today in the next article.
The articles are based on the group's record releases, but they do not intend to sum up to a definitive and complete discography. We believe and hope that all songs The Kinks released are included, but it's not the same as all their releases are included.
For instance, we have not included US LPs. Even though these initially had other titles than the English ones, they consisted entirely of material that was scraped together from the English issues. Furthermore, we have not included all the more or less strange song combinations on singles and EPs made in Sweden and in the rest of Europe, unless the material is unavailable elsewhere.
Hence, the foundation of the articles is instead the group's record releases in their home country.
Our starting point is the group's twenty LPs. We have added singles and EPs with material not featured on these LPs. Singles that appeared on LP, is included only if the single was issued prior to the LP. Singles that subsequently have been picked from an album are therefore not included. Likewise, we have avoided compilation LPs unless they are of any particular interest. For you who are not familiar with the records by The Kinks we recommend to acquire the newly issued double LP The Kinks File [Pye FILD 1] before you look into this article, because this compilation is a well-informed selection of the group's '60s singles. These articles should be listened to, not read.
The releases are presented chronologically, but the dating of, in particular, the EPs and LPs may fail one or two months, because in those cases we have relied on our unreliable memories.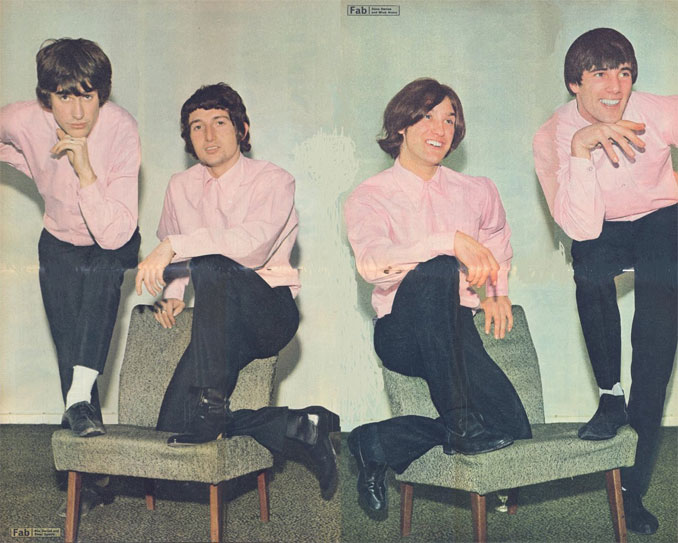 It all started in Muswell Hill, a London suburb with middle class aspirations. Ray Davies attended Hornsey College of Art and dreamed of starting an R & B group. Something in line with Leadbelly and Big Bill Broonzy, but with drums. He had not yet discovered Chuck Berry.
Ray Davies first played in the Hamilton Kings Blues Messengers and then in The Dave Hunt Band, a traditional jazz group. But there was more money to be made on rhythm & blues. Changing their name to The Dave Wood R & B band gave an instant result: permanent gigs at the Station Hotel in Richmond. After a while, however, school work took the upper hand of Ray's time and the group was dissolved. A bunch of long-haired newcomers took over the Sunday gigs. It was The Rolling Stones.
Meanwhile, Dave Davies (definitely a family relationship) had started The Ravens and he eventually persuaded Ray to join the band. They played in pubs in the Muswell Hill area, often accompanying the singer Robert Wace, who later became the group's manager. Pete Quaife now played bass. But they just had temporary drummers – until early 1964 when Mick Avory responded to the Melody Maker ad "Drummer wanted for smart, go ahead group"…
At this time, someone in the group got the bright idea that they would dress in red Victorian riding jackets and yellow frill shirts! Maybe these creations were the reason to that the group often was booked for fancy balls and other private upper class occasions? The future looked bright for The Ravens.
Their manager went around with a demo to different record companies and music publishers. By a coincidence, the American producer Shel happened to be at Mills Music in Denmark Street, where he first reluctantly listened to the homemade recording. Talmy heard something that no other, even with the best intentions, could hear. He convinced Pye records to pay for some recording sessions. Just before the first session they changed names to The Kinks.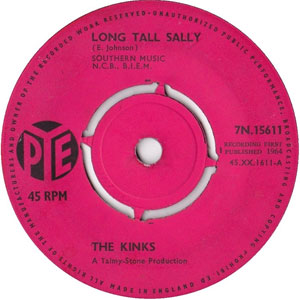 Long Tall Sally / I Took My Baby Home
[Pye 15611, 3/1964]
Few have managed to interpret Little Richard this lackluster! But reportedly the record company wanted the group and Talmy to adapt the commercially viable Liverpool sound. The B-side also reminds of The Searchers, but is still quite interesting because it is the first example of how Ray Davies readily turns our traditional sex patterns and gender roles upside down. Here he presents his girl as manly aggressive – "her hug is a screwdriver" – and innovative. It is himself who is weak and in need of protection and support.
You Still Want Me / You Do Something To Me
[Pye 15636, 6/1964]
Recorded at the same time as Long Tall Sally and still suffering from a rather boring Searchers-sound. The A-side has a tendency of that rough distorted guitar sound Talmy heard somewhere inside his head.
Both of these singles are the most difficult Kinks singles to find and they are amazingly expensive on foremost US auctions. For the sake of honesty, it is difficult to understand why.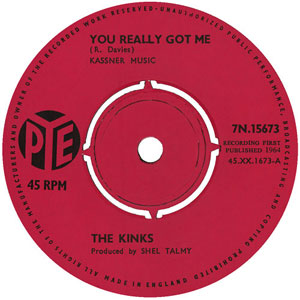 You Really Got Me / It's All Right
[Pye 15673, 8/1964]
With The Kingsmen's version of Richard Berry's Louie Louie as starting-point, The Kinks creates something that is so perfect, so breathtaking, that it still knocks me off of my feet every time I listen to it, although it was thirteen years since I heard it first! At that time, it was like a wall of sound, one fucking cacophony of noise! I never heard anything like it before and I could not stop loving it. I gave the single to my friend Gunnar for birthday present and we used to sneak away to his place at the school lunch breaks and play it over and over again. Fortunately, Gunnar's big sister was not at home at that time of day. She was a little bit precocious, loved Hootenanny Singers and did not really understand what it was all about.
Shel Talmy have found the guitar sound he wanted. In the riff, that really is steeped in hard rock style, he manages to distort Dave Davies guitar in a manner that it sounds like at least four of them! Dave's mid-way guitar solo is totally over the top and cannot be described – it must be heard.
Jimmy Page-freaks tried for a long time to claim that it is Jimmy Page's guitar we hear on You Really Got Me. A dead sure way for journalists to become antagonists with of Ray Davies was to investigate further into that. I was once dismissed by him with the words "It's possible that Page was in the studio – but in that case he just played tambourine!". In fact, he did not even do that – he was not near the studio at all. And so say both Talmy and Page. But there were other studio musicians – Avory was replaced by the veteran Bobbie Graham, Nicky Hopkins played piano and Jon Lord organ.
It's All Right is a "rave-up" in good Kinks-style, with nice singing and howling harmonica from Davies. Hopkins's piano and Graham's superb drumming literally lift the song from the turntable.
All Day And All Of The Night / I Gotta Move
[Pye 15714, 10/1964]
A masked variant on the riff of the last single, but, if possible, even rougher. Allegedly, Page is around, but, if so, he is barely audible. The B side is pleasantly bluesy, yet easily forgotten.
All Day And All Of The Night entered – as You Really Got Me – the UK charts, but failed, in contrast to its predecessor, to reach the first place. Just # 2.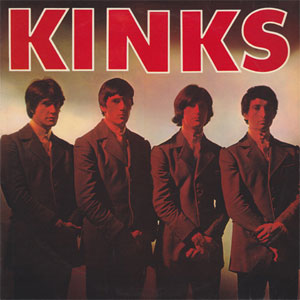 Kinks [LP]
[Pye 18096, 10/1964]
A surprisingly uniform debut LP, which also effectively bridges pop with a R & B- sound. There are, for example, two fine Ray Davies songs The Searchers certainly could have turned to hits, Just Can't Go To Sleep and Stop Your Sobbing. But it is The Kinks' interpretations – or what you should call them – of the R & B classics that capture the interest from the start. Ray fails in a delightful way to sound as if he is from Chicago in Bo Diddley's Cadillac, Chuck Berry's Too Much Monkey Business and Slim Harpo's Got Love If You Want It.
A 17-year-old Dave Davies bleats through Chuck Berry's Beautiful Delilah and Lazy Lester's I'm A Lover Not A Fighter. And he actually sounds convincing in the latter when he declares "I'm built for speed". The instrumental Revenge (written by Ray and Jimmy Page) contains once again howling harmonica, a hot-blooded pace and frenetic chord progressions from Page. (Who apparently liked the song so much that he changed it a bit, added text and released it under his own name some time later, She Just Satisfies on Fontana with Bobbie Graham on drums.)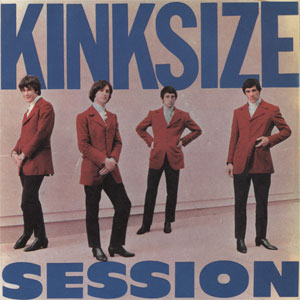 Kinksize Session [EP]
[Pye 15714, 10/1964]
The Kinks was a lot earlier than other contemporary English bands to write their own material in a way that it out-matched imitations of American R & B songs. This EP contains three examples – I've Gotta Go Now , I've Got That Feeling and Things Are Getting Better – of how early in the career they are grooming their own style. Tentative and a little dopey, but a premonition of things to come on the next LPs. In order not to completely lose touch with their roots, there is also in a version of Louie Louie, that naturally is closer to The Kingsmen than Richard Berry. Dave's mixed down solo is a gem, but what the hell is the song all about?
Tired Of Waiting For You / Come On Now
[15759 Pye, 1/1965]
The first in the line of gentle, melancholy ballads from Ray Davies. Genially built by someone who clearly knew how to write hits. The section where he sings "it's your life … and you can what you want … but please do not keep me waiting" is pure magic. And Ray sings the song as only he can – imagine Roger Daltrey and the Who performing it with the same text. The result would have been completely different.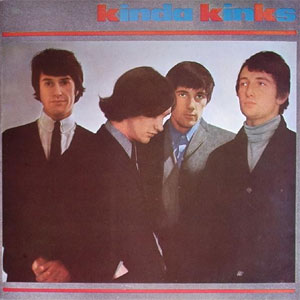 Kinda Kinks [LP]
[Pye 18112, 2/1965]
There isn't really much to say about this LP – except that it contains many great songs. Someone somewhere called the LP "a gentle explosion"; a pretty accurate description.The rough guitars are gone, replaced by piano and restrained guitars. Apart from a tame version of Martha & The Vandellas Dancing In The Street and that Dave covers yet another Lazy Lester song, there is not much R & B present. Come On Now, Wonder Where My Baby Is Tonight, You Should Not Be Sad and Look For My Baby are all medium tempo pop songs and the rest are ballads in the footsteps of Tired of Waiting.
Not just as good, but high-quality anyhow. One song deserves special mention, Got My Feet On The Ground, sung by Dave and suitable raw material for any entrepreneurial punk group that wants list success. "Got my feet on the ground … and I'm standin'on my own … I do not need NO one !!"
Everybody's Gonna Be Happy / Who'll Be The Next In Line
[15813 Pye, 3/1965]
A weak single, which logically just reached # 11 on the list. Both songs were probably honest attempts to vary the group's sound, but the result is bad, really bad. The A side is embarrassingly jaunty and side B is annoyingly monotonous. Both are totally without melody and the texts are best forgotten. "Who will be the next in line … one day you'll find out when I'm gone … I was the best one you had … I was the one who gave you love!" Do not try to convince me that Ray Davies wrote that …
Set Me Free / I Need You
[15854 Pye, 5/1965]
Not much melody here either, but Dave's guitar catches your interest already from the first chord and Ray sings it perfectly. He is charming when he in the first verse almost goes up in falsetto, but control his voice to not really end up there.
I Need You is built on a riff almost on a par with that of You Really Got Me. The distorted guitar that feedbacks in the introduction belongs to Jimmy Page. The solo is possibly also by him.
See My Friends / Never Met A Girl Like You Before
[Pye 15919, 7/1965]
Yet another "different" single, but this time a successful one, based on a hypnotic, droning "oriental" theme with a guitar that sounds like a sitar. A couple of years later, Brian Jones and George Harrison squabbled about who invented the "Indian Sound". At that time everyone had forgotten about Ray Davies. The text also touches on something that Ray often returned to, the feeling of being misunderstood, alone, outside. The B-side is OK. As a B-side, that is. 'Nough said.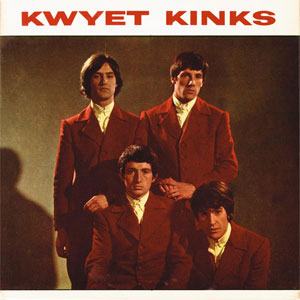 Kwyet Kinks [EP]
[Pye 24221, autumn 1965]
Here the seeds of change are sown.
A Well Respected Man is the first Kinks song where the text is more important than the music. In a fairly raw and coarsely manner, he ironizes over Mr. Upper Middle Class Jones. With poison in both voice and pen, he gives us a fascinating detailed portrait, but there is very little of that humanity and ability to engage in other people's situations which characterize his future song-writing. He just cut flush by the ankles – just beneath the lower edge of the pinstripe pants …
Musically, if not lyrically, the three other songs – Wait Till The Summer Comes Along, Such A Shame and Don't You Fret – also mark a change-point. The acoustic guitars are mixed high and the sound is overall more acoustic. One can very well imagine, for example, Don't You Fret sung in broad cockney in some East End pub.
Till The End Of The Day / Where Have All The Good Times Gone
[15981 Pye, 11/1965]
Before The Kinks completely entered phase number two, they probably wanted to finish phase one with a bang. Till The End Of The Day is the last single with that metallic Kingsmen-sound and the rough guitars.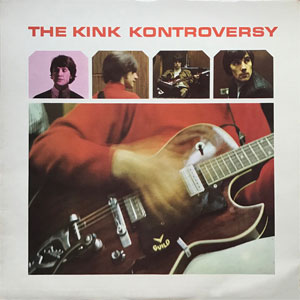 The Kink Kontroversy [LP]
[18131 Pye, 11/1965]
Kontroversy summarizes convincingly the phase Kinks putting behind themselves. The album is centered around Till The End Of The Day, which points out the sound and the moods. What creates a lot of tension is that while the texts are characterized by pessimism, aggression and boredom, the music is restless, nervously energetic and dynamic. As if they push forward towards the nothingness, to the big black hole where you first hover like a bird and then crash against the bottom. Where Have All The Good Times Gone?, It's Too Late, You Can't Win, The World Keeps Going Round, What's In Store For Me?
These songs are all high class. They are accurate, carefully assembled, and thought through. Especially The World Keeps Going Round, You Can't Win and my personal favorite, Where Have All The Good Times Gone. A perfect creation from start to finish. From the pounding drum sound and the mixture of acoustic and electric guitars to Ray's unusually passionate singing and Dave's penetrating back-up vocal during the hypnotic chorus. We understand why David Bowie made this song the central track of Pinups. (He's doing it well too!) Till The End Of The Day is almost as nice, and the group's interpretation of Sleepy John Estes' Milk Cow Blues is the ideal opening track – Ray's and Dave's voices make a way into the listener, and the guitars fills the gap between the voices and the rhythm section in a … let's say … extremely persuasive way. The effect is comparable with an invisible hand that pulls you until your head hits the vinyl.
Dedicated Follower Of Fashion / Sittin' On My Sofa
[17064 Pye, 2/1966]
This single takes up where Kwyet Kinks, and especially where A Well Respected Man, left off. This time Ray's angry comments are directed to one of these fashion jerks that populated Carnaby Street at that time. But The Kinks is clearly still in a transitional period – the melody is nonexistent, the production beyond all rescue and above all, the text is still more mean than charitable, coarser than humorous, and the punch lines are far more crude than refined. But at least there are glimpses of the synthesis of text and music that will produce masterpieces later on. The B-side is a rather tedious thing that very well could be a Kontroversy leftover.
Sunny Afternoon / I'm Not Like Everybody Else
[17125 Pye, 6/1966]
Sunny Afternoon belongs to the classic summer singles. It also became The Kinks' first number one since Tired Of Waiting. With a shrewd smirk and controlled self-irony, Ray tells the story of the derelict pop star (?) whose life is darkened by overzealous tax assessment curators. The melody, performance and production is perfect. By the way, the song may be seen as the middle part of a trilogy with House In The Country and Most Exclusive Residence For Sale as the two others. To top it all, the B-side is also a masterpiece, albeit of smaller scale. Ray seems to have tailored the song specially to Dave, who sings it as if he really means what he's singing. The melody is delicate.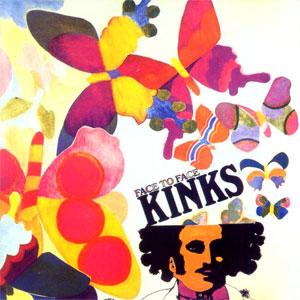 Face To Face [LP]
[Pye 18149, 10/1966]
With Face To Face, Ray Davies is really getting his very special form of expression in place. He now effortlessly alternates between different roles and situations. On this album he tells anecdotes about everything from social decay and vacations in Hawaii to callous studio musicians ("he's a session man, a chord progression, a top musician"), teenage girls on the run from home and enviable/dreadful bachelors. His voice is now barer, more unprotected and vulnerable compared to when it was covered in previous wall of sound.
But he can handle it. His presence as a human – and his sympathy to humankind – becomes even stronger and he owns a remarkable ability to adapt his voice to the topic without getting theatrical or pathetic. "Life is complicated," he brilliantly and clairvoyantly stated at one point and he refuses to be over explicit in his message and one-dimensional in his sketches. A small, perhaps insignificant, example of this is how he performs Dandy on this album (Herman's Hermits had a huge US hit with a miserable cover version). The text is, in itself, a positive view of a bachelor with extravagant habits, but Ray's voice contains both disgust, ridicule and admiration. Maybe even a little envy. Just as in "reality".
Musically, The Kinks continues to convince. They no longer fight through the songs with broken strings fluttering around the guitar necks, but they are still charmingly semi-raucous and indistinct in the outline. And they are careful not to overwork the arrangements. Nevertheless, in several places, sound effects and orchestrations are very successful. When Sgt. Pepper sails into mists of hashish and generally inflated psychedelia in an utterly pathetic way the following year, The Kinks – of course – stay with their feet to the ground. The song material is … superb. (To hell with all critical ambitions, Kinks are still Kinks!) Dandy already mentioned, Dave rocks in Party Line and You're Looking Fine. Holiday In Waikiki is a holiday satire showing Ray owes Chuck Berry much of his sense of humor and sense for details. Rosy Won't You Please Come Home, Too Much On My Mind, Rainy Day In June, Most Exclusive Residence For Sale and Fancy are atmospheric ballads that Ray sings with great sensitivity. In Fancy The Kinks again use an Oriental sound, which is integrated into the music in a way that should make George Harrison blush. In Rosy they use an idea that The Beatles tackles in an unimaginative way in She's Leaving Home. House In The Country (recorded by Pretty Things) and Session Man (about Nicky Hopkins, who plays on the record?!?) are straight rockers.
Dead End Street / Big Black Smoke
[17222 Pye, 11/1966]
Although there is a whole world between what is described in Sunny Afternoon and Dead End Street, there is still a link between these two songs. The Rock star with tax issues may well have originated in the both figurative and literal cul-de-sac that is described in Dead End Street. The escape from the social misery and hopelessness that Ray Davies so accurately describes in the text is still named soccer or rock music. When I was looking for some appropriate text lines to quote, I quickly gave up. The lyrics of the song should be perceived in its whole. Not just written down on paper, but with Ray's well-balanced music. The only disturbance is that the trombonist in the end should have ended twenty seconds earlier.
Big Black Smoke is a moral short story about the girl from the country who gets adrift in the big city inferno. There are a couple of nice descriptions in the text and Pete Quaife's bass-line is powerful.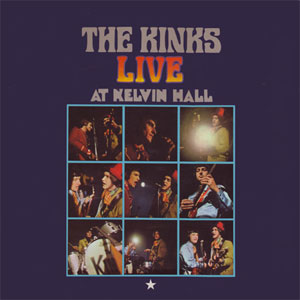 Live At Kelvin Hall [LP]
[18191 Pye, spring/1967]
It is really strange that live recordings usually are totally meaningless, since these build much on spontaneity and immediate feelings that should give the best impression to the listener. Yet only a handful of live recordings are justified: Seeds, MC 5, Get Yer Ya-Ya's Out, Five Live Kursaals and maybe a few more. But the question is if not Live At Kelvin Hall is the best of them all, because it certainly has this special atmospheric presence which comprise an important part of a concert experience. Hell, it's as much the audience's record!
One of the highlights is when Ray gets three thousand teenage girls (pimples, braces) to sing an entire verse of Sunny Afternoon! Total chaos. And the closing – with You Really Got Me and a long medley of Milk Cow Blues, Batman and a wonderful Tired Of Waiting For You – is pure magic.
Mr. Pleasant / This Is Where I Belong
[17314 Pye, 3/1967]
Mr. Pleasant was not released as a single in the UK, but in the US and in some European countries. Harry Rag was B-side in the United States, but in Sweden and the Netherlands This Is Where I Belong emerged in its place. And what a bonus that is – the song is a Ray Davies ballad of finest mark and the sound is unusually tight. The song became included in the compilation The Kink Kronikles.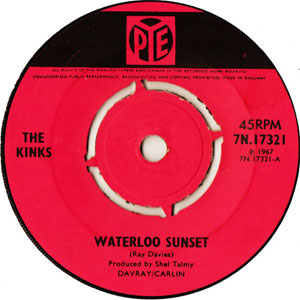 Waterloo Sunset / Act Nice And Gentle
[Pye 17321, 5/1967]
Ray Davies' by far most beautiful composition and The Kinks gives it just the kind of care it requires. The instrumental backing is just guitars and drums. Ray outshines himself song-wise. The choir is magnificent. Here is the same brittle and almost painful beauty present as in the American group Left Banke's contemporary single trio: Walk Away Renée, Pretty Ballerina and Desirée. The song was originally called Liverpool Sunset, but since The Beatles released Penny Lane, Ray named it after another London railway station instead thereby avoiding too much Liverpool on the hit list.
The B-side is an appeal to some unspecified girlfriend – "Take off your false eyelashes and act nice and gentle to me." Nice guitar, but no reason to get excited.
Death Of A Clown / Love Me Till The Sun Shines [Dave Davies]
[Pye 17356, 7/1967]
Dave Davies' first solo single, but it's a regular Kinks recording. The difference is that Dave wrote the song and also sings it. Just like the following singles in his name, this sounds like it was recorded in a pause during a "real" Kinks recording. It is understandable, however, that it too became a big hit – Dave's Dylan-inspired song and text is irresistible, the female falsetto voice is perfect and the chorus is made for singing in a pub.
The flip side, antoher of Dave's compositions, is also clearly approved. Both songs later appeared on the LP Something Else.
Autumn Almanac / Mr. Pleasant
[18193 Pye, 11/1967]
In no way poor, but a definite disappointment after Waterloo and Clown. The A-side is quite comfortable, with a sound and an arrangement that they would return to later on. Ray takes the role of an old gardener, who is quite happy and content with the simple, slow life he lives.
On side B he becomes more wicked and continues in line with A Well Respected Man to whack Mr. Middle-class, who is fully occupied with being inoffensive, pleasing and generally boring.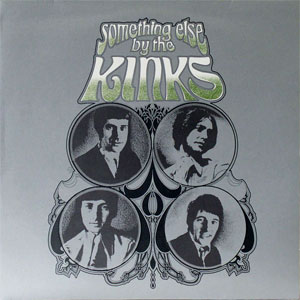 Something Else By The Kinks [LP]
[18193 Pye, 11/1967]
Something Else is very much a continuation of Face To Face, with the same collection of portraits, situational descriptions and moods. Still a really cohesive theme is lacking – except that the album deals with England and the people there. Framed by Death Of A Clown and Waterloo Sunset, we meet, for example, that enviable guy in school who succeeded with everything and whom we wished we could change places with (David Watts), the housewife with curlers in her hair (a tender declaration of love in Two Sisters), the military who think that life is made up of well-polished shoes and shiny buttons (Tin Soldier Man) and we meet the worker who is driven to divorce and social misery by his mother-in-law's exaggerated ambitions for him (Situation Vacant). All of the above are personal favorites, but the charmingly awkward bossa nova No Return and the declaration of love in the Afternoon Tea are not bad either. Shamefully enough, this was The Kinks' first LP – except the live record – that did not enter the UK top twenty.
Susannah's Still Alive / Funny Face [Dave Davies]
[17429 Pye, 11/1967]
Dave's second solo single, and another song with the highest hummable – or bawable – chorus. The text is somewhat obscure – not to mention difficult to understand – but seems to be about how the alcoholic Susannah yearn for human contact and warmth. "Whiskey or gin that's all right, there's nothing in her bed at night, she sleeps with the covers down, hopin' somebody gets in." Dave bawls his way through the text, Ray is pounding on a piano and blows a pretty fine mouthorgan solo. Someone keeps the beat by pounding his head against a barn wall. Funny Face is taken from Something Else. The single did not manage to enter the Top Twenty, and consequently it took almost a year before his next effort.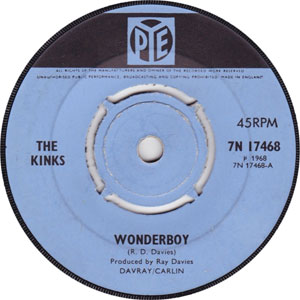 Wonderboy / Polly
[Pye 17468, 5/1968]
Wonderboy do not mediate the world's most significant message – Ray suggests carelessly and with rare optimism that we should take life as it comes, and rejoice in the little things around us – but it has a highly charming melody and a slightly dorky arrangement with Dave and Pete silly lilting through the whole song. Hard to resist.
Polly is once again about the girl looking for the city's light and her own downfall, but Polly finally gets herself together and returns to the parents' safe arms.
And that's nice. The music is wondrous Who-like, but not really. Someone hit halfhearted on guitar like Townshend and Mick Avory doing his best to sound like Keith Moon. Yet another commercial flop.
Lincoln County / No Life Without Love [Dave Davies]
[17514 Pye, 10/1968]
Dave makes a new attempt with a nice nasal rocker, but this time he does not even break into Top Fifty. Thus, Pye puts aside all plans on his solo LP, which is already under recording. Following songs would have been included on the album: The Shoemaker's Daughter, Creeping Jean, Lincoln County, Groovy Movies, Do You Wish To Be A Man, Are You Ready Girl, Crying, Hold My Hand, Susannah's Still Alive, Mr. Reporter, No Life Without Love, This Man Weeps Tonight. Some had already been released, some would appear in a different context later on and others seem to be lost forever.
Four More Respected Gentlemen [LP]
[Pye not published, autumn 1968]
This LP was recorded and ready for release when the entire project was scrapped. Following songs would have been included: She's Got Everything, Monica, Mr. Songbird, Johnny Thunder, Polly, Days, Animal Farm, Berkeley Mews, Picture Book, Phenomenal Cat, Misty Water. Instead, Days was put out as a single while the rest was shelved.
Days / She's Got Everything
[17573 Pye, 9/1968]
Days is on a par with Waterloo Sunset and has a lot of the same musically gloomy character. The refrain and the melody itself are hard to resist. The instrumentation is also restrained. The text shows once again Ray's unstable and complex personality – after thanking the girl who left him for the time they had together (!), he certifies that he is not afraid to live on, but in the next breath it occurs to him that he is afraid of the loneliness of the coming night.
She's Got Everything is a disorderly, rough rocker with a sound that goes a couple of years back in time. Ray sings it with familiar nasal nonchalance.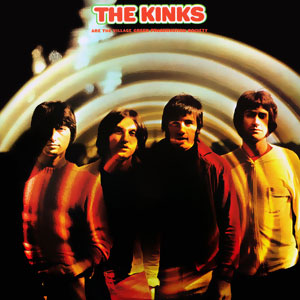 Village Green Preservation Society [LP]
[Pye 18233, 11/1968]
This is the album that replaced the ditched Four More Respected Gentlemen. But this release was also associated with some hassle. When the Gentleman project had been put aside for unknown reasons, the song Village Green, which was recorded in 1967, was released as a single in France and possibly other European countries. It was the starting point for this album. Following eleven songs were added: Days, Monica, Johnny Thunder, Picture Book, Do You Remember Walter, The Village Green Preservation Society, Mr. Songbird, Wicked Annabella, Starstruck, Phenomenal Cat and People Take Pictures Of Each Other. The album was released – and withdrawn after three to four days!
The album was redone. When it came out again, some of the songs were in new versions (clearly heard on People Take Pictures, which in the first version is considerably rougher and also has the ending cut off in version two), Days and Mr. Songbird were completely gone. Animal Farm from Four More Respected Gentlemen had with Big Sky, Last Of The Steam Powered Trains, All Of My Friends Were There and Sitting By The Riverside taken their place. For some reason, these changes were not made for the version released in Sweden and France, so this collector's item was readily available in these countries.
The music then? Phew … Ugh. (Imagine the noise that occurs when all air goes out of the article writer). It is undoubtedly difficult to convey how good this album is. I can scream and shout, but the words are still insufficient. I can only say that according to me it is The Kinks' best album and one of my absolute favorite LPs of all times. It is also the album that got my music listening back on track again after I for some time had been hopelessly lost in technocratic rock and jazz rock, and-the-devil-knows-what. Re-discovering this album in the early 1970s was to regain balance, to gain shelter, to feel fellowship and a strange form of belonging. Even though we were not many, we were quite a few. (You know who you are.) It was just like belonging to an underground movement with worldwide ramifications and a membership list with very special people. I mean, people who really understand the meaning of not being afraid as long as you see the sun go down over Waterloo station, must be special. "We've got to stick together," wrote Paul Williams when he reviewed the record in Rolling Stone. True, I say.
The album could be resembled to a photo album filled with fading images of people and places from a past less complicated and more human. And it's not just about ordinary nostalgia, it's about protecting the little things and fundamental values that should be present if a society is to be called human. Not a full-blown political program; instead small, small details between the lines. Neither sooner nor later has Kinks been better. And that says everything.
Hold My Hand / Creeping Jean [Dave Davies]
[17678 Pye, 1/1969]
It did not become a costume, it became a mitt, said the tailor. Or how the story goes. This is in any case what remained of Dave Davie's solo LP. Hold My Hand is of the same rank as the previous recordings and Creeping Jean is a shabby, guitar-laden thing that could be taken from Kink Kontroversy. Nevertheless, the single sank without a trace and is now among the most hard-to-get Kinks records.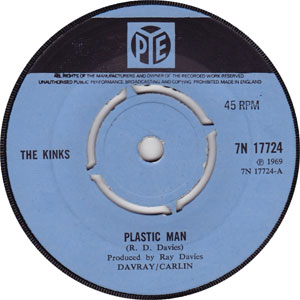 Plastic Man / King Kong
[Pye 17724, 3/1969]
Double-sided dynamite. Both songs are distinguished rockers with almost a Who-sound. The lyrics are also surprisingly hard-boiled. Plastic Man is a highly personal and ruthless attack on someone of Ray's enemies who is made of plastic from head to toe and from the inside out. He not only has a heart of plastic; his behind is also made of this precious material. (This latter statement caused moreover the BBC to boycott this song!). While Dylan was really nasty in similar situations, the not-so-particularly-naughty Ray suggests a mild punishment – "pull his nose all over this place"!
On the B-side, King Kong stands as symbol of the ruthless capitalist who "can buy anyone who gets in his way" and that has the atomic bomb in his hand. "I can blow up your houses … so you better beware!"
Pete Quaife leaves the group shortly after this record is released. The other members find out when they read about it in the newspapers. Sometime later Pete forms the group Mable Oak with a bunch of Canadians. They record Ray Davies' composition Son Of A Gun and then Pete leaves the group. He now seems to live in Copenhagen. John Dalton – from the group of Mark Four, that after he left it changed its name to The Creation – replaced Quaife in The Kinks.
Then Now And Inbetween [LP]
[Reprise PRO 328, 1969]
Kinks [double LP]
[18326 Pye 1969]
Then Now And Inbetween was part of a campaign under the motto "God save The Kinks," that the US record label started in a last desperate attempt to bring the increasingly declining interest of Kinks to life. The album, which contains a cross section of the group's catalogue, has liner notes by John Mendelsohn and was sent along with other promotional material to journalists and radio stations. Of no use. When the album was released it was interesting to Kinks-collectors because of the previously unreleased Berkeley Mews, but as this song later backed the Lola-single, this album now only has a curiosity value.
Kinks was the group's first English compilation and it also contains a cross section – from You Really Got Me to a couple of tracks from the Village Green.
The Kink Kronikles [double -LP]
[Reprise 6454, 1972]
The Great Lost Kinks Album [LP]
[Reprise MS 2127, 1973]
The release of these two albums fits chronologically in this place according to the date of recording (but not according to the date of release). But since both album contain interesting '60s tracks, I take the opportunity to comment them here.
Kronikles is an excellent compilation, which focuses more on good quality LP tracks and hard to get single tracks, as King Kong and Mr. Pleasant, than the hits. It also contains the extremely rare This Is Where I Belong and the previously unreleased Did You See His Name?, which sounds as if it belonged to the Village Green Preservation Society album. It tells the sad story of the man who is forced to a precarious criminal path and finally sees no alternative than to commit suicide.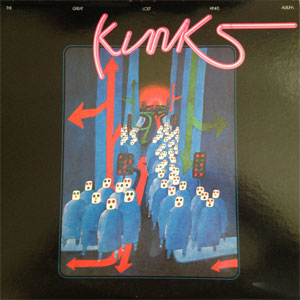 The Great Lost Kinks Album consists largely of previously unreleased material, for example, Misty Water and Mr. Songbird from Four More Respected Gentlemen, and three songs Ray wrote for television – Til Death Do Us Part, Where Did My Spring Go and When I Turn Off The Living Room Light (the latter had previously appeared on one of Reprise's promotion records, The Big Ball). It also contains Groovy Movies from Dave Davies' buried solo album, and three additional unreleased tracks from the period around Village Green – Lavender Hill, Pictures In The Sand and Rosemary Rose. A gold mine in other words.
I would rather give away all my Jeff Beck singles than to be without one of the above songs, but I play some of them more than others. Til Death Do Us Apart is a somewhat melancholic declaration of love in 1930s style, Rosemary Rose is a portrait of a lonely lovelorn lady I would not mind meeting, Where Did My Spring Go is a desperate call from a man who bitterly sees his youth slip away, When I Turn Off The Living Room Light is a story that evokes a reaction wavering between laughter and tears. "We do not feel as ugly as we really are … when we turn off the living room light".
Drivin'/ Mindless Child of Motherhood
[17776 Pye, 6/1969]
Drivin' is a delightful song that connects perfectly when it later appears in the right context on the LP Arthur, but it is an ill-chosen single. Especially in a situation when it was almost a year since The Kinks had a Top Twenty single. The lyrics of Dave's Child is personal to such an extent that it is on the verge of incomprehensibility, but the music and his aggressive singing testify poorly hidden anger. Rarely has he sounded so pissed off.
Shangri-La / This Man Weeps Tonight
[Pye 17812, 9/1969]
Shangri-La is another song from Arthur, and even if it stands alone better than Drivin', it is still easy to misunderstand when isolated. Ray describes in a rather cynical way the emptiness and downfall in Arthur Morgan's life. Arthur is the working bloke who through the years sacrificed blood, sweat and tears eventually to reach what might be called lower middle class. But on the Arthur album, it is clearer that Ray instead of disgust holds sympathy for the poor man.
The flip side is a minor musical pearl with floating song and – according to Kinks standards – unusually well-arranged guitar harmonies.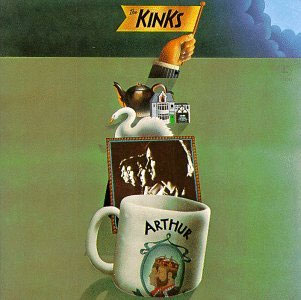 Arthur [LP]
[Pye 18317, autumn 1969]
Arthur … Or The Decline And Fall Of The British Empire is not only an album, it is also a TV play written by Julian Mitchell and Ray Davies. About the record, which is The Kink's first genuinely thematic LP. (There was a time when this and similar albums persistently were called pop-operas!) Let us once for all state that Arthur far surpasses both Pretty Things' S.F. Sorrow, The Who's Tommy and all other more or less wasted attempts in this direction since then.
Who the floor-layer Arthur Morgan is, you already know. All happens on the day his son Derek and his family emigrate to Australia. Arthur and his wife Rose drive the son and his family to the boat. Along the way they have picnic and throughout the day Arthur thinks back on his life and its events. We experience in short settings Queen Victoria, his upbringing, the war, and the dream of Australia as the Paradise and we meet people he knows. The memories do not make him happy, rather somewhat bitter. And when he losing sight of the ship with his son on board in the descending sun, it is suddenly clear to him – "Arthur the world's gone and passed you by." I hardly believe that he even hears Ray's declaration that "we like you and want to help you"…
The story of Arthur thus works beyond expectations. Much is explained by the fact that the melodies are very strong. One's interest and attention never gets a chance to die off. If I have any criticism, it would be the production and the in places overworked arrangements (by that I mean in relation to The Kink's earlier recordings and not to contemporary pop music's ever more grotesque oversteps). The true group feeling from previous recordings is lacking. The orchestral arrangements are well performed and not directly make up any stumbling blocks, but they appear somewhat unnecessary, in spite of that the sound image sometimes is lightweight and dispersed. But, as I said, this is minor criticism.
Lola / Berkeley Mews
[17961 Pye, 6/1970]
"Well, I'm not dumb but I can't understand why she walks like a woman but talks like a man." There you have some of the lines that made us wonder if Lola, who Ray met at a club where the champagne tastes Coca Cola and the candles are electric, is a transvestite or not. "I'm not the world's most physical guy but when she squeezed me tight she almost broke my spine". Suddenly, Ray had written a song that caught interest also of record buyers outside the usual fan circuit. The inventive text put together with one of his best tunes for a long time, gave Lola a shot to the top of the best sellers lists around the world. And yet we never got to know what Lola was. "I know what I am and I'm glad I'm a man … and so is Lola". What? Do the final words mean that Lola is a man? Or does it mean that Lola is glad Ray is a man?
Berkeley Mews is a solid rocker with tinkling piano, sloppy but well-placed hand claps and a text that is impossible to perceive. Berkeley Mews is an alley near Marble Arch in London. If it could be of interest to anyone.
The single version of Lola differs from the LP version by Ray on the former drinks champagne that tastes Cherry Cola and on the latter like Coca Cola.
Lola Versus Powerman And The Money Ground Part One [LP]
[18359 Pye, autumn of 1970]
Wherein Ray Davies gives the music industry a well-targeted kick in the butt. What is more, The Kinks sounds like a really tight rock band again. Good lyrics, nice melodies, stingy guitars. Songs such as Denmark Street, Get Back In Line, Top Of The Pops and Moneygoround see Ray with ill-concealed bitterness concerning his music industry misanthropy, money hunting and hysteria. But not without glimpses of his dry humor. "Life is so easy when your record hot … I might even end up a rock & roll god … it might turn into a steady job".
Get Back In Line is an unusually beautiful and moving, but sadly obscured, Kinks classic. One of my favorites. On side two of the album, Ray turns more towards society as a whole with his confusion and despair. "Power to do not need to fight, the power they don't need no guns, power you've got money on his side … the power to driving me insane." But there are solutions. "I do not know how, but I'm gonna try … I've just got to be free … and it will not be long … because we're right and they're wrong." Dave's both songs, Strangers and Rats, are nearly the best of his. Tougher and more desperate than ever before. But the ending of Strangers belongs to Mick Avory. He never gets closer to a drum solo than this …
According to unconfirmed reports from normally poorly informed sources, there exists a completed second volume built around Lola in Pye's archives.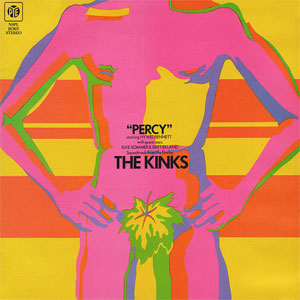 Percy [LP]
[Pye 18365, 1971]
When not only Lola, but also the follow-up Apeman (from the Lola-LP), became a huge hit, it made Ray regain his popularity. He was asked to make the music to Percy, an extremely ridiculous film about a penis transplant with Britt Ekland in one of the female lead roles. Ray began to write God's Children, a song that strongly opposes such barbaric encroachments…
The soundtrack does not contain much of real interest. Seven of the twelve tracks contain lyrics, but the rest is instrumental without much value.
But if you always have longed to hear The Kinks in a slow blues, please go ahead. Also, check The Way Love Used To Be, a quiet and atmospheric ballad, and Willesden Green, a country and western parody worthy Bonzo Dog band.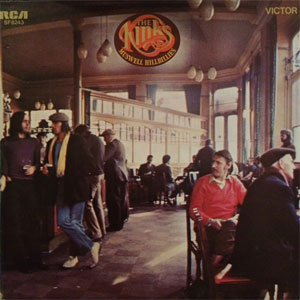 Muswell Hillbillies [LP]
[RCA 8243, 1971]
New record label. For the first time the new member, pianist John Gosling, appears on an album cover even though he joined the year before. He was the first to apply for the position and he got it. In addition, the group expanded, more or less permanently, with three blowers from The Mike Cotton Sound. They shall remain nameless.
This album is The Kinks' last really good one. And I really mean it. It presents a gallery of real persons and not theater spectacle extras. Here is the modern man who does not see the big picture for all the trigger happy policemen and over ambitious bureaucrats. "This is the edge of insanity … I'm a 20th century man but I don't wanna be here." Perhaps it is the same man who goes to a beach holiday? "The sea is an open sewer … but I do not care … I'm breathing through my mouth so I do not have to sniff the air". Perhaps it is him that is driven into the abyss of the alcohol because of society's pressure? Here we also encounter chubby Annie who find it difficult to say no to life's gastronomic temptations and another girl who wither away in the women's prison, Holloway Jail. Here is the old man who worked all his life with bosses and other guardians breathing down his neck and always telling him exactly what to do and not to do. "He was just a working man … simple rules and simple plans … fancy words he did not understand … he loved his heart … he worked with his hands". Here's the cleaning lady (or a ticket control woman at the underground?) who asks a question. "If life's livin'… What's livin' for?".
20th Century Man / Skin And Bone
[RCA 74-0620, 1971]
Down sized version of the album track. Two verses shorter. Released in The Netherlands. Totally uninteresting.
Supersonic Rocket Ship / You Do not Know My Name
[RCA 2211, 6/1972]
Rocket Ship is a charming, but quite unnecessary nonsense song. Side B sees Dave in a Dylan mood again, but he has done it much better before. This is their last single that manages to get in to England's Top Twenty. Is it really six years ago?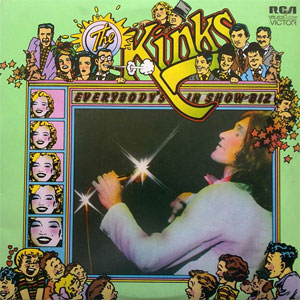 Everybody's In Showbiz [LP]
[RCA 2035, November 1972]
By this time, after many sedentary years, Kinks had begun to tour the world again. Unfortunately – if it resulted in albums of such low quality as this one. The first LP, which is studio recorded, consists mostly of grouchy querulousness. Ray complaints of how boring it is to tour, how bad the food is on the motorway restaurants, and how little sleep he gets. If he thinks that life as a touring rock star is so cruel, then he preferably would have stayed at home instead! However, there is an important exception on the studio album – Celluloid Heroes. One of Rays' finest compositions and one of The Kink's very best recordings. On the surface, a tribute to Hollywood and its stars, based on the famous pavement gallery and the stars' autographs in the Hollywood Boulevard cement. "Rudolph Valentino looks very much alive … he looks up ladies' dresses as they sadly passed him by." But the song has a different dimension as well. "I wish my life was a non-stop Hollywood movie show … because celluloid heroes never feel any pain." Ray knows very well that himself and everybody else often cannot escape the pain, just try to dream away from it. It is not everyone who has the power to tackle the causes.
The live album, recorded at Carnegie Hall in New York, reveals a further dilemma. For some strange reason, among reviewers and audiences at this time, an idea had spread that a really good Kinks' concert was one that began as a bacchanal and ended in chaos. Ray was encouraged to muck his classics, pouring beer on the audience, making parody on himself. He slurred his way through Waterloo Sunset, speeded through Tired Of Waiting for you twice as fast as he should and the concert "highlights" consisted of that he stumbled headfirst into the drum kit or straight into the speaker stacks. The music got wasted at the expense of clowning.
Around here, in the midst of this lousy record, my earlier deep engagement and interest in Ray Davies and his Kinks died a bit. And it did not get any better when he started to thin out ideas that he previously with ingenious sharpness and insight managed to present in three minutes, to theatrical performances spread over four or more LP sides. He has over the years written a handful of songs that I would not want to be without – Sweet Lady Genevieve, Sitting In The Midday Sun, Mirror Of Love – but it has over the years become longer between the small masterpieces. Far too long.
Once upon a time these masterpieces came so frequent that it was hard to catch the breath between them. But when I'm going to try to write down a few reasons why The Kinks once was the world's best rock band and even surpassing both The Who and The Rolling Stones … well, then I get blank and my hands suffer from sudden writer's cramp. All I can say is that Ray Davies has the most beautiful space between the front teeth I've ever seen.
Kinks kovers
There appear to exist between 150 and 200 different covers of Kinks' songs by other artists. I do not intend, or even try, to make a list of all of these. (You will find that impressive list here / PopDiggers). Instead I will highlight other artists' recordings of Ray Davie's compositions, which The Kinks did not record themselves. I stopped counting at 25, mostly because what I heard was not particularly good. It is clear that Ray saved his best songs for The Kinks. So I settle for select the best and thus the most interesting ones. Some question marks have also made their way in.
First cover was probably The Orchids' version of I've Got A Feeling [Decca F 11861], produced by Shel Talmy. Jimmy Page changed Revenge to She Just Satisfies [Fontana TF 533]. The Apple Jacks got the original song I Go To Sleep [Decca F 12216] and the American singer Peggy Lee made in turn a cover of the same song [Capitol 5488]. All of the above are listenable without being particularly brilliant.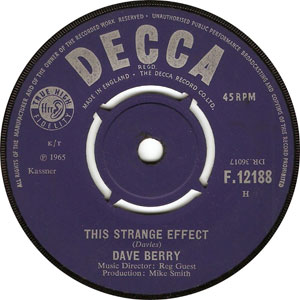 Far better is Dave Berry's version of Ray's This Strange Effect [Decca F 12188] from 1965. Kinks played this song often live. Also Berry's version of the appealing ballad sounds like it is taken directly from Kinda Kinks. It is also said that a recording of the song actually has been released by The Kinks themselves, if so included on the compilation LP Saturday Club. If any reader has this LP or knows the content of it, I'm grateful to you hear from you. It is clear, however, that one of The Kinks' American fan clubs for a couple of years ago released This Strange Effect on a one-sided single with an edition of 500 copies. The sound quality is not the best, but I still think that it's not the recording that might have been released previously. It is rather the demonstration recording The Kinks made for Dave Berry.
In the following year producer Alan Freeman got his hands of a demo of the song End Of The Season. He went straight into the studio with the Birmingham group The Uglies and copied the song and The Kinks' arrangements [Pye 17178]. That is why the Uglies could present the song in exactly the same arrangement as The Kinks – a full year before The Kinks' version on the LP Something Else!
1966 saw two other covers worth having. The Thoughts managed by the help of Shel Talmy's to make a semi-classic of One Night Stand [Planet 118]. Even better, indeed on the verge to a real classic, was Barry Fantonis recording of Little Man In A Little Box [Fontana TF 707]. Fantoni was a famous television personality and a close friend to Ray. According to the original plans, they would record an entire album together, but unfortunately, only this single emerged.
Allegedly, Ray would by this time also have written a number of songs for David Garrick's first LP, but this project was not completed either. However, it is rumored that Ray wrote a song to Garrick's backing group The Iveys, who would later become better known as Badfinger. To complicate things further: this song only seems to have been released on a Swedish single! I've managed to track down a single of theirs from 1966 – When Love Means So Much To You [Columbia DS 2298] – and it is not implausible that it was only issued in Sweden. But these both songs are written by Desmond Henley and Mario Ferrari! Is there another Swedish single with Iveys? All information that can dispel this mystery is appreciated.
Gradually Ray decreased his commitment beyond The Kinks and there is really only one more record to mention – the American group The Turtles LP Turtle Soup [White Whale 7124]. The Turtles had decided to make a straight, simple rock album and Ray Davies was asked to produce. He said yes, and the result sounds pretty close to Village Green Preservation Society. The album is The Turtles' best, but unfortunately a commercial flop. And Ray obviously decided to stick to The Kinks exclusively in the future.
During the '70s, he has sporadically and without much success indulged in The Kinks' own record label, Konk. A half-hearted affair if any.
LENNART PERSSON
Originally published in Larm # 7 – translated from Swedish by Peter Jönsson
[Torpedopop 2004-09-20]
The article is dedicated to Mats Olsson (for fish eyes and other things on Rönneholmsvägen), Uffe Lindqvist (for general good vibrations) and Will Birch (because he's the best Ray Davies of the '70s).