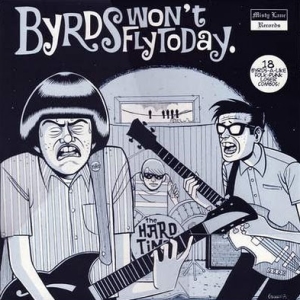 Since '65 is the defining year in the history of folk-rock, it would be kinda appropriate for this record to have the catalogue number 065, but 064 is close enough too … as if someone cares.
Still, records like this are meant for us who care aren't they? Thankfully, there's a fabulous song-selection to turn your thoughts in the right direction here. Though I knew that I was to LOVE this record, at first I was wondering what am I gonna write about it, because it's no use describing these bands/songs.
Simply put, it's all harmonies galore and jingle-jangle nirvana, without a single miss. Of course, it's that little something that every one of these great bands adds to the concept, to make things even more interesting.
The Dalton, James & Sutton trio gives an example of how would've early Cat Stevens sounded like, while playing some of Gene's tunes from the first two albums, Present is spicing it up with some extra sunshine harmonies and a Wilsonian moment or two, Peter & The Prophets get their "ticket to ride", throwing in a dash of The Hollies too, while Wisconsin's own Legends do it pure Mersey-style.
I'm sure you won't mind hearing that well known guitar riff, making you feel the "needles and pins all over again, here recycled by The Purple Reign, and the one that makes it sound a bit moodier than the rest here, is Rock Garden, with the back of their only single.
There are also some Beau Brumm-elements too. Their folky-ways could be traced down in the song by Palace Guard, and the album closer, by Tiffany System, explores their country-side.
You'll also find some folk/popsyke quirkiness, delivered by The Unknowns, matching The Byrds own most adventurous sounds, and if you're up for some simple, no-digression Byrd-flight, check out the Hard Times, The Skunks, The Ragamuffins (not the pre-Music Machine band!) or the other track by the mentioned Tiffany System.
It's funny that the album is called like it is, cuz all you'll see while listening to this is "the byrds" flying all over your head. In fact you'll feel like flying yourself, it's that good!
[Released by Misty Lane 2002]