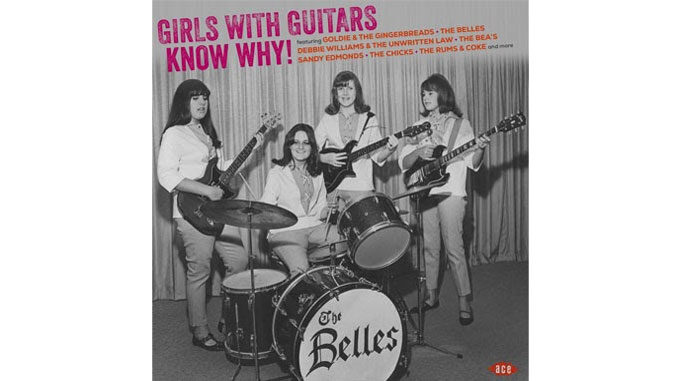 It's amazing that Ace Records in its 45 years of operation has managed to release records at the pace and with the quality they have done. Among the almost 90 (!) releases so far from the Ace assembly plant 2020, there is a compilation that I want to highlight extra much.
Girls With Guitars Know Why! is a LP with 14 carefully selected songs recorded by US and UK all-girl bands/female artists 1965–1970. Perhaps the conventional pecking order between the sexes at the time meant that only a few of the songs were written entirely by women, such as the girls-in-the-garage combo Denise with Denise Kaufman's Boy, What'll You Do Then (1966) and Nancy Ross' Piece Of You (1970) by the group She.
Among the interesting covers are Ray Davies' Look For Me Baby (from the Kinda Kinks album) by Goldie & The Gingerbreads and Melvin, The Belles' female perspective on Van Morrison's now standard Gloria. I also have to mention Glenda Collins' catchy Joe Meek produced cover of Thou Shalt Not Steal (written by John D. Loudermilk and originally recorded by Dick & Dee Dee) – featuring a guitar solo by a young Ritchie Blackmore.
Behind this first-rate selection and most of the informative track-by-track comments is the experienced female pop specialist Mick Patrick who has put together many similar compilations before Girls With Guitars Know Why! Read about Mick Patrick's "spectacular" background here and preferably also the intriguing history of Ace Records beginning with the humble conditions of Ted Carroll's London flea market record stall Rock On in the 1970s, memorialized in Thin Lizzy's The Rocker:
Rock'n'Roll;
I get my records at the Rock On stall,
Rock'n'Roll
Teddy boy he's got them all