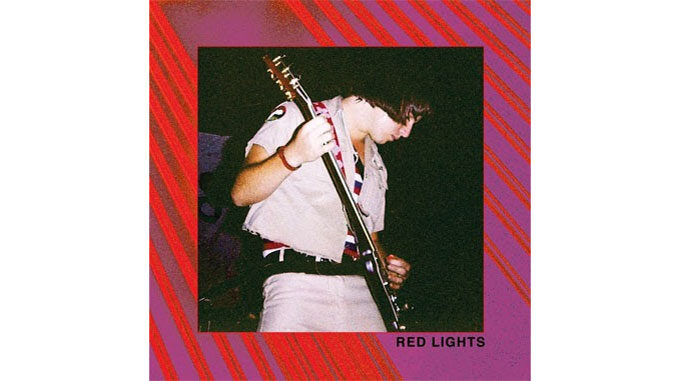 In The Red Records opened the lid to something important when they co-released this 12" EP in cooperation with Spacecase Records. Red Lights were the short-lived group that Jeffrey Lee Pierce fronted in 1978, before The Gun Club was formed. Red Lights have been somewhat overlooked, much since they for some reason were not mentioned in Pierce's autobiography Go Tell The Mountain. These five demo-tracks have been inaccessible to a wider audience, which has further added to this obscurity. Until now, that is.
Red Lights has Jeffrey Lee Pierce's distinctive voice in common with The Gun Club, but the difference is that the blues and punk elements, characteristic for The Gun Club, are not that obvious in these recordings. Instead, Jeffrey Lee Pierce and Red Lights, in places resort to (power)pop and even flirts with reggae in one song. That means that fervent Gun Club aficionados at times need to adjust their ears a little bit to fully appreciate this record. I can assure that such tuning is worthwhile.
Jungle Book is perhaps best known of these tracks, because it has been interpreted by Tav Falco's Panther Burns and covered by Amber Lights on The Jeffrey Lee Pierce Sessions Project Vol. 2 (The Journey Is Long; 2012). Here, Red Lights remind very much of The Gun Club. Jungle Book was through Vitus Mataré – who handled the keyboard in Red Lights – and Joe Nolte also included on The Last's second album Look Again (1980), which only exist as test pressed copies, but is, by the way, apparently soon to be a proper release by House Arrest Records.
Kisses For My President is in the same vein as Jungle Book, but the other songs are further away from the typical Gun Club sound, but still worth digging into: Tiger Girl and the homage to Deborah Harris, Debbie By The Christmas Tree, encouraged by Pierce's position as president of the West Coast Blondie Fan Club.
A generous inner sleeve text contains the existing and somewhat sparse information about Red Lights and their few live performances. Much of this originates from an interview with Vitus Mataré. It is a funny, but in a way logical, coincident that Larry Hardy – who founded In The Red Records in 1991 – has taken the only known live photos of Jeffrey Lee Pierce with Red Lights, which appear on the record cover. Larry Hardy must have been just fourteen or fifteen years old back then.
While we're at it: In The Red Records and Henry Rollins' 2.13.61 Records have in addition just co-released a limited (300 copies) unofficial 2020 RSD 7"; a live single with The Gun Club, where the B-side is a next to one-off performance of The Sonics' Psycho recorded in Ljubljana, Slovenia, June 1st, 1991 – which sound little bit better than from the Belgrade concert the day after (only available on YouTube).