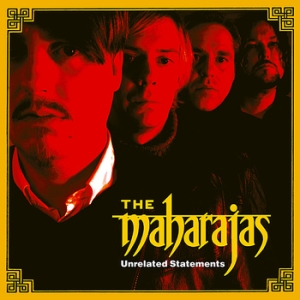 With an album title in a perfect accordance with such a variety of mid-to-end sixties influences, Unrelated Statements makes kind of an ultimate non-conceptual album!?
Though this is the fourth Maharajas' release (mini album and LP on Teen Sound and a 7" EP on Loser), it is actually their debut domestic release and it finds them sounding the best ever!
Ex-Stroller, Mathias Lilja, taking over most of the lead vocal duties, seems natural enough, considering the fact that he's the proud owner of one of the strongest and most authentic howls on the moderndaze sixteez scene.
That's also what makes the overall sound even closer to his former band, but still maintaining all the Maharajas initial mood, making it THE "statement"!
What you're about to hear are all "coulda-been-nuggets". The opening Medication, shares, besides the title itself, another mutual 'Stoned-or-two reference with one of the genre's forefathers, The Standells, Another Turn is two beat-en minutes of a melody that will stick forever, featuring a guitar line that will make you grab the air-one, while Odd Socks throws in some "pretty" freak-beats.
Please Leave A Message provides a sped-up garage-punk "satisfaction", Alright! mixes the kind of a "Still I'm sad" eastern mood with the garagey arrangement, featuring a guitar solo to fall on your "beck" and Remember Our Love sounds like one of the best Del Shannon tunes he's never written.
Of the Maharajas' usual folky garage balladery, there's the spooky farfi-sized atmosphere, highlighted by some mean fuzz, of the appropriately titled Dead, as well as the not-so-moody-but-heartbreaking Taste Of Tears, that could've been a bit sleazy if it wasn't so great actually.
All of a sudden, it doesn't seem so bad that The Strollers are no more. In that case, this is more than a "related statement" and a very welcome one!
[Released by Low Impact 2004]